7 weird stock images of people struggling with basic cooking
Stock image sites are a great resource for photos of well-dressed businessmen pointing at charts. But there's a much weirder side to stock photography, as we know from important collections like "Women Laughing Alone with Salad". We decided to do our own investigation into the bizarre end of Shutterstock, and came back with photos of people alarmingly confused by simple cooking concepts. Like "whisking eggs" and "holding a cheese grater". Check out the overwhelmed chefs below, then prepare to feel a lot better about your own cooking skills.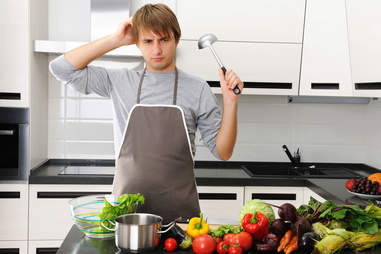 Shutterstock
Well, he started with a baster, so at least he's getting closer.
Shutterstock
To be fair, we're not sure how you make shrimp scampi with a wooden spoon and an empty pot, either.
Shutterstock
"Do I stuff it with rosemary and sage, or take it to a matinee of The November Man??"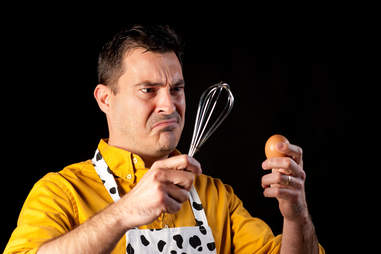 Shutterstock
Keywords for this image include "doubt", "clueless", and "bad trip".
Shutterstock
She likes to describe her cooking style as "Swedish Chef meets Snooki".
Shutterstock
No one's seen Mike since this photo was taken. Pray for Mike.
Kristin Hunt is a food/drink staff writer for Thrillist, and thinks these guys should stick to Seamless. Follow her to kitchen disasters at @kristin_hunt.