There are few phrases in the English language as joyous as "pulled pork cheese fries". Just saying it makes people happy. Case in point, when the drive-thru operator at Wendy's asked if I'd like to try the new pulled pork sandwich and I responded that I wanted to try the fries instead, he replied, "Oh yeah you do."
The verbal high-five I received from Drive-thru Guy, combined with early Internet praise of these fries, had gotten me quite excited. Also, it was 1:45pm and I hadn't eaten lunch, so the bar for acceptable sustenance was set pretty low. Did these cheese fries hit the spot? Read on to find out.
The fries leave something to be desired
It's no secret that French fries are not Wendy's strong point (we've elaborated on this at length in our fast-food fries ranking). Not surprisingly, Wendy's hasn't upped their potato game here; the sticks are a little too thick and a little too limp for my fry tastes, which err more towards well-done than medium-rare.
 
The cheese plays a supporting role
My sixth-grade English class was inexplicably obsessed with Dave Thomas. We penned chapbooks full of poems and short stories about the late Wendy's patriarch (Editor's Note: Dan claims this bizarre anecdote is 100% true, and we have no choice but to believe him.).
The careful diction with regards to the dairy portion of this meal would make my English teacher proud. "Rich cheddar cheese sauce" tops these fries, not any actual melted cheese. Don't expect a thick mound of stringy cheddar. The cheese sauce serves to slightly temper the bolder flavors, but you can barely taste it because of the torrent of sauces hogging the spotlight, which will be addressed shortly.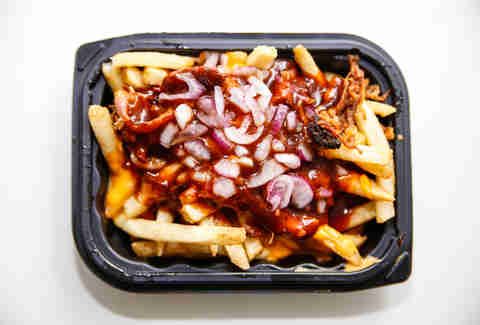 Barbecue sauce, and lots of it
At the drive-thru, prospective diners are asked for their choice of three sauces: spicy, sweet, or smoky, with additional sauces available upon request. In order to test their individual merits, I requested all three sauces on the side. When I arrived home, I discovered my fries had been doused in what appeared to be a trio of hickory condiments.
I ended up eating the suicide version of these fries, which surprisingly didn't make me want to kill myself. This dish is hard enough to break into composite parts already, so the trifecta of sauces just added to the overall sloppiness, which just might be its greatest strength. I tasted amorphous waves of spicy, smoky, and sweet in each bite, therefore successfully distracting me from focusing too much on any singular flavor.
The pulled pork is the best part
The sensation of eating fast-food pork is a foreign one to me, so this was by far the most intriguing part of the equation. You wouldn't expect high marks from Wendy's on anything that's supposed to be "slow-cooked", but the pulled pork was actually pretty satisfying. The texture on these meat slivers varied wildly, ranging from tender (as marketed) to crunchy. I actually enjoyed the harder, more candied pieces of pork the best.
Conclusion
Wendy's played the gluttony card here, and if that's the name of your game, these fries are probably worth the $3.19 (including tax). They're essentially the French fry version of a Sloppy Joe, and best consumed using a shoveling motion and non-stop rhythm.
If you're ordering barbecue from a drive-thru, odds are you aren't looking for authenticity, in which case these flavors might just scratch a hickory-smoked itch. But if you place yourself on the more conservative side of the of fast-food eater spectrum and don't have an insatiable craving for barbecue sauce, I'd recommend ordering something else.
Dan Gentile is a staff writer on Thrillist's National Food and Drink team. He couldn't finish all of these fries, but got surprisingly close. Follow him to more fast-food confessions at @Dannosphere.