Conchas

| loomitz/Shutterstock
Conchas

| loomitz/Shutterstock
Some dip and soak them in hot chocolate at breakfast. Others eat them with sour cream and black beans.
For anyone like me, who has been eating conchas from their local panadería (or more sadly wrapped in cellophane from a gas station) since they were a kid, the pan dulce was just a part of daily life—the same way most people think of ripping open a pack of Little Debbies treats from the grocery store.
Conchas ("shell" in Spanish, since the twisted streusel top looks like a seashell) are Mexico's national sweet bread, a yeasted roll in vanilla or chocolate made from eggy, fatty biscocho dough. Their history dates back to the 18th century during the colonial era, when French, Spanish, and Italian bakers established themselves in Mexico or New Spain, bringing their recipes like brioche and baguettes with them.
Pan dulce was developed by the creativity and work of nuns, indigenous women, and criollas using the ingredients they had on hand. In some small towns, the cookie-topped crusts are still made with pork lard instead of modern day butter. In the United States, just five years ago, conchas weren't anything fancy and generally of poor quality, relatively unknown outside of Mexican and Hispanic communities or those living along the Mexican border.
That was until the Cáceres brothers in San Antonio, Texas and the pastry programs at one of the world's best restaurants stepped in to help bring Mexican "bread cultura" to the United States.
When they were young boys, David and Jóse Cáceres sold loaves of their mother Doña Josefina's fresh baked bread on the streets of Mexico City. Inspired by the 48-hour sourdough bread baked by their mother in Mexico City, the brothers quietly opened bakery-café La Panadería in their newly adopted home of San Antonio in 2014 as a testing ground for bringing the best conchas to the United States.
The bakery's overwhelming local popularity began to spill over beyond the city limits and go national over the years—so much so that this year, David was nominated as a semi-finalist for Outstanding Baker by the James Beard Foundation for his pan dulce.
How could one bakery create such a clamor with humble, simple, and traditional bread? Unlike other fusion or hybrid pastries invented in the strategy meetings of restaurant PR or social media firms, the concha needs no punchline.
To be fair, this pan dulce has inspired Instagram bait spin-offs like the croncha (croissant-meets-concha), concha ice cream sandwiches, concha egg sandwiches (think: doughnut-esque burgers), and even rainbow conchas.
"We have traveled internationally and we mostly just found conchas in the south part the U.S., usually in Mexico border town states like Texas or California," David Cáceres says. "We'd typically find low quality conchas as lard is commonly used because it is considered a low priced product. At La Panadería, we wanted to change this and provide higher and fresh quality conchas."
Indeed, La Panadería's conchas are different. They are not the plastic wrapped and processed variety that were most widely available in the U.S. from Bimbo Bakeries USA, the largest wholesale retailer of conchas at the time. Rather, it is cultured bread—both technically and physically speaking: pillow-soft, lightly sweet with a mild tang from the aged sourdough starter. There's no competing with a classic.
The handmade pan dulce was inspired by Mexico's Golden Era, or Epoca de Oro. Chef David Cáceres drew influence from French, German, Italian, and American bread-making techniques—like implementing the traditional 48-hour fermentation process. They also use European butter to heighten the quality and taste.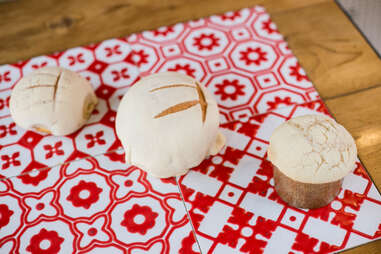 And then came the concha from one of the world's most famous restaurants further putting the humble bread on more diners' radar: Enrique Olvera's Cosme in New York City, followed by its celebrated sister restaurant, Atla.
When the concha hit the menus at one of the World's 50 Best Restaurants and one that was given a Bib Gourmand nod by Michelin Guide in 2019, diners paid attention. The media paid attention. Social media paid attention. Atla deviated from classic concha ingredients to perhaps mirror the health-minded Millennial trends du jour (or del dia): Rather than traditional butter or lard, avocado was used for the fat.
Other establishments are also taking conchas from classic to "high end" like Maiz64 in Washington, DC. Executive pastry chef Elisa Reyna, who has a background in French pastry arts, debuted her version of the vanilla concha utilizing cardamom and a silky lavender cream.
Conchas began to creep onto the menus as a highlight, rather than an afterthought, on leading Mexican restaurants across the country. Foodies began actively seeking them out.
Even non-Mexican chefs and bakers featured them on their menus. And then came viral concha sensations hitting the feeds on Instagram: Chocolate-dipped conchas, Uniconchas, cronchas, concha tortas, concha cakes, concha burgers, concha doughnuts, black and white conchas (a riff of of New York City's famous black-and-white cookies), and everything in between.
"The popularity of Hispanic and Mexican food has been gaining as of late, thanks to social media, and it shows it is so much more than tacos, tamales, and guacamole," says 2022 James Beard Award "Emerging Chef" semifinalist Manny Barella of Bellota in Denver.
Despite the fact that Denver's altitude and dryness makes it difficult to bake conchas correctly, Barella still rotates a bright pink strawberry concha with lemon zest in and out of his brunch menu. "The popularity of conchas is going to continue to grow as mainstream diners learn more about and appreciate Mexican cuisine," he says. "Just look at how popular a croissant is—I think they'll start catching on in the same way. You don't have to be a Mexican bakery to make conchas or appreciate them."
"The demand for conchas has increased in other parts of the U.S....we see an increase in demand in states such as Oregon, Nevada, Kansas, Oklahoma, North Carolina, and other states not known for a density of our target demographic," says co-founder Ricardo Cervantes of the popular La Monarca Bakery. "In LA, we've seen more grocery chains add conchas to their bakery product line such as Ralph's."
Many businesses have changed the traditional look of conchas to fit in with a celebration or to spread a message, thanks to its ability to serve as a canvas. Cervantes updated the traditional colors to reflect the current holiday season, like its rose-colored conchas for Valentine's Day and pastel Easter conchas. Other bakeries tweak conchas for Halloween or to promote messages for Breast Cancer Awareness Month or Pride Month.
Even younger Mexican-Americans have shown a deeper appreciation for conchas, holding the pastry as a symbol of Mexican cultura and tradition, not just a trend. Conchas apparel is being designed and sold including t-shirts, slippers, and jewelry.
Many Latinx entrepreneurs have used the concha to create prints, accessories, and artwork featuring this beloved snack. There are now festivals in Los Angeles like Concha Con, Dia de la Concha in Chicago, and Concha Throwdown in San Antonio, celebrating lifestyle and the importance of concha to Mexican culture. There was even a push to create "National Concha Day." Disneyland offered "Mexican Sweet Bread Ears," a headband that looked like Minnie Mouse ears but using a concha print.
"Conchas are much more complex than many would think," says Rick Lopez, executive chef at La Condesa in Austin. "It isn't a simple pastry, and I think that the conchas growing popularity says a lot about the American exploration of the artistry of Mexican food."
Marisel Salazar is a food and travel writer based in New York City. She comes to NYC by way of Panama, Hawaii, Japan, DC, and Madrid. Everything but ketchup please. Follow her on
Instagram
.