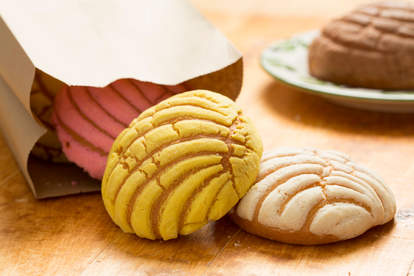 Conchas, Mexico's Genius Cookie-Topped Breads, Are Finally Getting Their Due
Some people dip and soak them in hot chocolate at breakfast. Others eat them with sour cream and black beans. For anyone like myself that has been eating conchas, the crusty, cookie-swirl topped Mexican sweet bread, since they were a kid, the pan dulce (or sweet bread) was just a part of daily life. The same way most people think of ripping open a pack of Lil' Debbies treats from the grocery store. Or picking up bread from their neighborhood bakery.
Conchas (which means "shells" in Spanish, as the twisted streusel top looks like a seashell) are Mexico's national sweet bread. The yeasted bread roll, which often comes in flavors like vanilla or chocolate, are made from an eggy, fatty biscocho dough. The history of the concha dates back to the 18th century during the colonial era, when French, Spanish, and Italian bakers established themselves in Mexico or New Spain, bringing their recipes, like brioche and baguettes, with them. Pan dulce was developed by the creativity and work of nuns, indigenous women, and criollas using the ingredients they had on hand. In some small towns, the cookie-topped crusts are still made with pork lard instead of modern day butter. In the United States, until a few years ago, conchas weren't anything fancy and generally of poor quality, relatively unknown outside of Mexican and Hispanic communities or those living along the Mexican border. But that is starting to change.
La Panadería is a San Antonio, Texas bakery that played a role in popularizing conchas in the U.S.

| Courtesy of La Panaderia
The genesis of this modern era of concha making is often attributed to the Cáceres brothers in San Antonio, Texas. When they were young boys, David and Jóse Cáceres sold loaves of their mother Doña Josefina's fresh baked bread on the streets of Mexico City. Inspired by the 48-hour sourdough bread baked by their mother in Mexico City, the brothers quietly opened bakery-café La Panadería in their newly adopted home of San Antonio, Texas in 2014 as a testing ground for bringing the best conchas to the United States. It's overwhelming local popularity began to spill over beyond the city limits and go national.
How could one bakery create such a clamor with a humble, simple, and traditional bread? Unlike other fusion or hybrid pastries invented in the strategy meetings of restaurant PR or social media firms, the concha needs no punchline.
But La Panadería's conchas were different. They are not the plastic wrapped 'n' processed variety that were most widely available in the US from Bimbo Bakeries USA, the largest wholesale retailer of conchas at the time. Rather, it is cultured bread -- both technically and physically speaking: Pillow-soft, lightly sweet with a mild tang from the aged sourdough starter.
The handmade pan dulce was inspired by Mexico's Golden Era, or Epoca de Oro. Chef David drew influence from French, German, Italian and American bread-making techniques - like implementing the traditional 48-hour fermentation process. They also use European butter to heighten the quality and taste.
"We have travelled internationally and we mostly just found conchas in the southern part of the US, usually in Mexico border town states like Texas or California," say the Cáceres brothers. "We'd typically find low quality conchas as lard is commonly used because it is considered a low priced product. At La Panadería, we wanted to change this and provide higher and fresh quality conchas, hence the European butter process."
And then came the concha from one of the world's most famous restaurants further putting the humble bread on more diners' radar: Enrique Olvera's Cosme in New York City, followed by it's celebrated sister restaurant, Atla.
When the concha hit the menus at Cosme, a World's 50 Best Restaurants, in 2015 and at the trendy Atla in 2017 (which was given a Bib Gourmand nod by Michelin Guide in 2019), diners paid attention. The media paid attention. Social media paid attention.
"At Cosme, we made black sesame conchas using avocado to substitute the traditional butter, and at the sister restaurant Atla we serve vanilla conchas every weekend for brunch," says pastry chef Isabel Coss.
Conchas began to creep onto the menus as a highlight, rather than an afterthought, on leading Mexican restaurants across the country. Food enthusiasts began actively seeking them out. Even non-Mexican chefs and bakers featured them on their menus like the Concha Especial breakfast egg sandwich at Michelin-starred Oxomoco by Chef Justin Bazdarich. Famed Mexican doughnut proprietor Fany Gerson of Dough in New York City featured concha ice cream sandwiches at her paleta shop La Newyorkina.
And then came viral concha sensations hitting the feeds on Instagram: Chocolate-dipped conchas, Uniconchas, cronchas, concha tortas, concha cakes, and everything in between.
"Social media played a big role [in the expansion of conchas] because it's visual, so people get intrigued, they share it and certain people have a lot of influence on things like this," says Gerson. "I predict there will be a lot of people doing different toppings and expressions. We [ at La Newyorkina] have done some in the past as specials such as hibiscus and guajillo and my friends at Atla for example made some matcha ones recently. In Mexico, there are some bakeries that are doing conchas with interesting and fun toppings and fillings the way people treat doughnuts here and I really think that a lot of people are going to be taking the concha in that direction."
Even the breadbasket of America (ahem) has taken a new found interest in the concha thanks to Instagram. Dulceria Bakery, helmed by native Mexican and owner Dulce Monterrubio in Minneapolis, MN says:
"Social media -- and specifically Instagram -- has created an opportunity for the innovation of conchas worldwide. Over 41% of our guests have learned about our conchas (and other pan dulce) via Instagram -- it still surprises me that within 5-8 minutes of posting about a new concha filling or flavor, there will be folks driving or walking to the store to buy them."
Conchas come in a variety of flavors such as chocolate and vanilla.

| Playa del Carmen/Shutterstock
The rise of conchas is also indicative of the growing interest in the intricacies of Mexican cuisine. It's not just tacos and burritos anymore.
"Conchas are much more complex than many would think. It isn't a simple pastry, and I think that the conchas growing popularity says a lot about the American exploration of the artistry of Mexican food," says Rick Lopez, Executive Chef at La Condesa in Austin, Texas.
Even the younger Mexican-American population has taken up on the call-for-conchas, holding the pastry as a symbol of Mexican cultura and food as an asset and a tradition, not just a trend. 'Conchas apparel' is being designed and sold by Mexican American and Chicanx artists like Jessica Resendiz's conchita collection & Sew Bonita concha graphic T-shirts by Elena Flores.
"I think the concha will definitely have their moment the way that croissants have in the last couple of years. And that will hopefully open people's minds to other things -- and hopefully sweets in our cuisine -- and realize how special they are," says Gerson.
Sign up here for our daily Thrillist email, get Eatmail for more food coverage, and subscribe here for our YouTube channel to get your fix of the best in food/drink/fun.
Marisel Salazar is food and travel writer based in New York City. She comes to NYC by way of Panama, Hawaii, Japan, D.C., and Madrid. Everything but ketchup please. Follow her on Instagram.