We already know that chefs toil away for hours in their restaurants, making whatever your heart desires (although it's usually nachos). But what happens when they're at home and hungry? What dishes do they go for when they have nobody to cook for but themselves? Well, we polled a bunch of famous chefs to find out, and here's what we heard... and it includes instant ramen.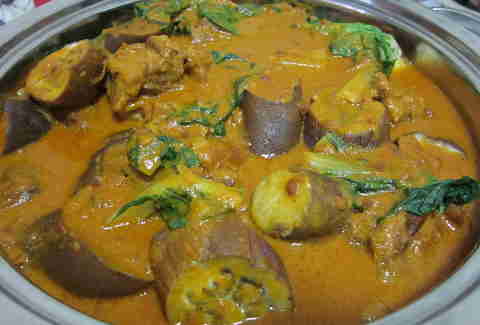 PAUL QUI - TOP CHEF WINNER, EXEC CHEF AT QUI & EAST SIDE KING (AUSTIN, TX)
"I love cooking very simple food at home for myself, my fiancée Deana, and friends. Grilled or pan-roasted pieces of meat and fish, citrus, olive oil, and nuoc mam (fish sauce). I like having a variety of greens and seasonal vegetables on hand to pair with meat or fish.
"Other things I enjoy cooking are Filipino classics like pork or chicken adobo, kare-kare (oxtail-peanut butter stew), and dinuguan (offal stew in pig's blood gravy) -- it's comfort food. Filipino food isn't something that I've explored in the past, and cooking it now has given me some insight into how I want to cook in the future."
JUSTIN WARNER - WINNER OF NEXT FOOD NETWORK STAR AND CHEF AT DO OR DINE (BROOKLYN, NY)
"My girlfriend and I eat more Shin Ramyun than anybody I know. We trick it out, though, adding whatever is floating around the fridge or whatever scraps I might bring home from Do or Dine. She likes corn and tofu. I've been meaning to add pizza or pickles.
"I also love making what I call 'hand salad', which is when you grab arugula from the fridge with your left hand, squeeze some lemon with the right, then add a little salt and good olive oil. Then the left hand deposits 'hand salad' into your mouth. It's an easy way to get a few ounces of green without getting out any gear."
MICHAEL WHITE - EXEC CHEF/FOUNDER, ALTAMAREA GROUP (NEW YORK, NY)
"I often make pad Thai at home, or anything with Sriracha -- a favorite of mine. In my kitchen, there's always mortadella, canned Italian tuna in olive oil, whole wheat bread, Hellman's mayo, tomatoes, Greek yogurt, and Diet Pepsi.
"If I'm home and cooking on the weekend, it's usually with my daughter Francesca: ideally, grilling burgers or dry-aged steaks on the deck, or making pizzas.
"On lazy weekend mornings, I sometimes get a Dutch apple pancake together in a cast iron skillet: sautéed apple slices with butter, brown sugar, cinnamon, a squeeze of lemon juice, and a bit of water to cook it down. Then I pour over fresh pancake batter and finish the whole thing in the oven to bake. Eat it immediately, with a scoop of whole milk Greek yogurt.
"When it comes to a late night after a long service at the restaurants, I usually make a grilled mortadella sandwich with melted cheese, Dijon mustard, a smear of mayo, and some arugula. For last-minute dinner guests, handmade pasta usually is easiest -- with a sausage ragu or pancetta cream and peas, depending on the season."
MARC MEYER - HEAD CHEF, COOKSHOP & FIVE POINTS (NEW YORK, NY)
"When my wife and I cook at home, we try to keep everything simple, fast, and tasty because we're always busy in our restaurants. One of our go-to dishes is steamed mussels with potatoes, kale, roasted tomato, chile, and garlic. Everything cooks quickly, you can tweak the spiciness, and it cooks in one pot so it's a breeze to clean up (crucial).
"We also prepare a spicy broccoli pasta with garlic, olive oil, chickpeas, lemon, and Grana cheese. It requires little prep, but has big flavor and is very satisfying. It was the only way to get my kids to eat vegetables when they were young, and I have been turning to this stand-by for years."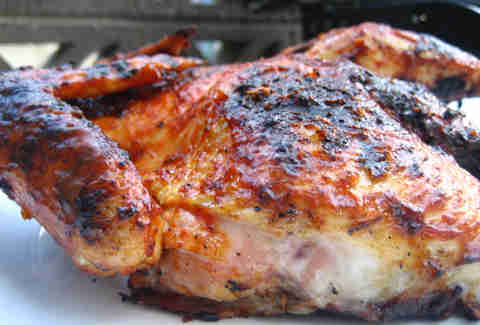 DAVID POSEY - CHEF DE CUISINE, BLACKBIRD (CHICAGO, IL)
"I went on a roast chicken kick a while back. Over the course of about three months, I tried a new chicken recipe from a different cookbook every Sunday. In the process, I kind of developed my own -- a mixture of the Zuni Cafe cookbook recipe and James Peterson's Meat cookbook. My version is salted and left uncovered in the refrigerator overnight.
"Before cooking it, I bring the chicken to room temperature, rub the whole thing with butter, and put a foil tent over the breasts. I roast the bird at 400 degrees with the foil on for 20 minutes, then take the foil off and let it cook for another 25 minutes. While the chicken rests, I roast seasonal vegetables in the drippings and make a kale-Pecorino salad. It is my favorite meal."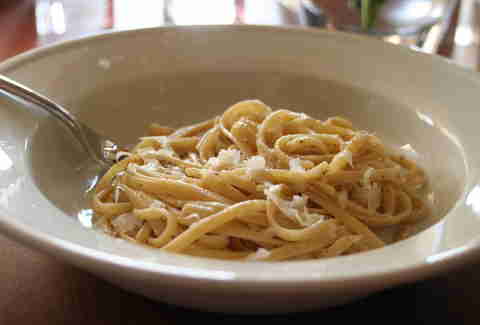 DALE TALDE - TOP CHEF: ALL STARS contestant, EXEC CHEF AT TALDE & PORK SLOPE (NEW YORK, NY)
"My go-to dish to cook at home is cacio e pepe. It's a quick dish to cook when people stop by unexpectedly, and also great for late-night snacks. It's only got four ingredients: dry pasta, butter, Parmesan cheese, and pepper, which are all easy to keep on-hand."
BRIAN MALARKEY - CHEF/OWNER, SEARSUCKER RESTAURANTS (SAN DIEGO, CA)
"I'm a family man with three little ones in addition to all my other babies (Searsucker, Herringbone), so when it comes to cooking at home, I try to keep it simple and approachable for the tykes (no cowboy caviar for the kids these days), and easy to make.
"We get two or three whole chickens and roast them on the outdoor grill on Sunday evening. We'll eat one that night and then save the rest to use in other meals that week: sandwiches, chicken salad, enchiladas... you get it. When we put them on the grill, we also cut up some fresh, seasonal veggies and throw them below. Let them catch some of the chicken drippings for full flavor. At the Malarkey house, it's all about hanging outside with family on Sunday afternoon. Eating and having fun. Keeping it simple and easy."
Adam Lapetina is a food/drink staff writer at Thrillist, and has apparently been eating like Justin Warner for years. Read his musings on Twitter at @adamlapetina.