Everything They Eat in 'The Breakfast Club' That Isn't Even Breakfast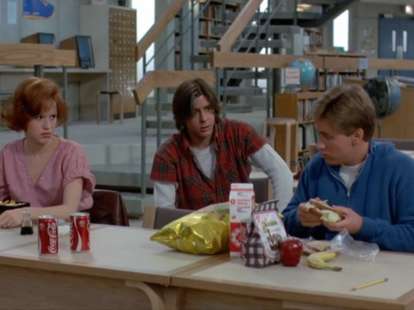 Universal Pictures
Universal Pictures
Most of you have seen The Breakfast Club. Which means most of you know it's named that because they meet for Saturday detention, not because they're part of an awesome, clique-busting brunch squad. (But... doesn't that sound like a great movie?) We still haven't quite gotten over that misleading title, so we rounded up all the not -breakfast foods consumed during the John Hughes classic's 97-minute runtime to properly air our grievances. Is this a waste of time and energy? Of course it is, but join us, won't you?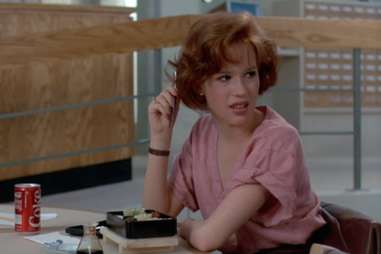 When the gang breaks for lunch, the first person to reveal their haul is Claire. In true prissy princess fashion, she packed a fancy box of sushi. Let's back up and remember she is a teenager. In the suburbs of Chicago. At detention. Eating sushi. Bender's bewildered stare is well earned.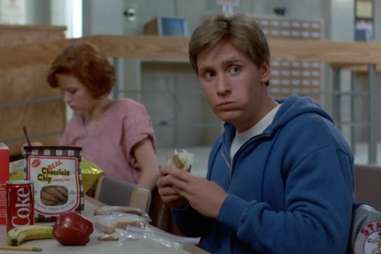 The best payoff is athlete Andrew's enormous bagged lunch. He methodically pulls out three sandwiches, a quart of milk, a bag (and this ain't no 100-calorie bullshit bag) of Matt's Chocolate Chip Cookies to prove he's a real Illinois boy, a family-size bag of potato chips, an apple, and a banana. Points for the fruits, Andy. At least someone has breakfast on the brain.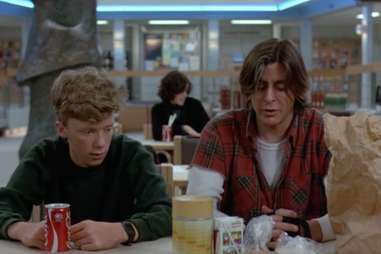 Bender then forces poor, boring Brian to reveal his mom-approved lunch. Soup, apple juice, and a PB&J with the crusts cut off. It's unclear if his mom actually married Mr. Rogers, like Bender says, but if she did, why isn't that man stressing the importance of morning meals??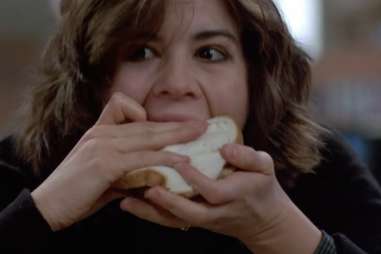 Basket case Allison also has a sandwich, but this is no ordinary sandwich. After wisely ditching whatever mystery meat was originally on that thing, our heroine...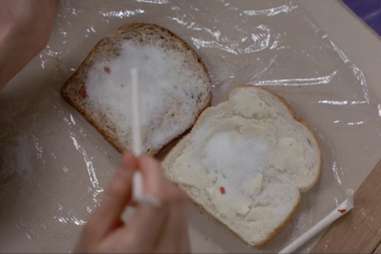 ... loads the bread up withPixy Stix...
... adds a healthy layer of Cap'n Crunch, and clamps down to create a lunch dentists probably refer to as "The Widowmaker." This may be a sandwich, but it does have cereal, so Allison is automatically doing better than everyone.
Meanwhile, in adult land, principal Richard Vernon spills coffee all over his sandwich, pickle, and orange, because he is a sad man who doesn't get the youths of today.
But he does get to drink beer in the afternoon with Carl. And you know who's kinda awesome? Carl. Sure, he blackmails people, but those people are Vernon, who sucks. Plus he's nice to Brian. He probably eats a full pancake breakfast every single day.
Kristin Hunt is a staff writer for Thrillist, and was in love with Bender in high school, even though she was a total Brian. Follow her to malfunctioning elephant lamps at @kristin_hunt.