What Famous Chefs Think When They See You Instagramming Their Food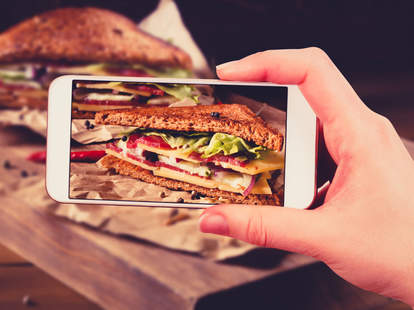 Chances are, when you go out to eat and find a delicious-looking dish in front of you, you whip out your phone and snap a 'gram. That's just the world we live in. But what do chefs think when they see you taking approximately 50 shots from approximately 12 different angles, and maybe even throwing on a splash of Kelvin? We asked some of our favorite chefs to share their feelings on today's paparazzi-style dining culture, and turns out, they don't find it nearly as annoying as we thought. Just don't let those tacos get cold.
Justin Warner
Chef/co-owner at Do or Dine (address and info)
Brooklyn, NY
"I think it's pretty darn flattering when folks take pictures of the food my restaurant makes. Sure, the shots aren't going to be as good as a shot from Daniel Krieger, but the thought is what counts. At my joint, it's encouraged and appropriate given the fun, convivial environment, but I can see how some restaurateurs/chefs might think photography will interfere with the ambiance or secrecy of their food. I'm just not that guy, and Do or Dine isn't that joint.  
When I worked at the Modern, some of the guests would get a little crazy: huge lenses and little GorillaPods and whatnot. That got old, but taking a quick snap with a celly is probably going to benefit a restaurant -- the guest will either share the image with friends or cherish it personally."
 
Wolfgang Puck
Chef/owner at Wolfgang Puck (info)
"I don't mind when people take pictures of our dishes, as long as it doesn't bother any other guests. We feast with our eyes first, so I think taking a picture of a certain dish will help us to remember a great experience."
Brian Malarkey
Chef/owner at Searsucker Restaurants (address and info)
San Diego, CA & Austin, TX
"While I'm always flattered to see guests photographing my dishes, the focus of the dining-out experience should be about the clinking of glasses, laughter, and enjoying the entire night. That being said, when I go out to eat, I'm the one posting to Instagram! I also use the app for inspiration, motivation, and enjoyment."
 
Tyson Cole
Executive chef/owner at Uchi + Uchiko (address and info)
Austin, TX
"Guests at restaurants taking pictures of our food? I'll say, could there be a better time to be a chef?! I feel extremely fortunate to be a chef in the era of the foodie, technology, and instant online gratification with the opportunity to share with the world what guests might be eating in real time. There's a real fun factor involved too. It's a joy to take pictures of food that you're eating or preparing."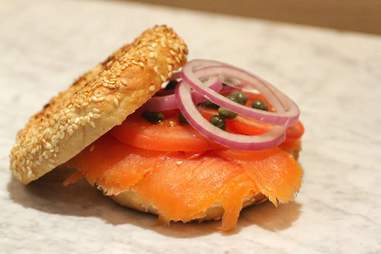 Andrew Zimmer/Thrillist
Dianna Daoheung
Head baker/chef at Black Seed Bagels (address and info)
New York, NY
"Food photography has definitely become a phenomenon in the past five years. I welcome food photography, but also think there is a place and a time. If it's taking time away from everyone enjoying their meal and spoils the true reason why people are there, then it's time to put down your camera phone. Food is a beautiful thing that takes creativity and manpower. I understand why people would want to share a beautiful dish with the world."
 
Dale Talde
Chef/owner at Talde (address and info) & Pork Slope (address and info)
New York, NY
"I like it when people take photos of their dishes. I feel very honored that they are enjoying their meal enough to want to remember it."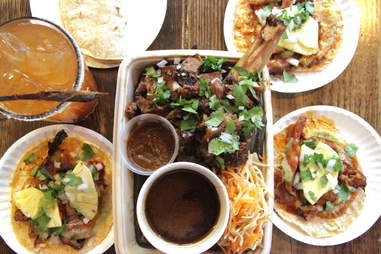 Andrew Zimmer/Thrillist
Alex Stupak
Chef/owner at Empellón Cocina (address and info) & Empellón Al Pastor (address and info)
New York, NY
"I think that smartphones have changed human behavior the same way all great technology does. People simply want to document everything they experience. I'm not opposed to this at all. It helps spread the word about my work at Empellón. The only downside is that not everyone has the eye to take a pretty shot and, more importantly, sometimes I want to shake people and tell them that their tacos are getting cold!"
 
Kent Rathbun
Chef/owner at Abacus (address and info) &Jasper's (address and info)
Various locations, TX
"It's the sign of the times. It pushes us to be better. No longer is the review three weeks away, it's instantaneous. We always have to be on top of our game."
Marc Forgione
Chef/owner at Marc Forgione (address and info)
New York, NY
"I don't know if I necessarily have a problem with it. However, if there is a flash involved, or if it's something hot you should eat right away, or if you're bothering guests around you, then I think it does become an issue. I think people in general get too caught up in taking a picture for Instagram, Twitter, or whatever that may be, when sometimes I just think you should enjoy the moment for what it is."
 
Paul Qui
Executive chef/owner at qui (address and info)
Austin, TX
"With regards to Instagram, I don't mind it at all. There are certain time-sensitive bites at qui, but as long as I give the guest a heads up, the rest is up to them. At the end of the day, I do want my food to look and taste good, so if I notice that it might have been a bit too long, I'm happy to fire a fresh plate."
Rachel Freeman is a Food/Drink editorial assistant at Thrillist, and is an admitted food Instagrammer, but abides by a strict no-filter policy. Not even Kelvin. Follow her to fancy feasts: @rachelifreeman.