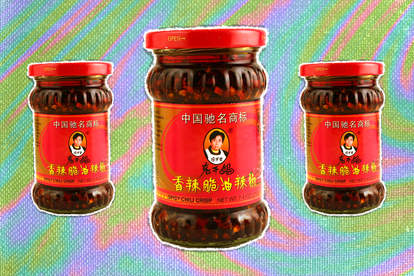 Chili Crisp Is the Chinese Condiment That Tastes Good on Literally Everything
It's made from a blend of oil, fried onions and garlic, chile, and peppercorns.
Confession: I'm a chili crisp fanatic, and I'm not alone. The Chinese condiment -- a crunchy blend of fried garlic, shallots, and chili flakes typically steeped in canola oil -- is maddeningly delicious in its simplicity and tastes amazing on just about everything, from pizza to ice cream. I drizzle it on more traditional dishes, like steamed dumplings or bowls of rice, or submerge slivers of hot pot-cooked beef into pools of the chili oil. I have also been known to load it up on a plate of nachos, mixed into cream cheese and generously spread on a bagel, or in sandwiches too. I can't be stopped.
The most famous brand of chili crisp is called Lao Gan Ma, which roughly translates to "old godmother." The label touts a photo of a frowning woman who happens to be the condiment brand's owner and founder, Tao Huabi. And a godmother she is -- a fairy godmother of flavor, enhancing dishes across all types of foods, from veggies to dessert and everything in between.
Lao Gan Ma was established in 1997 after Huabi's homemade chili oil gained popularity thanks to her noodle shop in the Guizhou province. Though initially poor and illiterate, Huabi had a knack for flavor and word spread about her prized chili sauce. She closed the noodle spot to work on Lao Gan Ma full time and her son also quit his job to assist as the brand rapidly grew. The factory reportedly bottles upwards of 1.3 million jars of the stuff each day and raked in 400 million yuan -- or 64.11 million dollars -- in 2009. Even John Cena is a fan.
Rivalries and copycats have emerged since the bottled chili crisp first took off, thanks in part to China's early, non-rigorous trademark laws. But Huabi has set up a task force within her company to shut down the counterfeiters.
Fly By Jing is a modern Sichuan Chili Crisp brand

| FLY BY JING
Some emerging brands, however, have used the lauded chili crisp as inspiration and are making more modern takes on the beloved condiment. Take the lauded Sichuan Chili Crisp bottled by Fly By Jing. Founder and chef Jenny Gao wanted to recreate her own version of the condiment while keeping healthy, natural ingredients in mind. This meant no MSG, no preservatives, and no additives.
"Lao Gan Ma is the stalwart chili sauce in China; it is made in the Guizhou province and uses Guizho chilis, soybean oil, MSG, and preservatives," says Gao. "It is tasty, and what I grew up eating. But when I started delving deep into cooking and ingredient-sourcing, I became a lot more thoughtful about what I was putting into my body and realized that by using high quality ingredients, you can make food that is good for you and tastes far, far better."
Gao's version of chili crisp relies on the meaty, umami flavors of mushrooms and seaweed. The sauce also specifically highlights Sichuan flavors rather than Guizhou flavors like Lao Gan Ma, using what is called the tribute pepper -- a rare, fragrant variety of Sichuan pepper that is historically known for being offered as a tribute to Chinese emperors -- and cold-pressed rapeseed oil high in antioxidants and nutty in flavor.
"Chinese foods that [are] available on the market [are] usually cheap, filled with additives and preservatives, and [feed] into people's perceptions of Chinese food being low quality and undesirable," Gao said. It's something that's aggravating -- and a misconception that broadly paints Chinese food as an unhealthy monolith.
"This [is] a self-fulfilling cycle, because if people [aren't] willing to pay more for Chinese food products, manufacturers are not incentivized to use better quality ingredients, and will need to lean on preservatives and MSG as a cheap crutch which leads to inferior flavor," she explains. Gao's mission is to disrupt these false narratives about Chinese food, one condiment at a time.
Side-by-side, it's apparent that the pair of chili crisps taste different (though both of them are absolutely delicious). Gao's reinterpretation is spicier from the Sichuan peppers and definitely possesses a deep mushroom flavor. The oil is much darker -- almost black in the jar -- whereas Lao Gan Ma's is a bright orange, derived from soybean. The ratio of oil to crisp was also way different. I found that Lao Gan Ma's onion, garlic, and chili chunks were larger, making it a bit crispier; it's what I would reach for if I definitely wanted more texture and less oil.
You can purchase bottles of Lao Gan Ma for around $3 at your local Walmart or in a family-sized jar on Amazon for a little over $12.50. Bottles of Fly By Jing's Sichuan Chili Crisp has a bit of a steeper price tag at $15 per bottle and can be purchased on their website. There are other chili crisps to explore as well: William Sonoma carries a version called Mister Jiu's that is a collaboration with the San Francisco restaurant of the same name, and there's also a Japanese version known as la-yu.
And if you can't make up your mind on which one to get, you can always get crafty and try making you own.
Sign up here for our daily Thrillist email, get Eatmail for more food coverage, and subscribe here for our YouTube channel to get your fix of the best in food/drink/fun.
Kat Thompson is a staff food writer at Thrillist whose pantry is stocked with both Lao Gan Ma and Fly by Jing's chili crisps. Follow her on Twitter @katthompsonn.