How Chinese Chorizo Links These Immigrant Communities
A hybrid dish born out of solidarity has launched a food and arts movement.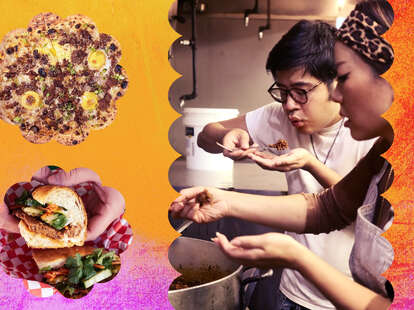 It's part of a larger movement to reclaim narratives about history and heritage cuisines

| Design by Maitane Romagosa for Thrillist
It's part of a larger movement to reclaim narratives about history and heritage cuisines

| Design by Maitane Romagosa for Thrillist
Feng-Feng Yeh became passionate about Chinese chorizo during the 2020 pandemic shutdowns. "Food is a carrier, a message to speak to people," says Yeh, a multidisciplinary artist in Tucson, Arizona who previously worked as an executive chef in New York City. Some two years after she started exploring culinary historical records, she founded the Chinese Chorizo Project, a food festival and multicultural movement devoted to this distinctly Sonoran delicacy.
So, what is Chinese chorizo, exactly? A fusion food created by immigrant groups in the Sonoran desert from the 1880s to 1960s, Chinese chorizo is ground pork flavored with spices designed to appeal to Mexican clientele and sold by Chinese grocers. It's related to Spanish chorizo, but is considerably spicier, uses Mexican chilies in place of smoked paprika, and is usually sold in bulk rather than links.
"Chorizo is a working class food made from the remains of whatever beast you're getting your meat from. Whatever was discarded such as entrails or intestines, glands, liver parts, tendons, and tongue is ground into a meat-looking product," explains Carlos Valenzuela, a Mexican and Indigenous Tucsonan mosaic artist who collaborated with Yeh during the festival.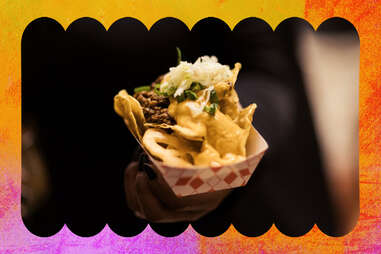 Yeh believes this sort of ingenuity is an important part of Tucson food culture. Born in New Mexico to Taiwanese immigrant parents, she moved to Arizona when she was four years old. One of few Asian American students in her school, she felt her childhood education had a Eurocentric lens. Through her own research, she learned that there were 100 Chinese-owned grocery stores in downtown Tucson in the 1940s. She believes those immigrants' impact on local culture was largely ignored when the city was named a UNESCO City of Gastronomy in 2015. "The branding of Chinese food still has a stigma," Yeh says.
Through her work with the Chinese Chorizo Project, Yeh aims to demonstrate how immigrant communities influence food and culture. It's part of a larger movement to reclaim narratives about heritage cuisines, ranging from Chef Sheldon Simeon in Maui to Indigenous chef and activist Sean Sherman. It's a powerful moment for historians, food professionals, and anyone who cares about the story behind what's on their plate.
Jackie Tran, a food writer, photographer, and chef, created a signature Chinese chorizo for the inaugural Chinese Chorizo Festival in Tucson in October 2022. The sausage is pork-based, but Tran "omitted the filler from the original recipe, such as spam or hot dogs, and included guajillo pepper, chiltepin, and other complimentary spices, such as coriander seed and Chinese five spice," he says.
Other local restaurants and chefs participated in the festival, too. Each received 15 pounds each of pork and vegan sausages to create one-of-a-kind recipes. Chef Miles Bartlett of 5 Points Market and Restaurant crafted a charred tamal sticky rice cake with a satay sauce made of burnt green chilis, Hibiscus tea, baby bok choy, and Maggi sauce. A Japanese-inspired food truck, Fatboy Sandos, served Chinese chorizo between two pieces of fluffy milk bread, perfectly halved and vacuum-sealed. They sold out before the first night of the festival ended.
Yeh developed a vegan Chinese chorizo with BOCA chef Maria Mazon, who was born in Tucson and raised in Sonora, Mexico. "I thought it would be really cool to have something accessible for most," Yeh says. The vegan option gets its kick from Mexican chilies and Chinese hot mustard, and is made with ginger, garlic, black vinegar, fermented tofu, and ingredients sourced from local purveyors, including Sonoran sea salt from Desert Provisions plus mushrooms from Fungirls Fungi and Spencer's Shroomery. Japanese sweet potatoes provide heft.
In advance of the festival, 600 pounds of chorizo, evenly split between pork and vegan, were processed at Forbes Meat Company, a local butchery shop that donated their space and equipment—another effort that Yeh appreciated. Part of the mission of activists like Yeh includes demonstrating the ways food helps create and sustain communities.
Art is another important component of the movement, says Yeh, who received a grant for the Chinese Chorizo Project from Andy Warhol Foundation for the Arts. Valenzuela will build an 11-foot sculpture depicting two Chinese chorizo sausages made from cracked pieces of ceramic tile, glazed in red hues with names like Hot Tamale and Ruby Slippers. The individual links will represent the Mexican and Chinese communities, joined together to form a heart, and decorative details throughout speak to cultural ties, like Chinese calligraphy and the hummingbirds of the Yaqui people. "Mosaic murals are very interactive," Valenzuela says. "You may see two big sausages from far away, but when you get closer, you'll see symbols."
The Chinese Chorizo Project plans to host a festival in Tucson later in 2023, as well as exhibitions and outposts in New York City and Los Angeles, Yeh says. Although there is no current date for when the sculpture will be built, the vision has now expanded to revamping a park as a sustainable space using native species of plants and desert materials like adobe. The sculpture will be the centerpiece of the park.
In Tucson and beyond, community is key for these culinary activists.
"In the last few years, the Chinese people took a real hit because of rumors spread about them," says Valenzuela. "Mexican people have always been described as rapists, drug dealers, and gang members. This project will introduce people to our cultures and help them understand, we're human too. The message here is that we've been interacting long before this mania."
Want more Thrillist? Follow us on Instagram, Twitter, Pinterest, YouTube, TikTok, and Snapchat.
Tamara MC is a contributor to Thrillist.