If you're a spice lover, chances are you've jumped on the harissa train. The smoky North African chili paste has become a menu mainstay thanks to the simple fact that it makes pretty much any food better. From mom's meatloaf to mom's bloody Mary (mom doesn't mess around!), it's now a staple of markets nationwide.
A good harissa paste -- we recommend Entube and cHarissa -- has a depth and balance that makes it an extremely versatile condiment. The heat buildup should be gradual (it shouldn't immediately overwhelm you with heat like a hot sauce might), punctuated by the smoky flavor of the roasted peppers and spices like the typical cumin, paprika, and coriander.
So what should you do to maximize your harissa experience, short of snorting it? Start with these nine incredible recipes that explore the wide range of harissa's appeal.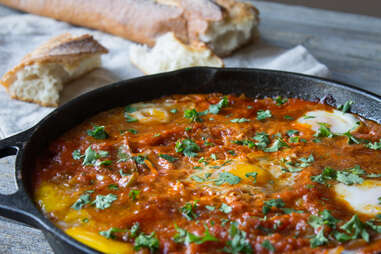 Curry shakshuka
Cereal and basic-ass avocado toast for breakfast? Nah. Try this one-pot recipe, which really sells that whole "most important meal of the day" thing. All the basic elements of shakshuka -- poached eggs, tomatoes, and bell peppers -- are here, but with a smoky, spicy kick that'll satisfy both your daily veggie and protein requirements. Plus, your "not-boring" requirement. Check out the recipe here.
Harissa chicken wings
Tender and crisp, these wings could well have their Buffalo counterparts bested thanks to that smoky harissa heat. To help cool them off, there's a mint & cilantro dipping sauce, because sometimes, blue just doesn't cut the, um, harissa. Take a look at these bad boys right here.
Harissa Bloody Mary
There are ways to elevate a Bloody that don't involve sticking a bunch of over-the-top crap like cheeseburgers and pizza in it: case in point, this beauty that skips store-bought mix in favor of roasted tomatoes and a dash of harissa. The end result is a drink that's tart and spicy with just a hint of sweetness. Throw in a couple cilantro-filled ice cubes and the Instagram photos just kind of take themselves. Get at all the deliciousness here.
Meatballs with lentils
Lamb and harissa are often used in Moroccan fare, making them a natural pair. Donna Hay -- who doubles down on recipes by being a fantastic food photographer -- amps up the pairing with lentils and Tuscan kale, giving an extra dose of much-needed heartiness without sacrificing healthiness. Your new favorite stew is only a click away.
Roasted salmon with lemon couscous
Harissa and seafood work best together when you use a fish that's robust enough to absorb the spicy flavor without getting overpowered. Salmon is the perfect choice (though its homies sea bass and snapper can hold up too). Throw in some couscous -- the food so nice they named it twice -- and you've got a low-effort dish that'll trick everybody into thinking you know more about cooking than you actually do. Check out the recipe here.
Harissa cherry & chocolate blondies
Harissa's flavor profile doesn't exactly scream dessert, but it actually pairs with sweets remarkably well. This recipe puts this idea to the test by pitting sweet & tart cherries against harissa in a blondie bar with a kick (and one hell of an exotic smell when it's baking). Satisfy your spicy-sweet tooth with the recipe here.
Spiced chocolate bark
Chili and chocolate have a long history together, and this five-ingredient bark could be your key to a long history of winning at potlucks. It's only five ingredients -- a little citrus, a little chocolate, a lot of spice. And lest you think chocolate bark is a holiday exclusive, consider the fact that Santa is always watching. So might as well make something to get on the "nice" list. Get in touch with your holiday spirit here.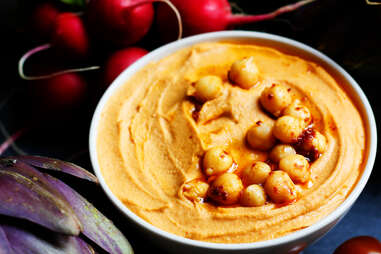 Harissa hummus
A lot of hummus recipes include an element thrown in for spice factor like cayenne. Forget being predictable with boring cayenne. Harissa adds smoke, zip, and panache. Just sayin'. Add a little extra zip to your hummus for a batch you can't help but dip into all day with this recipe here.
Harissa tomato soup
The addition of harissa -- plus a little aromatic coconut milk -- makes the ultimate comfort food more comforting… to the point that you might find yourself sneakily chugging it out of the fridge at 2am (preferably with a mouthful of grilled cheese). Bonus: The recipe also includes parsnip fries covered in za'atar spice (a blend of sesame, sumac, and other herbs), though we're not going to fault you if you pair it with Ore-Ida tater tots. Find the recipe in all its glory here.
Sign up here for our daily Thrillist email, and get your fix of the best in food/drink/fun.
Janelle Albukhari is a food and travel writer with an insatiable appetite for adventure that likes to keep things spicy. Follow her @jenkhari.