Horseradish Isn't Just for Passover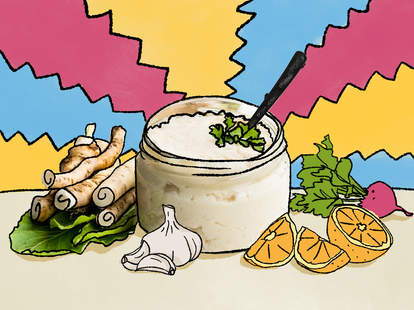 Emily Carpenter/Thrillist
Passover, one of the most important holidays in the Jewish calendar, is here. The Passover seder commemorates the Jews' exodus from slavery in Egypt, and every item on the seder plate is symbolic. Maror, or "bitter herbs," recalls the bitterness and suffering under slavery, and in the US, this is most commonly symbolized by horseradish.
When my grandparents were alive, my family had a funny Passover tradition: unlike the rest of us, my grandfather loved horseradish, so in order to maintain its symbolic value (something that represents bitterness), he was made to eat something he didn't like at all: peanut butter!
Interestingly, horseradish wasn't originally used by ancient Jewish communities during Passover; they used different types of lettuce to symbolize bitter herbs. According to a Haaretz article, the first reference to horseradish in rabbinic literature appeared in the 12th century. But rather than "bitter herbs," it was used in charoset, the sweet mixture of fruit and nuts that's also eaten during the Passover seder. The first reference to horseradish as a bitter herb came in the 14th century. A Talmudic scholar wrote, "when lettuce is not obtainable it may be substituted with horseradish."
This was particularly an issue in northern Europe, which had cold, long winters: lettuce was difficult to find on Passover (in the early spring). During the late Middle Ages, more Jews migrated from Central Europe to Eastern Europe, and many eventually adopted the Slavic word chrein, which is still the Yiddish word for horseradish. Over time, Ashkenazi Jews came to prefer horseradish for seders even when lettuce was available. Sephardic and Middle Eastern Jews, however, still favor bitter lettuces, like endive and chicory.
Gold's Horseradish – founded in 1932 – is probably the most popular choice at Passover seders in the US. Nonetheless, there are several small-batch horseradish producers across the country, like Long's Horseradish – based in Lancaster, Pennsylvania – and ISH, made in New York's Hudson Valley.
ISH is arguably one of the more innovative small-batch horseradish producers, offering four flavors: beet, citrus, garlic, and ginger. According to the company's website, everything started decades ago, when owner Carolyn Sherman's dad Larry sought to make a horseradish worthy of accompanying his mother-in-law's Passover gefilte fish. "Originally, Dad made Sherman Garden's Kosher-for-Passover Beet Horseradish for family and close friends. But, once friends began sharing it, word spread quickly about 'Larry Sherman's special recipe.' Requests grew, and before long dad was making, bottling, labeling and delivering over 200 jars each spring, to adoring fans."
Now, ISH is sold at many supermarkets across the Northeast, particularly in the tri-state area. Although Sherman also sells online to customers across the country, the products are perishable, making long-distance distribution tricker and more expensive.
ISH was founded in 2012, and thankfully Larry Sherman was able to witness his daughter's vision for a small business come to fruition; he passed in 2018. Sherman relayed that her dad thought she was crazy, "like roll-your-eyes and what-are-you-doing crazy," to try and mass-market his beet horseradish. Ultimately, though, he was proud of her accomplishments, which included developing the three more innovative flavors in addition to her dad's original beet horseradish recipe.
Sherman recounted that while her dad originally "pooh-poohed" her idea to expand the company's horseradish offerings – feeling it was straying from tradition – as it turns out, her citrus horseradish was his secret favorite! "When he was secretly eating more citrus than beet, that was the true testament" to his pride in her work.
Although many customers, particularly kids, are fans of the citrus horseradish, the beet horseradish is ISH's best-seller, because it's the classic. It's so delicious, Sherman claimed, that many people who hate beets and/or horseradish try it based on word-of-mouth recommendations and love it: "They just get this look on their face, like how the hell is that possible?"
One of the things that differentiates ISH's horseradish from its competitors is its texture: Sherman described it as "course," and not pulpy, like many prepared horseradishes are. "You're meant to bite into it and chew it." This means the processing is more difficult – it can't just be ground up. And, while ISH's horseradish is of course inherently spicy, it's "all about flavor...it's not about blowing your head off with bitter and hot."
ISH horseradish is made in small batches in the Hudson Valley and requires ample ventilation and sometimes, the use of goggles. Sherman uses large roots, not the offshoots that are easier to grind. All the other products are fresh, including the beets, juiced oranges and lemons, zest, ginger, and garlic.
Passover is definitely the "high season" for ISH and for horseradish in general. Nonetheless, Sherman is trying to even things out and convince customers that horseradish can be consumed at any time of the year, particularly because of its potential health benefits. In fact, the website provides a number of recipes built around ISH's products.
Finally, Sherman spoke a bit about the effect of the COVID-19 pandemic on her business. She admitted that, like most small businesses, she's taking a hit right now; especially with Passover "it couldn't have come at a worse time." Nonetheless, in a few stores, her products seem to be flying off the shelves. Perhaps, she suggested, this is because customers who are particularly health-conscious are aware of the alleged health benefits of horseradish, or just want to stock up for Passover, as they're worried it might sell out.
Sign up here for our daily Thrillist email, get Eatmail for more food coverage, and subscribe here for our YouTube channel to get your fix of the best in food/drink/fun.