For the Best Sriracha, Look Beyond That Famous Bottle
Look for yellow Sriracha, Shark Brand, and Sriraja Panich.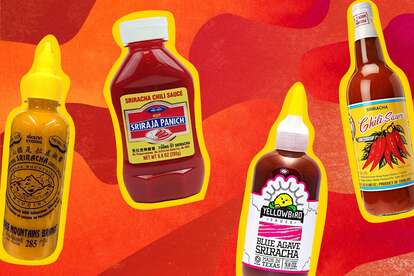 Design by Mallory Rosten for Thrillist
Before Sriracha was found on counters in every restaurant, lined up in the Trader Joe's sauce aisle, stacked within pantries across America, and blended into a creamy and unholy mixture from Heinz called "mayoracha," legend has it that the vibrant red sauce was actually quietly created in a seaside town southeast of Bangkok—a town called Si Racha.
The condiment made in Thailand, what one can argue is the original sriracha, is unlike the green-capped versions that bear a white rooster on the tall plastic bottles—or any other srirachas developed in the US, for that matter. Instead, it has what Thais refer to as a "klohm klom" flavor: a sense of balance where one note, whether it be garlic, sugar, or heat, isn't dominant over another. Across Thailand, there is a range of sriracha sauces that clamor to be considered the original; there's Sriracha Panich, Shark Brand Sriracha, and even a yellow version of the sauce from a brand called Three Mountains. Reporting from Bon Appetit refers to Sriracha Panich as the original.
"Thai srirachas are a smoother, more liquid, pourable sauce—just a bit thicker than the consistency of bottled steak sauce," says Quincy Surasmith, the host and producer of the Asian Americana podcast. He grew up on the Thai Shark Brand version of sriracha. "I feel like Thai varieties are both spicier and yet less heat forward; the flavor profile is more rounded with sugar and garlic, and just a bit of salt and vinegar."
Huy Fong's version, the kind that has risen with exponential popularity in the US since its creation by Vietnamese-American, David Tran, has a thicker, ketchup-like consistency. Surasmith hypothesizes that this is, "probably why it comes in squeeze bottles instead of glass," unlike the Thai variations. Additionally, the flavor is sharper—the heat is forward and overpowering, with more subdued garlic and vinegar notes.
"What we call sriracha in the context of the United States is, to me, sriracha only by name. It is sriracha because Huy Fong has chosen to call it that," Leela Punyarathabandhu, the author of Simple Thai Food: Classic Recipes from the Thai Home Kitchen, says. "If you put that sauce in front of a Thai person who has never been to the U.S. and has never tasted that type of sauce, would that person taste it and say 'Oh! That's sriracha'? That's very unlikely."
"The underlying issue is why sauces are even called sriracha in the first place."
For Punyarathabandhu, the underlying issue that surrounds conversations about sriracha is why sauces—some of which taste vastly different from the original version—are even called sriracha in the first place. "The agenda behind all of it is the marketing; the community of manufacturers are taking advantage of the popularity of sriracha," she explains. Because of this, we see srirachas made from beets, srirachas that tout organic ingredients, and srirachas that are watered down. Are they even a reflection of sriracha?
"I feel like if people want to make their own versions and variations on this awesome hot sauce, go for it! But if you're selling it, especially if you're a big corporation, I hope you think very carefully about why you're calling it 'sriracha'—and it should be because you're trying to nail down this specific sauce in honor of the originals, and not just because you're marketing a trend or selling the cultural cachet of an exoticized name," Surasmith adds.
Despite this, new srirachas are popping up left and right. Bushwick Kitchen has what they call a "gochujang sriracha," which is a fusion of Korean pepper paste with the hot sauce maker's version of sriracha. Kitchen Garden has an iteration of the sauce that is preservative-free but also displays a rooster on the bottle and comes with a twisted black bottle cap, reminiscent of David Tran's design on the Huy Fong version.
Yellowbird Sauces, a small-batch hot sauce company that got their start making a zesty habanero flavored sauce, carries two versions of sriracha—one sweetened with dates and raisins, the other infused with agave. "The addition of agave nectar and a fresh squeeze of lime and tangerine juice is how we added our Texas twist to the traditional sriracha," Yellowbird's co-founder, George Milton, explains. What he means by traditional sriracha—the original Thai version or Huy Fong's—is unclear, though Milton did refer to his version of organic sriracha as sriracha in its "ultimate form." However, Milton also acknowledged that their version isn't intended to replace any others. "We don't expect to put the original rooster sauce maker out of business, but we are happy to offer a top shelf option for people who prioritize clean ingredients."
The flavor of Milton's sriracha, especially the agave-infused version, tastes far flung from the original Thai version or even Huy Fong's. In fact, it reminds me of an entirely different but also popular Thai sauce: Mae Ploy's sweet chili dip. So why call it sriracha to begin with? "The definition of sriracha is 'a chili sauce made from chilis, vinegar, garlic, salt, and sugar,'" Milton says. "Our recipe has some modifications but is based pretty tightly on that original recipe."
"Nobody is saying that there's only one way to make the same sauce."
With dozens of srirachas to choose from these days, it's hard to wade through the selections and find the right sriracha. It depends on what you, as a consumer, prioritize: the original? Hotter flavor? Or a lack of preservatives?
"Nobody is saying that there's only one way to make the same sauce," Punyanrathabandhu acknowledges, "but in general, at some point, something ceases to be that thing when you cross a certain line." She finds the articles ranking srirachas comical, seeing that, to her, the contrasts are like comparing apples to oranges.
A solution to the sea of srirachas that Punyanrathabandhu presents? Make your own. Through her food and recipe blog, She Simmers, Punyarathabandhu provides easy-to-follow instructions for concocting your version of the Thai sauce. It only takes around 30 minutes—unless you have time to pickle garlic, as is traditional in Thai cuisine—and you can adjust the flavors to your own preferences (even if that means throwing in some carrots and fruit juice).