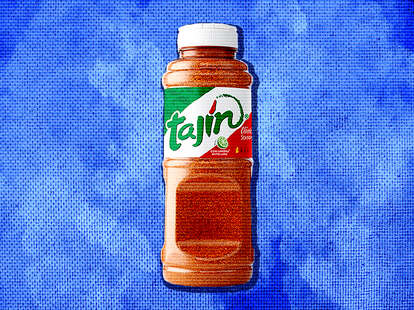 Design by Frannie Jiranek for Thrillist
Design by Frannie Jiranek for Thrillist
Buttery corn, fresh watermelon, and frozen mango popsicles have one thing in common: they all taste better with a generous sprinkling of Tajín. Tajín is a seasoning salt that embodies the bold flavors of Mexican cuisine. It's a simple mix of chile powder, salt, and dehydrated lime for a mouth-puckering kick that is often used to perk up produce like pineapples and cucumbers or to rim drinks like micheladas and bloody marys.
Tajín was invented in 1985 by Horacio Fernandez, who was inspired by his grandmother's signature chile sauce that he would obsessively slather on to corn. Determined to preserve the flavors of his grandmother's creation while simultaneously making a condiment that would be easily transportable, Fernandez set off on a journey that would result in a well-loved Mexican seasoning blend that brightens pretty much all fruit.
On a trip to El Tajín, an archaeological site in southern Mexico that is home to towering pyramids, Fernandez learned that the word "aji" translates to chile in the Uto-Aztecan language, Nahuatl. It was there that he solidified his brand's name.
Tajín traveled north to the US in 1993 and started gaining a cult following. Since 2012—thanks partly to added marketing efforts—sales of the classic seasoning salt have tripled, continuing to grow by double digits with each passing year, according to Javier Leyva, Tajín's director of North America.
Although bold, the flavor of Tajín is also versatile—able to coax nuanced notes out of something as simple as a fruit salad. Eddie Viramontes, a Los Angeles born-and-raised illustrator and graphic designer, has a bottle of Tajín at home at all times, calling it a "luxury" he has come to enjoy in adulthood.
"The ideal use for Tajín is micheladas; you can't make one without it," Viramontes says. He also notes that it is an ingredient beloved by the city's street vendors: "Fruteros, eloteros, and your corner snack shops alike use the chili powder all day to make a living." His favorite use for the seasoning though? On top of popcorn. "It's a life hack only known to very few," he shares, though the secret is out now.
Across the country in New York City, Tajín is also a staple ingredient at La Newyorkina, a sweets shop known for their ice cream and paletas, or Mexican popsicles. Where does a spicy seasoning salt fit in in a dessert shop?
"We use it to sprinkle on all our fruit based paletas and for chamoyadas," a sweet yet spicy shaved ice or sorbet, explains Fany Gerson, the chef and founder of La Newyorkina. Customers are encouraged to spice up their popsicles to their heart's desire with a counter full of different seasonings—from a syrupy pickled plum sauce, known as chamoy, to ground chipotle peppers. Of course, Tajín makes an appearance as well. "It's probably the most popular chile blend we have in our chile station at the shop," Gerson confirms.
The appeal of Tajín has much to do with its explosive flavor that's convenient to add to anything. A sprinkle is all you need to heighten a mug of Mexican hot chocolate or intensify a breakfast grapefruit. "I love putting salt, chile, and fresh lime juice to season a lot of stuff—as a lot of other Mexicans like myself do," Gerson explains. "[With Tajín], you have it all in one."
Unlike hot sauce, Tajín, which has a coarse, powdery texture, isn't as mess-prone. It also adds flavor and heat without adding liquid to a dish—crucial if you want to sprinkle it over a batch of popcorn as Viramontes suggests.
But like hot sauce, it's easy to keep some Tajín in your bag. The company sells individual to-go packets that can easily be slotted away in a purse or wallet. For those looking for a version with a bit more heat, there is now a blend made with habaneros.
In general, bottles of Tajín clock in at around $3, a small price to pay for an ingredient that can take a simple ear of corn or summertime popsicle to new heights. You can even order it off Amazon and have that spicy, sour sensation delivered right to your door.
If you've yet to sprinkle Tajín on your fruit, corn, ice cream, or even in your coffee, consider the magic that a tiny bit of salt, chile, and dehydrated lime can add to your life.