Like a combination Pizza Hut and Taco Bell, rosé beer combines two great tastes you know and love into one delightful package. A beer with the flavors of rosé wine is perfect for summer sipping, but unlike a combination Pizza Hut and Taco Bell, there's not yet a catchy song about it. Sadly. However, it is a beer trend that's worth investigating, so we spoke to two brewers and one craft-beer legend to learn why their breweries are brewing rosé beer, what they taste like, and which exemplary rosé brews to look out for the next time you're at the liquor store. 
What in the holy heck is a rosé beer?
Last year, there were 102 major beer styles judged at the Great American Beer Festival, but exactly zero of them are rosé beer. What gives? "There's not a style named rosé beer," explained GABF beer judge and Brewery Ommegang brewmaster Phil Leinhart. That said, the beer does fall under the umbrella of a hybrid beer. 
"We look at it as a beer/wine hybrid," said Adam Avery, founder and CEO of the venerable Colorado brewery Avery Brewing. "It's the use of grapes as a fermentable to produce a beer." 
That doesn't mean breweries have begun making wine and are blending in a drop of beer to make rosé beer -- grapes can only be 49% of the fermentables to still be classified as a brew, Avery said. 
The beer/wine hybrid is not a new phenomena. Delaware's Dogfish Head has been brewing them since the late '90s, with fan favorites like Noble Rot that use must (unfermented grape juice) to create a beer with wine characteristics. And those hybrids are not limited to stateside breweries, as Leinhart notes that Belgian beermakers like Brasserie D'Achouffe (also owned by Ommegang's parent company Duvel Moortgat) brews one hybrid using grapes from a Burgundy winemaker. Oh là là! 
Wine and beer combine to make something new
With the seemingly infinite popularity of rosé wine, it was only a matter of time before breweries hopped on the trend. But it's not just a quick money grab. Avery admitted brewing a rosé beer is a natural fit. "Blending beer and wine -- the two things I really love, my passions -- just makes sense to me as a brewer," he said. "I look at the grapes as I would look at ingredients like spices or anything else. It's an adjunct." 
And grapes are one ingredient that widens the scope of what it means to brew a beer. Sam Tierney, a brewing manager at Firestone Walker, echoed Avery's thinking: "You're taking two of the most popular beverages in the world and combining them to make something that, if done correctly, brings the best qualities of both and makes something delicious that you can't get from either one." 
It's built for summer
While most beers are delicious year-round, only masochists are dying to grill outside with a rich, creamy milk stout in hand. Much in the same way rosé consumption spikes when the weather gets nice out, rosé beer is fit for a hot summer's day. "It's lightish and fruity," said Leinhart. "It's not dark and heavy, or something you'd drink in the colder months. And I think people associate rosé wine with more lighter, summer drinking fare. Something akin to a delicate white wine." 
You've read enough about rosé wine for one day, now all that's left to do is drink it. Here are five fantastic examples of the beer/wine hybrid you need to pick up from breweries all across the country.
Recommended Video
Thrillist's Best (and the Rest): What's the Perfect Fast Food Meal?
7.7%
Cooperstown, New York
Rosé beer is whatever the heck you want it to be, and Ommegang proves that by brewing one of the only widely produced saisons in the rosé beer universe. It makes sense, coming from the masters of Belgian-style brewing. "We thought a saison wort would blend well with the grape juice," Leinhart said. "And then we used hibiscus to achieve the color of the rosé. The grapes bring a winey-ness, for lack of a better term, to the beer." It's also aged in white wine barrels to give it a slight oakiness.
6.2%
Cincinnati, Ohio
Adam Avery suggested he's probably not the only fan of this fruity-as-hell rosé beer. "I don't know who the largest producer of rosé beer is, but I feel like Rheinegeist is up there," he said. As of last summer, Cincinnati.com reported it was 20% of the brewery's sales. It's likely due to the beer's uber-bubbliness, the sweetness up front and its dry finish that keeps beer and wine lovers coming back for more.
 
5.2%
Minneapolis, Minnesota
Tierney had a chance to try it at a recent Firestone Walker beer fest, and liked what he tasted. "Surly took a different approach to rosé beer," he said. "It's not a wine hybrid, necessarily. They're adding a couple other types of fruit to it. It's effervescent and refreshing." Surly is careful to call this a rosé-inspired lager, and one that's brewed with black currants and strawberries. And it's a beer that Tierney said had a pleasant fruitiness, aroma, and bone dry finish.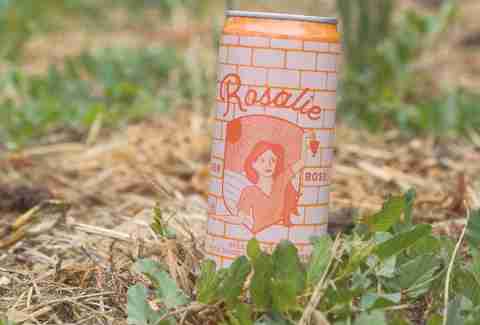 5%
Paso Robles, California
Firestone Walker set up shop in California wine country, and has used its relationships with wineries to brew beer/wine hybrids, partnering with artisan winemakers to produce wild ales like Thin Skin and Zin Skin. Rosalie is another natural fit for the brewery, as it uses Chardonnay and other wine grapes harvested nearby to create a "dry and acidic, but not bone dry" rosé brew, according to Tierney. Hibiscus gives it its eye-catching color, and delicate notes of grapes and apple ensure it'll be enjoyed for summers to come.
4.4%
Boulder, Colorado
Avery said he and the brewers were hoping to emulate the profile of a crushable carbonated white Zinfandel or rosé you'd drink at a BBQ. He described the beer thusly: "Super light body, super refreshing, and lots of carbonation." But if beer/wine hybrids are mostly aimed at tasting like half-beer and half-wine, this is an exception. "Its grape profile is the shining star," he said. "In our version of rosé, it's more wine than beer. It's purposeful." It's also worth noting that it has only 100 calories and three carbs. You're meant to be able to have a few. It's summer, after all. 
6%
Longmont, Colorado
With canned rosé becoming a full-blown phenomenon, it was only a matter of time before Oskar Blues dipped its toes into rosé beer: After all, they're generally considered to be the godfathers of canned craft beer. This rebranding of the apparently Axl-angering Guns & Rosé is extremely floral thanks to the notes of hibiscus, but it also has a nice tart bite thanks to the prickly pears that found their way into the mix. It's perfect summer sipping, though it could likely also be enjoyed in the cold November rain. Sorry.
5.5%
San Leandro, California
21st Amendment became a national treasure in a large part thanks to their Hell or High Watermelon wheat ale, so it's safe to say they know their way around fruity beers. This ultra-bubbly, deep-pink wonder is a further testament to that. With super crisp apple flavors dominating the palate, this is a beer that could easily be mistaken for a cider, and a damn good one at that, with peach, cranberries, and cherries in the mix. The result is at once sweet and tart, and the high carbonation helps it all pop together in a way that does the name proud. 
10.2%
Chicago, Illinois
This Windy City is at the forefront of the botanical brewing movement, and it's slowly expanding its footprint across the Midwest and beyond. Given the focus on botanics, it's unsurprising that this effervescent, Belgian-style ale is a real zinger, with notes of hibiscus working in tandem with the Niagra grapes that push it into vino country. Be forewarned: this is probably not for the "Rosé All Day" crowd, unless "all day" is a pretty short prospect: It clocks in at over 10%, pushing it closer to actual wine than the other beers on this list. Sip with caution, but definitely don't pass it up. 
4.8%
San Diego, California
The folks at San Diego giant Modern Times get prodigal this summer with the return of this favorite from the Fruitlands series. And it takes that fruit thing very, very seriously, loading this pink beauty with cherries, raspberries, cranberries, and lemons. But lest you think that sounds like a sugar bomb, consider this: The beer is a twist on the brewery's beloved sour gose, aligning two trends in one by offering up a slightly sour take on the rosé style. 
Sign up here for our daily Thrillist email, get Eatmail for more food coverage, and subscribe here for our YouTube channel to get your fix of the best in food/drink/fun.