What You Should Have for Dinner Tonight, Based on Your Astrological Sign
Since the dawn of time, every human under the sun has asked themselves the same tireless question: what in Hova's name should I eat for dinner tonight? The possibilities for conquering this petulant beast are endless. You could go out, stay in and cook, or pick up takeout. You might be hankering for a spicy Thai curry or mom's classic baked mac & cheese. Couple this with an increasingly hangry disposition, and you're in for one rocky night.
Today, take a much-needed break from decision-making and let the stars guide you through yet another culinary conundrum.
Daniel Fishel/Thrillist
Aries (March 21st-April 19th)
You're a spitfire, Aries, teeming with unbridled drive and infectious enthusiasm. In the kitchen you're all over the place, bustling around like an adorable apron-wearing pinball, shaking salt and cracking peppercorns with a heavy hand, pots and pans rattling in your wake. I've got three words for you: red. Thai. Curry. That unstoppable force inside you needs fuel, a chili-based dish that can truly light your flame, careless fistfuls of herbs and spices matching you round for round, pepper for blazin'-hot pepper. And when that nonstop hothead hustle has you laid up, exhausted, and yearning for comfort, there's nothing like a bowl full of rich, creamy coconut milk to sooth that little Sonic the Hedgehog soul of yours.
Taurus (April 20th-May 20th)
I'm going to give it to you straight, Taurus, because that's how you prefer it. Tonight, I want you to break out that porterhouse you've been saving, crack open a good bottle of red (or, let's be real, Scotch), and whip up that bearnaise sauce you love so much. I know what you're thinking -- why tonight? It's just a random Tuesday, for De Niro's sake! Because it's high time you treated yourself, you stubborn old ox. You're out there every day, plugging steadily away, going about your business with the quiet pride, steadfast loyalty, dignified determination, and flawless flowing locks of an English Setter. I know you're not big on ceremonious occasions, T, but trust me, that slick haircut alone is worth celebrating. How do you even get that shit so shiny? Enjoy every juicy bite of that med-rare beaut, chief. And afterwards, may I suggest you cue up a flick -- one of those sepia-toned '70s classics, maybe -- settle into your tasteful leather armchair, and fire up a Cuban. You deserve it.
Gemini (May 21st-June 20th)
Your dinner plans are almost as hard to pin down as you are, Gem, and to boot, making time-sensitive decisions has never been your strong suit. But who could blame you? Just think of all the choices -- you've got your pasta, you've got your pizza, your chicken pot pie... chicken! Grilled chicken, barbecue chicken, fried chicken, sauteed chicken, chicken soup, chicken fried rice -- the options are endless, and you can be such a friendly, adaptable person, you'd probably be just fine with whatever ends up hitting your plate. Tonight, try not to hem and haw too much, my darling double agent. Instead, just do what you do best: your own damn thing. Pick a protein, Pinterest a few recipes (as if you'd ever follow a recipe), and go to town. If you can manage to muster up a little confidence, harness your God-given ingenuity, and focus on the task at hand for an entire minute, you might wind up creating the next ramen burger (or whatever weird viral food kids are into these days).
Cancer (June 21st-July 22nd)
Cancer, let me be the first to tell you that there is nothing, and I mean nothing, wrong with eating the same thing every single night. As a freewheeling Sag myself, I truly admire your penchant for sticking to a reliable routine. Feel like takeout? Dial up that sushi place you love so much and say you'll take the usual. And if you're pinching pennies, never fear, there's always pasta in the pantry, peas in the freezer, and your favorite marinara sauce on the shelf. You might not be the most adventurous crustacean in the sea, but at least you'll know that whatever option you choose, you won't hate it. So go ahead and pour yourself a glass of white, grab your knitting needles, turn on that sweet, sentimental rom-com you've seen a hundred times over, and dig on in -- no comfort zone is complete without a little comfort food.
Leo (July 23rd-August 22nd)
You're a culinary master, Leo, and you know it. It doesn't matter if it's mac & cheese or steak au poivre, as soon as you strap on that crisp apron you instantly transform into a gourmet guru of Jacques Pepin-level proportions. The only thing you magnificent lions love more than sharpening your knife skills is showing them off, so tonight I advise you to finally throw that dinner party you've been talking about for weeks. Keep the menu simple -- maybe a few passed plates of crispy, pillowy samosas, stuffed with succulent potatoes and green peas and fried golden-brown, or paper-thin slices of tender fillet, drizzled in a elegant horseradish sauce and served alongside an overflowing basket of custardy popovers. And as you raise your glass and begin your eloquent toast, I urge you to take a moment to soak up all those adoring, smiling, happily fed faces surrounding you. That was all you, big guy.
Virgo (August 23rd-September 22nd)
You're nothing if not precise, Virgo, and one glance at your nutritious, artfully composed, and well-balanced plate says it all. And, lucky for you, fall is upon us -- this is autumn, your time to shine, so let's go seasonal. Tonight, grab your favorite Muji stationery, plot out a simple, efficient shopping list (sweet potatoes, Brussels, and beets; butter lettuce with late-summer strawberries and feta, a gorgeous, tangelo-hued coho salmon steak, exactly 1in thick), and stroll over to your favorite gourmet grocery. Later, once you've rewashed all the cookware your boyfriend claimed was "clean enough," carefully portion out your ingredients, flip on All Things Considered, and get to work. You and I both know your plate will look even better than it tastes, each food group accounted for in expertly prepared, meticulously distributed servings. For you, my pristine warrior, there's nothing more satisfying than a delicious meal prepared for you, by you, and with the grace only a Virgo can muster.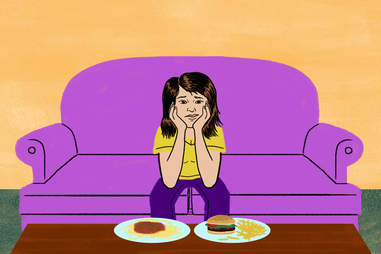 Daniel Fishel/Thrillist
Libra (September 23rd-October 22nd)
For you, Libra, the dinnertime struggle is all too real. Indecision has always been your Achilles heel, and when it comes to supper plans, you're as lost as a freshly graduated English major -- and almost as hungry. I'm going to encourage you to limit your Seamless swiping to 20 minutes tonight, my sweet, 25, tops. Fretting over how many toppings might disrupt your locally sourced veggie burger's harmony won't fill your belly and, at the end of the day, a disappointing meal is better than no meal at all. You have a beautiful soul, Lib, but if you focus on your own needs and let go of your compulsion to right all the world's painful imbalances (the delivery boy's 25% tip was more than enough, I promise), you might just stumble upon that inner-peace thing you're always going on about. If not, there's always another Ben & Jerry's pint to polish off and another Elena Ferrante book to sob through.
Scorpio (October 23rd-November 21st)
If there's one thing I know about you, Scorp, it's that you Desire with a capital "D." You're the kind of person that starts dreaming about dinner directly after lunch, salivating over the juicy, meaty leg of lamb, smothered in tart, succulent marsala and hugged by a heap of buttery bone marrow mash, awaiting you on the other side of 6:30. And try as they might, no heart-healthy partner or carrot-chomping pal could ever dissuade you from indulging in those lavish spreads. No, your innate, all-consuming passion, unshakable tenacity, and bewitching charisma are no match for their well-meaning suggestions and, anyway, nothing comes between a Scorpie and his steak, amirite? I say to hell with the haters. You load up that plate and live your go-big-or-go-home truth tonight, singer --  I think you're beautiful just the way you are. And, if your rep in the sack is any indication, I'm not the only one.
Daniel Fishel/Thrillist
Sagittarius (November 22nd-December 21st)
Look, Sag, if you really wanted to cook dinner tonight, you wouldn't have stayed for that "one" last drink. You also probably would have gone grocery shopping last Sunday instead of taking that spontaneous day trip to Atlantic City. I mean, I completely get that the bus was RIGHT THERE and boy, do I know all about that free-chip card. But, real talk, your vivacious thirst for life and endlessly adventurous spirit, while charming AF, can sometimes derail your big-picture goals -- like, you know, keeping more than old ketchup packets in the fridge or making it home in time for the 11pm Friends double block. How about you just stay out tonight, my dearest archer? Order some pizza to the bar -- everyone will LOVE you for it, and we both know how much you love to please -- put it on a credit card (it's like free money, right?), and just YOLO it. There's always tomorrow.
Capricorn (December 22nd-January 19th)
Of all the signs in the Zodiac, Cap, you undoubtedly give the least shits about something like dinner. Honestly, who even thinks about something as petty and pedestrian as eating food when you're so busy taking over the world? The only cheddar you're interested in stacking comes in 10s and 20s. Besides, you're probably working late, logging billable hours by the truckload, the promise of partnership growing larger and larger every minute. Just grab a Luna bar from the drawer if you're feeling peckish -- it pairs perfectly with that 12th soy cappuccino. And if you really need a little something to get you through that last brief, treat yourself to a kale salad from the semi-decent French spot down the way. It won't be up to your impeccable standards -- overly wilted and under-seasoned to say the least -- but you can expense the crap out of it.
Aquarius (January 20th-February 18th)
You're a dreamer, through and through, Aquarius. Dollars to donuts you'll end up forgetting all about dinner tonight. But, unlike your neighbor Capricorn, it won't be because you're slaving away at some desk somewhere. Nope, you, my thoughtful, creative confidant, are likely off gripping a hand-painted picket sign, advocating for clean water or fair wages or some other righteous, unselfish cause, too busy chanting to hear your tummy grumbling away. My advice? Stash an almond butter-chia seed-avocado sandwich or two in your eco-friendly, reusable lunch pouch and try your best not to leave it sitting by the front door this time. Remember, even the most radical of revolutionaries still need to eat.
Pisces (February 19th-March 20th)
Pisces is ruled by Venus, the planet of pleasure, sensuality, and, curiously enough, epicureanism, and this speaks volumes about your dining habits. You gravitate towards lush, rapturous flavors -- briny oysters, penne drenched in fiery arrabbiata, pungent moules frite. I'm not saying you're a glutton, darling, it's more that you take great joy in your food, living to eat, not eating to live. So tonight, my fishy friend, I want you to lean into your cravings with gusto. Hit the market and stock up on all your seasonal favorites -- ripe, luscious peaches and plums, unctuous sausage that bursts from its casing with each bite, soft French vanilla ice cream flecked with sweet almond slivers. After you've prepared your dinner with your loving touch, set the table, light a candle, and invite a friend or lover over to share in your culinary triumph. After all, the only thing you like more than a great meal is the intimacy that comes from shared indulgence. Well, that and pouring your heart out over pasta.
Sign up here for our daily Thrillist email, and get your fix of the best in food/drink/fun.
Meredith Heil is a staff writer for Thrillist. She's in her fourth house watchin'
SportsCenter
, in the kitchen cooking but she ain't cooking dinner. Split a pizza with @mereditto.