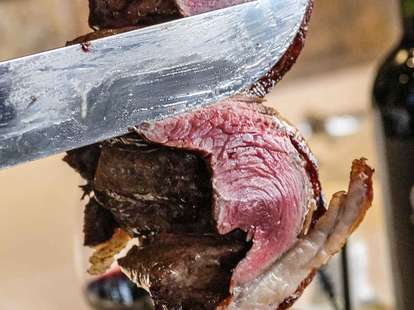 With the World Cup approaching and the Olympics on the horizon, Brazil has captured the world's attention for something other than an insane selfie. For those visiting Brazil, frequenting Bin Laden-themed bars and gorging solely on sushi and Nutella-topped pizza seems horrible, so we asked New York Times Frugal Traveler Seth Kugel to give us the lowdown on what constitutes the most emblematic of Brazilian food.
As a fluent Portuguese speaker, a former São Paulo resident, and a general documentarian of a country that's larger than the continental United States, it's safe to say that Kugel is big in Brazil. We caught up with him before he jetted off to watch the World Cup and drink his fair share of Caipirinhas (the national drink, made with Cachaça, sugar, and lime).

Pão de queijo
Said to be from Minas Gerais, but found throughout the country, nothing says Brazilian breakfast quite like pão de queijo and a glass of fresh squeezed juice -- try an avocado shake! Cheap and, notably, gluten-free most of the time (Brazilians typically use cassava or tapioca flour), these cheesy buns are similar to French gougères. They're chewier and more substantial, however, while retaining a light, crispy exterior; essentially, it's the best cheese bread in the world.
Feijoada
Brazil's national dish, feijoada was initially a poor man's food made with whatever animal scraps the rich refused to eat. Though there are tons of regional variations, feijoada is essentially a bean stew (feijão is the word for beans) with pork trimmings (ears, tails, feet, nose), bacon, ribs, smoked sausage, and/or salted beef. Sometimes there's vegetables, but, more often, it's loaded with meat and served with rice, farofa (toasted manioc flour), shredded kale, and orange slices. Though it's traditionally a weekend dish, you can often find a restaurant that will serve it throughout the week.
Carne do sol/carne seca
These two dried meats from the Northeast of Brazil are created using different processes. Carne do sol is quite literally "meat of the sun", as it's salted beef that's sun-cured, leaving a hard, salted exterior with a succulent interior. Once it's ready to eat, the excess salt is washed away, and the meat can be fried and served as a hamburger or baked in an oven with cream. Grind the carne do sol with cassava flour and red onions, and it's transformed into a dish called paçoca. Carne seca is more heavily salted than carne do sol and left to dry for longer; it's akin to traditional beef jerky.
Pasteis (pastel singular)
A pastel is the Brazilian take on the empanada. Generally thin and rectangular, it's a staple of São Paulo farmer's markets and street-food stalls throughout the country. They can be stuffed with everything from ground beef and various cheeses to shrimp or hearts of palm.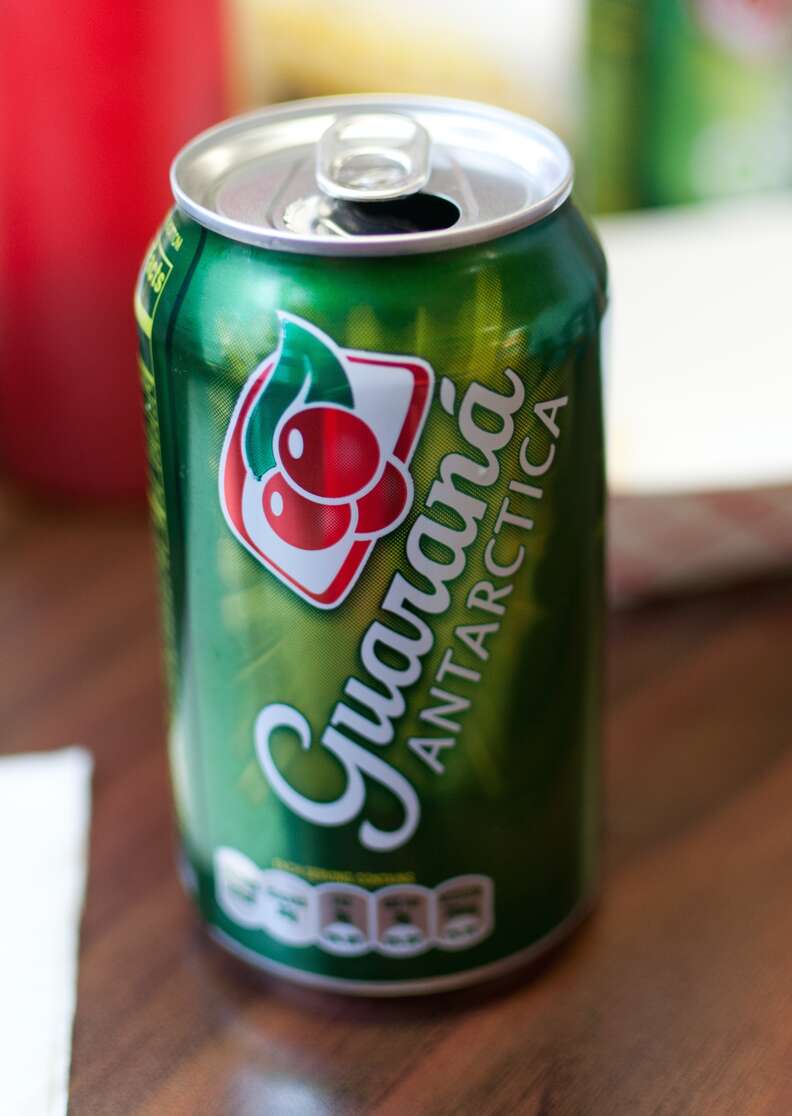 Guaraná soda
Guaraná is a plant native to the Amazon region that contains more caffeine than coffee. It's so popular in Brazil that the word is ubiquitous with the soft drink. The two most famous brands are Guaraná Antarctica and Kuat!, and it's thought to help athletes recover from strains and aches, almost like a drinkable Bengay. Mmm, delicious! According to the FDA, it's "generally recognized as safe"; according to its Brazilian sales, it's delicious.
Chopp
A Brazilian draft beer, Chopp uses a different type of draft system that creates a Guinness-like, thick head atop the watery lager. It makes for a nice break from those Caipirinhas.
Picanha
Also known as top sirloin, picanha is the most popular Brazilian cut of steak. According to Kugel, you have to eat the ring of fat, or you're missing out. Your best bet for sampling picanha (and generally gorging yourself on too much meat) is one of the churrascarias, or barbecue restaurants, that are typically all-you-can-eat and found throughout Brazil.

Moqueca
Moqueca Bahiana comes from Bahia in the Northeast region of Brazil, while Moqueca Capixaba comes from Espírito Santo in the Southeast. Both are essentially fish stewed with tomatoes -- though the Bahian version adds coconut milk and palm oil -- to create a rich meal that's complex and delicious. It's been a Brazilian staple for over 300 years and is often cooked slowly in a terra cotta pot.
Arroz com pequi
Arroz is rice, and pequi is, according to Kugel, "a horrible tasting fruit from the Cerrado (Brasilia and thereabouts)." To say the least, the flavor of the fruit is striking and unique. It's embedded with thorns, so cooking with it requires patience, and probably gloves. Though cooking oil can also be extracted from the fruit, and it's been known to find its way into ice cream, candy, and liquor, the most popular and simple preparation is arroz com pequi.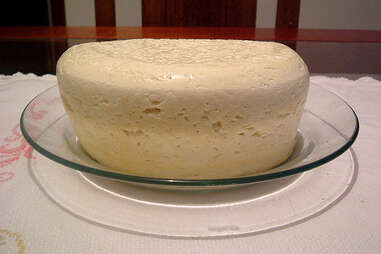 Doce de leite com queijo Minas
Caramel smeared on fresh cheese from the state of Minas Gerais. Sugar and cheese for dessert? It's a wonder America didn't come up with this first.
Kiran Herbert is Thrillist's homepage editor. She lived in Brazil for a couple months after college, subsisting mostly on coconuts and sticks of grilled white cheese. Invite her to play Capoeira at @KiranHerbert.