The Best Snacks and Drinks to Buy at a British Grocery Store
Dairy Milk chocolate, Heinz Salad Cream, and Walkers crisps are must-have items.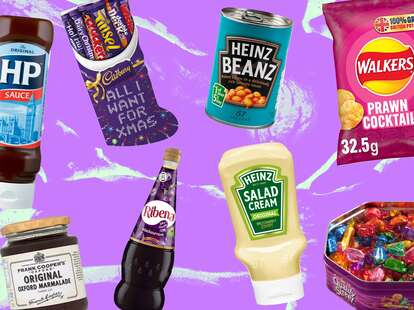 Photo by Chineme Elobuike for Thrillist
Photo by Chineme Elobuike for Thrillist
To those who stand fixed in the position that British food is bad, I say you're wrong. It's 2021: generalizations are out, and nuance is in. We've gathered a lot of preconceived notions about the Queen's cuisine (names like "bubble and squeak," or "bangers and mash" don't help), but it's time we start recognizing how splendid distinctly British food can be.
When I lived in London for a short while, there was nothing I enjoyed more than my weekly visits to Waitrose, the British supermarket chain. What I became attached to most, was not the Sunday roasts or fish and chips, but the specialty grocery items that you couldn't find anywhere else: shredded British cheddar, elderflower G&T's, Peppa Pig gummies, rhubarb everything.
So when I stumbled upon Myers of Keswick in Manhattan's West Village, and was greeted by a tuxedo cat lounging in the Union-Jack-embossed window, I was—as the Brits say—chuffed. The store carries everything from house-made pies and sausage rolls to Marmite and Fairy liquid soap.
Myers of Keswick was founded by Peter Myers in 1985. What began as a short holiday turned into a long-term job at the Bells of Hell, a watering hole for British expats in the West Village. When Peter's father, Tom, came to visit years later, he brought with him his Cornish pasty recipe and began making them to pass the time. They quickly became a hit at the bar's happy hour.
"The irony is that he [Peter] was coming from a third-generation family butcher back in the town of Keswick, and he had no interest in taking it over. So that's why he left. And here I am now running the family business," says Myers' daughter, Jen Pulidore.
Peter Myers quickly realized that there were many people like him craving, not just pies and sausages, but Ribena and Branston Pickle. "At first we didn't have that many shelves, and my dad just said he'd carry the basics like HP, salad cream, a selection of teas, and some biscuits," Pulidore explains.
"But as I grew up, I'd say I wish he carried Jammie Dodgers, so he would add Jammie Dodgers to the mix, or a customer would come in and say, 'I really love PG and Typhoo, but Builder's tea is fabulous,' so we'd add that. It's been a combined input of the people that work here and our customers, but it all started with my dad's number-one homesick choices."
While the majority of customers are made up of expats who miss flavors from home, Pulidore says, "the amount of anglophiles has definitely grown, because I think English food has become trendier over time. There's a lot of good-quality comfort in their foods." And not to mention—a penchant for festive delicacies.
Our favorite British snacks and drinks
Seasonal chocolates
I've thought long and hard about a particular, mainstream candy that Americans get excited for around the holidays, but ultimately found myself stumped (Candy cane Hersey's? Red and green M&M's?). The Brits, however, revel in festive chocolates, and there's no name more household than Cadbury. "Growing up, I was always given a Selection Stocking, which is basically a stocking filled with a variety of Cadbury chocolate bars, from Flake to Crunchie to Dairy Milk," Pulidore explains. "They're widely popular, as well as the Cadbury Dairy Milk Advent Calendar. Every year we add more and more to our order, and we sell out within a week or two before December 1."
Some of Pulidore's other favorite boxes include the Heroes tin, as well as Milk Tray, and as far as other brands go, the Quality Street tin is a classic. "It always makes me think of my great aunt. She would bring a box of Quality Street, which is Nestle's version of the Cadbury Heroes, but just a lot older. It has a variety of unbranded chocolates, like strawberry truffle or caramel cream. And I think those are pretty iconic of British Christmas chocolates."
Then there's the classically British chocolate-orange combo, which, according to Pulidore, is manifesting itself everywhere. There's Terry's Chocolate Orange, Dairy Milk Orange Fingers, and Dairy Milk Orange Buttons. My personal favorite comes in biscuit form: Jaffa Cakes. The treats feature a Genoise sponge base, a layer of orange flavored jam, and a coating of chocolate. In my opinion, they're best served out of the fridge.
McVities Dark Chocolate Digestives
Speaking of biscuits, my best-of-all-time goes to McVities Dark Chocolate Digestives, which are wheatmeal biscuits covered in dark chocolate that taste much better than they sound. "The number of Dark Chocolate Digestives we sell is off the charts," Pulidore says. "And they're very hard to come by. We bring them over ourselves. They're the one biscuit you cannot find off of any wholesaler."
Heinz Salad Cream
"I can't live without salad cream, personally. Growing up, I used to eat it just on toast alone," Pulidore says. Salad cream is a pale yellow condiment made of emulsified egg yolk and vinegar. "It's like a lighter mayonnaise," Pulidore explains. "It's more liquid-y and not as thick in consistency. I just think it's got a real vinegar taste to it, and I love vinegar. So I use it on sandwiches, instead of mayonnaise, or as a dressing."
Heinz Baked Beans
For the famous beans on toast, Heinz Baked Beans are a love-it-or-hate-it item among Americans. I happen to love them. "American baked beans are more barbecue-based, whereas the Heinz beans are a bit sweeter," Pulidore explains. "They use a tomato sauce that's similar to the one used in their Spaghetti Hoops."
British pies
Myers of Keswick pies are filled with everything from steak and ale to curried lamb. But Pulidore's personal favorite is the chicken and leek, developed in part by head chef, Nino Saldano. "When I took over, we made a different pie each month and then did a vote to see which one was everyone's favorite. Thus the chicken and leek was born," she says. And for those with a sweet tooth, you can't forget about mince pies, which come around during Christmas time. They're made of mincemeat—apples, raisins, sultanas, candied orange peel—and come encased in a pastry shell. "They're insanely popular, whether they're boxed or homemade," Pulidore says.
Frank Cooper's Marmalade
"Whenever my dad comes over for a long stay, I have to have the fridge stacked with pork pies, a sausage roll, good tea, usually Yorkshire Gold, and a marmalade—Frank Cooper's, to be exact," Pulidore says. The brand's original recipe is made with coarse-cut Seville oranges, perfect for adding a zesty finish to scones.
Devon Cream Company English Clotted Cream
Also perfect on scones, clotted cream is a spread that I desperately miss. There's no real American equivalent. Its cousins, Italian mascarpone and French creme fraiche, are much easier to find here, though, in my opinion, they don't quite compare. Pair it with marmalade or jam for the perfect treat.
Walkers crisps
"Unfortunately there's a major shortage in the U.K., so they're hard to come by," Pulidore says. "They're the British version of Lay's, but just a wee bit different. There's something crunchier about them." They come in bold and eccentric flavors, like Worcester Sauce, Prawn Cocktail, Roast Chicken, Smoky Bacon, and Pickled Onion.
Ribena
Ribena is a blackcurrant cordial, meant for diluting with water. The brand once held a reputation as a healthy product, distributed to children as a Vitamin C supplement during World War II by the British government. Over time, though, it became a topic of debate for its high sugar levels. "When I was two, I wasn't one for milk, so my dad had the genius idea of putting a little Ribena in it. It's one of those things I can still taste when I close my eyes. But then years later my aunt said, 'Well, no wonder she had all those cavities.'" Everything in moderation, right?
HP Sauce
"It's similar to an American barbecue sauce. But there's more of a vinegar base—a bit of a kick—to it," Pulidore explains. "It's widely popular, whether it's with breakfast—as a condiment added on to eggs, or a bacon sandwich—or to eat with steak and chips." It's also named after London's Houses of Parliament, and you can't get more British than that.
Where to shop for British products
While there isn't a national British grocery chain in America, there's an abundance of specialty stores spread across the U.S. Myers of Keswick is currently working on nationwide shipping, but until then, its NYC neighbor Tea & Sympathy can send some comforting classics. Otherwise, you can order from the British Food Depot, an expat-owned ecommerce site, or check out this comprehensive list of stores offering British goods in almost every state.