Fan Favorite Food Items You Need to Buy From Aldi
The German grocery chain carries impressive spreads of cheese, delicious hummus, and seasonal delights.
Design by Megan Chong for Thrillist
Trader Joe's and Aldi have been the discount grocery equivalent of step cousins since 1979, when the Germany-based Aldi acquired TJ's and, presumably, its giant closet full of Hawaiian shirts. The details are complicated. Basically, Aldi bosses Karl and Theo Albrect split their empire into two companies—Aldi Nord and Aldi Süd—to avoid cannibalizing themselves on expansion. Long story short, we got cookie butter out of it.
But while Trader Joe's is certainly the more noticeable grocery chain, Aldi itself has quietly expanded to more than 1,750 US locations. Despite the prevalence, Aldi is a mystery to many, starting with its $.25 cart deposit and extending throughout the store, where shelves are stocked deep with unfamiliar brands at rock-bottom prices.
To the uninitiated—including this writer—entering an Aldi can be overwhelming, and choosing what to buy can be a crapshoot. But to those in the know, there's gold to be (self) bagged at the end of the Aldi rainbow. To figure out what to buy, we chatted with superfans, scoured blogs, and did a little shopping of our own. No Hawaiian shirt required. Just bring a quarter, unless you want to carry everything with you—that cart deposit is no joke.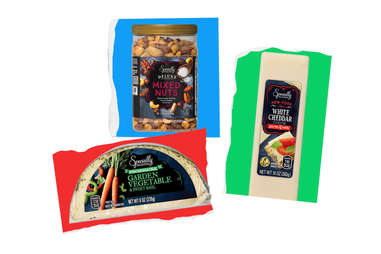 All the fancy cheese
Say this for the Albrecht family: they really, really like cheese. As at Trader Joe's, the selection at Aldi seems drawn from a cheesemonger's dream, but at a price that will make you feel pretty ok about housing an entire wheel of gouda in one sitting. Of the Specially Selected line of cheeses, the Aged Reserved White Cheddar is the standout: a block of sharp, salty deliciousness that wouldn't be out of place in a fancy cheese shop. They've also got gouda on offer, along with edam and a selection of semi-soft cheese packed with everything from garden vegetables to pepperoni and marinara. That's right: Aldi sees Trader Joe's Cookie Butter and raises it some meaty pizza cheese.
So many nuts
Gigantic nuts, both salted and unsalted, hit bulk-bin prices at Aldi, and it's pretty hard to go wrong with a tub of any of them (though you can get them all in the mixed nuts package). However, if you spot the salt & pepper cashews on the shelves—the items available on any given visit to Aldi can vary drastically—buy them immediately. They're game-changers.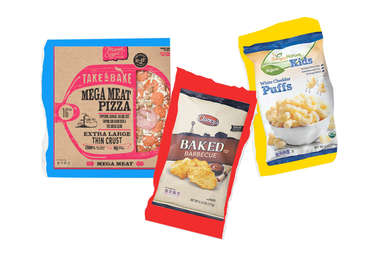 Familiar-looking snacks from brands you've never heard of
Unlike TJ's, Aldi does carry some name brand items, but they're buried in a sea of other brands you've very likely never heard of, including a whole line of snacks called Clancy's. It's pretty clear that the Clancy's brand is the Aldi equivalent of every other store's knockoff name-brand snack items. The thing is, though, that the Clancy's chips are good. No, you're not going to mistake their take on nacho chips for Doritos or the poppable cans of crisps for Pringles, but they're still solid in their own right. And for a buck or so, you can probably afford to take a gamble. Meanwhile, the Simply Nature brand is a top-notch organic brand (Aldi's got a solid commitment to organics and sustainability), and their Kid's Cheddar Puffs and its veggie chips stand tall next to similar products at TJ's and 365.
Anything Mama Cozzi cooks up
Most grocery stores have one or two in-house pizza options. Aldi? Aldi has Mama Cozzi Pizza Kitchen, and Mama Cozzi does not mess around. The enormous take & bake pizzas here hit all the right marks, managing to out take & bake Papa Murphy's in volume, quality, and price (it helps that the pepperoni is piled on in diced and sliced forms). But that's not enough for Mama Cozzi. There's also a boatload of frozen options, from the rising-crust Frescetta variety to French bread pizzas and even a version of Totino's party pizza and an offshoot called Hangry Tomato that trafficks in stuff like chicken/sriracha pies. You had us at take & bake, Mama. You won us in the freezer.
Gluten-free everything
LiveGFree kinda sounds like it could be a late-period Dr. Dre album, but it's also the name of Aldi's in-house gluten-free brand, which fills the shelves with enough options to stock a celiac's kitchen for a lifetime. Among the standouts for the gluten-free set are pizzas, chicken nuggets, pancake mix, brownies, pasta, mac & cheese, and even a LiveGFree line of Hot Pocket alternatives, all without a speck of flour in the package.
Spreads and nut butters
Non-peanut nut butters are great and all, but when the prices skyrocket, it's pretty tempting to make compromises. Aldi's SimplyNature imprint—which also does great stuff with pasta sauce, broths, and other pantry essentials—has almond and cashew butter that purists stand by, while the Specially Selected line of jams completes the (not peanut) butter and jelly needs. Oh, and the bread's pretty good too.
All the cookies, but especially the fake Girl Scout ones
Aldi's got the cookie game on lock, doing fantastic things with chocolate-covered butter cookies and the incredible Continental Sampler, which is basically the Specially Selected equivalent of a Pepperidge Farm value pack. But the real move here is to flock immediately to the Benton's-branded pantry cookies, which do nice takes on the Pecan Sandy and Soft Batch, but absolutely slay with a line of fake Girl Scout Cookies, including takes on the Thin Mint, the Samoa, and the Tagalong. They're cheaper, they're available all year, and they don't require you to track down girl scouts.
So. Much. Hummus.
Yes, the brand name makes it sound like a health-conscious alternative to the Easy Bake Oven for kids whose parents are total fun-sponges, but there's some gold in the Little Salad Bar line. No, we're not talking about the pre-packaged salad mixes, though those are perfectly fine. We're talking about the hummus, which doesn't quite match Sabra in variety, but comes close, with six options, among which the tapenade and red pepper are standouts. Even better, the Specially Selected pita chips and the LiveGFree rice crisps offer the perfect dipping apparatuses.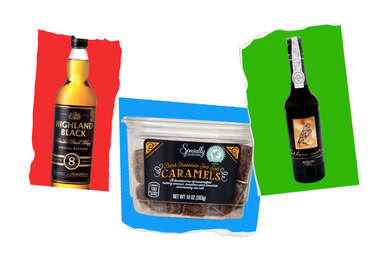 Fancy chocolate for days
In an alternate universe, Agustus Gloop avoided his horrifying death in Wonka's chocolate river, slimmed down, changed his name to Albrecht, and went to work. More than "that place where they sell shopping carts for a quarter," Aldi is known for its vast array of fancy European chocolate. The exclusive Choceur runs the gamut from milk to white to dark bars, with marzipan and hazelnuts prominently lodged in the mix. Meanwhile, upscale brands like Germany Moser Roth and Schogetten hit the shelves alongside lower-brow stuff Japan's Yan Yan, and the Specially Selected brand once again owns the game with items like dark chocolate-covered caramels. Basically, you should bring an extra quarter just to fill a shopping cart with chocolate.
Booze. Lots of booze.
Trader Joe's has Two Buck Chuck, though inflation has made it more like Four Buck Charles. Aldi's got a ton of wine on it's shelf too, but nathe Winking Owl imprint brings the value, clocking in at under $3 and representing a wide array of styles that taste way better than something priced like Boone's Farm should. There's also beer on the cheap, and if you happen to run across an Aldi that sells liquor overseas (fun fact, there are more than 10,000 Aldis in 20 countries, so it shouldn't be tough), be on the lookout for the Highland Black scotch, which recently managed to be named the best whisky on the planet at the Spirits Business Scotch Whisky Masters. It's priced at a mere $17, which is WAY worth tucking into your checked luggage; fingers crossed it makes its way to the states soon. In the meantime, $17 will get you six bottles of Winking Owl, which will help pass the time.
Seasonal favorites
Although Trader Joe's is well known for morphing its merchandise throughout the year, Aldi also offers a solid display of seasonal items. For the fall, there's pumpkin spice cheese and hot chocolate and cappuccinos and bisque (as well as actual pumpkins for decor and eating). Winter items include egg nog and frozen appetizers for hosting, like cranberry and feta puff pastries. During summer, expect lemon-flavored everything and endless ice cream. They even came out with a special Mother's Day cheese this past year! Leave it to Aldi to get you into the mood, whatever season it may be.
Former senior editor Andy Kryza paid the full $.25 for this cart, officer, and cannot understand why we're having this conversation again. Follow him to ill-advised self representation in court @apkryza.