The Correct Order at Every Major Fast-Food Chain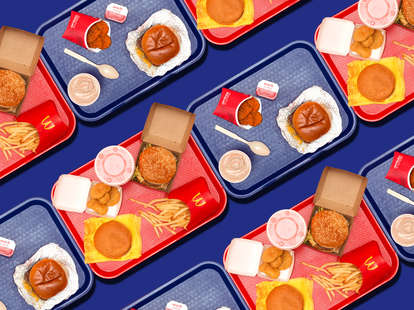 Cole Saldino/Thrillist
Cole Saldino/Thrillist
A while back, we told you the best thing to get at many fast-food places. And while that was all well and good, it forgot one key thing: you don't just order one item at a fast-food joint, you get a meal. And when I started talking to my co-workers about the perfect meal order at every major chain, fights broke out, water cups were knocked over, and mayhem ensued. Turns out people tend to have very strong and specific opinions about ordering correctly.
Because I'm an impartial guy, I listened to all of those arguments, decided which were most valid, and asked whomever made said argument to explain it to you, the people, so you too can bask in the glory of a perfect order. If you disagree, you can tell us your own order in the comments, though I'll tell you now: you're probably wrong.
Wendy's
Order: Baconator, five-piece chicken nugget, and a chocolate Frosty (no fries)
I used to be a Jr. Bacon guy. From a self-justification standpoint, they somehow pull off the very neat trick of making the consumption of two cheeseburgers feel like you're eating maybe half of one. Which worked out quite well until the Baconator came around. Perfect name, perfect fast-food bacon cheeseburger. It's just more substantial, and the bigger Wendy's squares just feel and taste more like a "real" burger than the little ones for some reason.
Wendy's has only one problem, and it's the fries. They LOOK good, but they're just... not. It almost seems like they're unsalted, and there's not enough of that McDonald's-type layer of snap on the outside. Luckily the chicken nuggets are a beyond-worthy replacement that certainly couldn't be your main course, but can very adroitly serve one function of fries: breaking up your burger consumption. Can you dip them, like many love to do with the fries, in your Frosty, maybe the most revered (and cheapest) fast-food shake? Of course you can, this is your world, man!! But please don't. -- Ben Robinson, editorial director

Zaxby's
Order: The house salad with fried chicken, tossed in Insane sauce. Get ranch dressing, of course.
You know how every time you go to a wing joint, you have to choose an order of six or eight or maybe 12 wings and then it takes you over an hour to get enough food off the bones to possibly feed a small bird dinner, while also making yourself look like you went bobbing for apples in a vat of hot sauce? Well, that's why I only order boneless wings, which you can also get at Zaxby's. But with the salads, er, Zalads, you get more chicken and they'll actually toss it in whatever wing sauce you want before throwing it into the lettuce. Bonus: you also get more dressing to dip the chicken into since, well, you got a salad. Also, I really like salads. -- Liz Childers, senior cities director
Taco Cabana
Order: Steak fajita bowl, three-pack of chicken flautas, queso, four extra tortillas
The 24-hour Taco Cabana within walking distance from my college dorm meant that I spent many a 3am Thursday night ignoring the obvious question of how recently its condiment bar had been refreshed. Which brings up the first point of ordering correctly: drive-thru is not an option. You must eat in the restaurant to take full advantage of the pico and onions and cilantro and lime wedges. Second pro move: always order at least a half-dozen flour tortillas, which are made fresh even during post-midnight hours. Once you've nailed those two points, you're almost in the end zone, but take it all the way home with a steak fajita bowl (with queso, not guac) which you'll pillage to make a fleet of tiny tacos with those tortillas, then dip them into the queso. Enjoy the crispy flautas as palate cleansers between bites. -- Dan Gentile, senior writer, Food and Drink

Culver's
Order: Cheddar ButterBurger, Wisconsin cheese curds, root beer float
When in Culver's, do as the Wisconsinites do -- which, in this case, means staring borderline angrily at anything containing the words "grilled chicken" or "salad" and loading up on the full-fat dairy products with reckless disregard for your personal well-being. Obviously you're getting a ButterBurger -- I'd recommend the cheddar, adorned with a couple slices of the real Wisconsin good stuff rather than its more processed American cousin. Get bacon if you must, but maybe think twice about that, because you're also eschewing the solid but unremarkable crinkle-cut fries for, what else, a pile of deep-fried cheese curds. Oh man, you've really done it now. But wait! They also do their own frozen custard?! You'd hate to miss out on that, but you're also getting increasingly worried about your lifespan. A solid compromise here is to go with the root beer float made with their house root beer -- hardly a "healthy option" but it's not quite the dairy-fat payload of going full-on milkshake or concrete, but you still get to sneak a little custard action in there, while still living to fight another lactose-laden day. -- Matt Lynch, executive editor

Dairy Queen
Order: Four-piece chicken strip basket and a Heath Blizzard
No place makes me feel like I'm 7 years old again more than DQ. And, in honor of that age when Santa still seemed like he plausibly popped his fat body down tight chimneys, I still think the chicken strip basket with Texas toast and fries and country gravy is the best thing on the damn menu. And if you don't get a Heath Blizzard for dessert, I will THROW A TANTRUM IN THE BACKSEAT OF YOUR MOM'S STATION WAGON WITH FAUX-WOOD ON THE SIDES. -- KA
McDonald's
Order: A Big Mac value meal, one cheeseburger, a four-piece chicken McNugget, and a Hi-C Orange Lavaburst
This order is the same order I've been making since 1995, when I started refereeing third-grade soccer games, got my own money, and commenced living it up. The Big Mac is essential, the core part of the Mickey D's program, and the value meal option takes care of the fries and that orange Hi-C, which tastes exactly as you'd imagine neon sugar water to taste. The cheeseburger is equally important, because you can eat that quickly before you really dig into anything else. And the nuggets are the dessert of sorts, especially if you dip them in the Sweet 'N Sour sauce, which is basically an acceptable, tangy dinner version of frosting.
Will you be able to do anything productive after indulging in this sort of gluttony? Of course not. But isn't that sort of the point? - KA

KFC
Order: Meal #2 Original Recipe, sub out mashed potatoes for mac & cheese
KFC actually makes delicious chicken sandwiches (which I wrote about here). But unless you go to KFC so much that you feel like you need to occasionally switch it up, there are few more satisfying things than biting into that Original Recipe (don't bother with the Extra Crispy, it's too much batter). And if you're a smart person, you will sub out the blah mashed potatoes for some mac & cheese, and top it with pieces of said fried chicken. And you will be happy. - KA

Taco Bell
Order: Two beef Fiery Doritos Locos Tacos Supreme, two chicken soft tacos, and two cheesy roll-ups
There are lots of items that can distract you at Taco Bell -- chips and cheese, cheesy fiesta potatoes, the interestingly named "premium Latin rice," etc. But you, friend, need to focus, because silly side dishes will just take up important space you need for some spicy Doritos Locos Tacos. Once you've had those, you can cool down with two chicken soft tacos, and then get those cheesy roll-ups and eat them while you're in the car driving home, as you would Fruit Roll-Ups. I'm serious. Those things are extremely underrated car food. -- KA
Sonic
Order: SuperSONIC Bacon Double Cheeseburger with bacon, chili cheese tots, cherry limeade
Like many American children, I was raised on a healthy diet of three soccer practices a week, followed immediately by an unhealthy regimen of fast food, the highlight of which was Sonic's mozzarella sticks. But I have since grown up, and those fried hunks of cheese haven't aged well. But I'll tell you what has: the tater tots. You still hit that nostalgia button, plus the chili and cheese distract from textural issues that you only notice in adulthood. Burger-wise, you definitely want a pair of patties in order to maximize the amount of congealed cheese and why not add bacon for just 79 cents? Sonic's drink game destroys its competition, so avoid sodas in favor of one of the sweet/sour limeades. Save the ice for later use in a Tiki cocktail and marvel at your own sophistication. -- DG

White Castle
Order: A sack of 10 sliders (eight cheeseburger, two chicken ring), water
There are two huge curiosity factors that come into play when you approach a White Castle, and their urgency depends on the time of day. 1) Can you house a Crave Case? 2) What the hell is a chicken ring? The answers are: "nope" and "a flattened chicken nugget with a hole in it." But a sack of 10 at least lets you go full bore on the gluttony, leaving you room to get two inevitably disappointing chicken rings out of the deal rather than doing what you always do and getting a side order. Those rings are inevitably disappointing, but an apt palate cleanser for the steamed sliders, of which housing eight is a lot easier than it sounds. Especially if you forgo the crinkle fries and stick with water to help ease them down as you eat them in two magnificent bites. Over the top? Yes, unless you consider how you almost ordered 30 in a cardboard briefcase. -- Andy Kryza, senior editor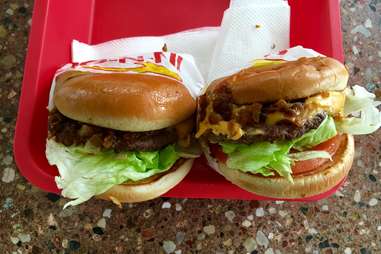 In-N-Out
Order: Two cheeseburgers (one mustard-grilled, with chopped chilies, grilled onion, and no tomatoes, the other Animal Style), plus a black-and-white milkshake. No fries.
I've lived in California for seven years. My father has been here since I was 14. So In-N-Out shouldn't excite me anymore. And yet every time I drive by the In-N-Out a few miles from my house, I have a very real, nearly desperate urge to pull the car over. The order here is simple: if you are pressed for time, you can get the Double-Double, but if you can sit with your food and enjoy it, you've got to do it my way: one cheeseburger has the chilies for some kick, and the Animal Style has the pickles for a little vinegar to cut through the fat. And the black-and-white milkshake recalls a childhood shoveling scoops of Brigham's and Hershey's chocolate syrup into our blender. Unlike some people, I'm OK with the fries (well done, with the burger spread on the side) but I'd rather spend my time and stomach invested in eating more burgers. -- KA

Church's Chicken
Order: Three pieces of spicy chicken, honey butter biscuits, side of jalapeño peppers
Church's is kind of crazily underrated in the fried chicken world. The spicy chicken is delicious, but what pushes them towards the top is the sides and some of the off-menu moves. The honey butter biscuits are basically the pastry equivalent of a heart attack, a decadent FU to any post-meal hopes of ever taking off your shirt. But they just might be worth it. And the side of jalapeño peppers is so you can squeeze the pepper juice onto the chicken, something they advocate on their site. Which is just kind of amazing in its own right. -- KA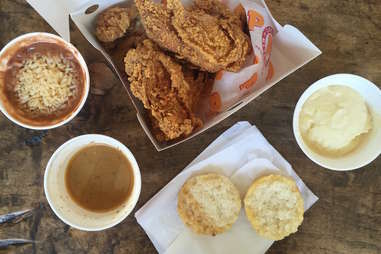 Popeyes
Order: Three-piece dinner, sub in an extra breast. Mashed potatoes with the gravy on the side
While the actual best order at Popeyes is a 16-piece family meal, spicy, on Mardi Gras day eaten at the top of a ladder on the route, it's important to have orders for the other 364 days of the year. Sure, you sub in an extra breast so you can get more of the spicy fried chicken, but the real move here is to grab the mashed potatoes with the gravy on the side, thereby giving you biscuits and gravy AND chicken and mashed potatoes. Some might say the chicken can stand alone. Some might also say that the buttery biscuits cannot be improved upon. But go try dipping either. You can thank me by sharing your family meal (and your ladder) next Fat Tuesday. -- LC

Whataburger
Order: Jalapeño & cheese Whataburger, onion rings, and a chicken fajita taco
My first memories of Whataburger are not great. There was one next door to the place where I took piano lessons in third grade, and my teacher would always be eating a cheeseburger while teaching me how to play "Little Drummer Boy" for the Christmas recital, and food would fall out of her mouth onto the piano, and really that wasn't great at all. But once I overcame my music lesson-induced fear, I realized that this place is absolutely delicious. Now whenever I'm in Texas I opt for the jalapeño move for that extra kick, and an extremely underrated chicken fajita taco to finish things off. Turns out even fast-food burger joints in Texas take pride in their Tex-Mex. -- DG

Carl's Jr./Hardee's
Order: Smoked sausage biscuit, hash brown nuggets, and an orange juice
We've spent a lot of this time telling you about glorious lunch and dinner foods to enjoy in your car while listening to old Smashing Pumpkins albums. But Carl's Jr.'s made-from-scratch biscuit breakfast sandwiches are worth rousing yourself from that sleeping hammock. The sausage patties are decent, but the smoked sausage will fool your mouth into thinking you're sitting on a front porch of some nice Southern grandmother's home, until you open your eyes and realize you're still on the 5, 48 minutes from work. -- KA
Raising Cane's
Order: 3 Finger Combo, coleslaw subbed for a second piece of Texas toast
The reason I go to Cane's has nothing to do with its chicken and everything to do with that buttery, garlicky, thick griddled Texas toast and that Thousand Island-esque Cane's Sauce that I can never have enough of while dunking the chicken. (Seriously, there's never enough.) And so I've been forced to master how to get the most out of those flavors:
Sub out your coleslaw for a second slice of toast. Go to a very quiet corner of the store or your home since this is an artistic process. Pour half that sauce onto one slab of toast. Layer the fingers up: the three fit, perfectly. Pour the rest of the sauce on top and cap it with your second slice of Texas toast. Eat and think about your genius and then use your fries to wipe up all the precious sauce drippings. -- LC

Burger King
Order: A Whopper value meal with onion rings and a frozen Fanta Cherry Icee
At some fast-food joints, I've pointed out a variety of custom moves, intended to augment your experience. BK is not the place for that. Just get a flame-broiled Whopper with old-school onion rings and a water, and let that crazy frozen cherry drink melt a little and enjoy it when you get back on the road. Some things need not be more complicated. -- KA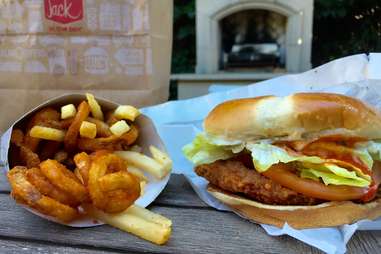 Jack in the Box
Order: Jack's spicy chicken sandwich, combination curly and regular fries, two tacos, and some extra Frank's RedHot
I decided to opt against anything that was strictly on the Late Night menu, even though I've only been to Jack in the Box twice before 11pm, and both times it was for one of these stories. But I have to say: the "bakery" buns on the Jack's spicy chicken are pretty damn good, and if you ask for some Frank's RedHot sauce to add to it, it has the necessary spice and flavor to make you feel OK about daytime Jack eating. Oh, also -- it's basically a legal mandate that you get a couple of tacos whenever you go there. They're not pictured above because I ate them in the car on the way home, as God intended. -- KA

Chick-fil-A
Order: Chick-fil-A spicy chicken sandwich, Chick-fil-A nuggets, Chick-fil-A waffle fries, plus a bunch of Chick-fil-A sauces and one Polynesian sauce
There are two fast-food places that I consider stopping at whenever I see them: In-N-Out and Chick-fil-A. Maybe it's the dashes in both of their names. Or maybe it's the fact that they both make a simple, superior product and have for a very long time. You know you're getting chicken here, but my move is to do one of the spicy chicken sandwiches, and then settle down with very good waffle fries dipped in their regular sauce, and nuggets with that tangy Polynesian stuff that seems like it comes right from a Hawaiian luau-themed party in the '50s. Oh also: don't go on Sundays. They won't give you any food. -- DG

Arby's
Order: Large Beef & Cheddar meal with curly fries and extra cheese sauce, plus a side order of four mozzarella sticks
Fact: Arby's makes mozz sticks that are as good as, if not better than, most bars, and part of that allure comes from the fact that they've got a faint hint of that trademark curly-fry seasoning. The trick is to eat two before you dive into the Beef & Cheddar, then use the last two as a palate cleanser (skip the Jamocha shake... cheese sticks are a better dessert anyway). About that Beef & Cheddar: it's a masterpiece of simplicity, with the onion bun and whatever the hell that sauce is adding punch to the salty beef and perfectly fake cheese, a neon-orange concoction that you should order in excess, as using the curly fries to sop it up from your foil (or your beard, if you're me) takes something perfect on its own to brand-new heights. -- AK
Sign up here for our daily Thrillist email, and get your fix of the best in food/drink/fun.
Kevin Alexander is Thrillist's national writer-at-large, and wants a side order of jalapeños. Don't follow him because he's scared of strangers: @KAlexander03.