I Found Out How Difficult It Is To Work A BBQ Pit
Jessica Attie/Thrillist
Jessica Attie/Thrillist
Staying calm, cool, and confident while handling mountains of meat -- especially meat that has to live up to Texas standards -- is no easy feat. To prove that being a pit master's some of the most pressure-packed work around, Thrillist and Gillette Clear Gel sent me to work for a day at La Barbecue in Austin… armed only with my wits, extremely limited cooking knowledge, and underarms that, unlike the brisket, would hopefully stay dry with a little help from Gillette.
John Lewis' La Barbecue trailer has gained its prodigious reputation so quickly that last year two local critics declared the outdoor trailer better than a certain local spot some consider the best in the world. I guess because true confidence means knowing you're talented enough to compensate for even the most horrendous mistakes of others, when I contacted manager Ali Clem and asked to work a shift with new pitmaster Esaul Ramos, they didn't flinch.
My arrival on a Wednesday morning (chosen so Ramos had time to show us the ropes -- weekend lines can stretch to 90 minutes plus) looked fortuitous: the pit trailer might be blazing, but the weather was mild. Ramos was coming off a Tuesday double shift, but was impressively chipper as I toured the space. "I usually work 8am to 8pm," he said, "but on Tuesdays it's more like 20 hours since a couple of guys have the day off."
When I asked what got him started, his answer was surprising: "Honestly, it was backyard barbecues with my family. My Dad would get distracted talking to friends or running inside to grab a beer, and he'd burn the meat sometimes. I started to help on the grill out of self-interest, and it grew from there."
Before I got the opportunity to burn meat -- or even monitor the temperature at the fire pit (275's the ideal for their artful, 18hr slow-and-low) -- I needed to learn how to stack wood. Yep, even the most basic task is a proving ground here. I was shown how to pick the right post oak from the stack: dried wood is good for a quick temperature boost, while heavier "green" wood works best to impart smoke. La Barbecue has preferred angles for wood stacking, and Ramos chuckled as I tried to accomplish them via my patented chucking method. This wouldn't be the last time my efforts would draw a laugh or a head-shake. Most surprising to me, however? That despite tossing lumber under a Texas sun, no pit stains had appeared.

Next up: prep work at the meat counter. To prevent cross-contamination and maximize time, there's a set order each day. The pork ribs came first, and were far trickier than they looked. Getting the shape right and cutting away oddities and trimming are key to consistency. Ramos showed me the right shape for a rack, then set me loose, saying: "All animals are different, but if you learn to shape it the way you like it, the results are under control." I thought I was at least nominally mentally prepared for this; I had no idea I'd be studying under the Rodin of Ribs.
Next came the pork butt, used in the extremely popular El Sancho sandwich. This prep was more fun, as it mostly involved chucking pickle juice into an enormous yellow mustard vessel and then shooting the mix all over the other white meat… all while rotating the huge butt for maximum saucing. A seasoning rub came next, and the process once again exposed my amateur status. Ramos shook the seasoning jar with an expert hand, coating the meat evenly and consistently. My first try seasoned the prep table, Ramos's shoes, and nearly everything but the edible stuff. A simple shift of hands helped solve the problem, though, and I then moved on to hauling meat across the yard. And in full-public view like that, the last thing you want to look like is a sweaty mess while carrying people's food (gross). Thankfully, Gillette still had me covered hours after application.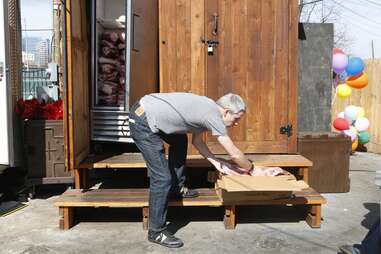 A line of customers had formed, and I experienced something amazing: they gave us looks of reverence and respect as we hauled briskets and ribs from the coolers to the trailers. They thought I was one of the heroes making the best meal of their lives possible -- but Ramos knew better. This leg of the meat relay wasn't so tough, but lugging it up the stairs into the trailer was a killer, and it's something these guys do over and over again. Ramos saw me wince and smirked: "Please don't throw out your back, man."
I somehow managed not to! Feeling like I'd accomplished just enough to deserve that reverence, it was time for karma to step in and put me back in my place, which happened immediately when I tried the sausage maker. The crew did their best to guide me: "Keep this moist." "Turn this crank, but not too fast." "Make sure and keep the casing moving with the guide hand." My results weren't... ideal. Mostly consisting of exploding sausage guts. After the first attempt, the pitmaster generously suggested we give it another try. After witnessing two more explosions, he felt it time I cut my losses. By this point my body was also aching, and I was only doing a fraction of Ramos's day.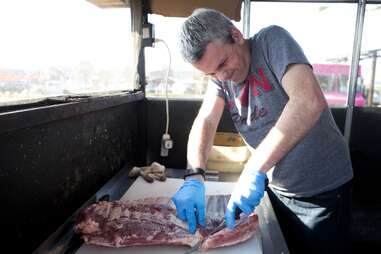 While I wasn't as successful with the sausage as I would have hoped, I was more confident about tackling the ribs… and I actually received a compliment on the trimming and shaping. "That's solid! Great trim -- you didn't expose any meat through the fat." I even got off to a fast start with the brisket trimming, but despite my cool confidence, the multiple angles flummoxed me. Trimming brisket seemed more an art than any of the other meats.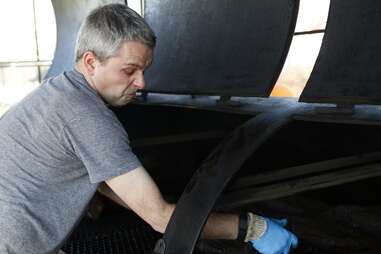 This led to the final task I'd be permitted to do: rotate the briskets, which involved leaning into the smoker. The intense smoke, coupled with the heat, made my eyes water immediately, and led to a headache shortly thereafter. I somehow persevered (okay, it wasn't that bad of a headache) as Ramos patiently worked me through the logic of rotating the briskets, showing me how to look for pooling liquid up top and tipping it off to give the brisket a better look and consistency.
He also showed me how to space the meat for proper airflow to get each one smoky. Despite watery eyes and pounding temples, the hard work was paying off. At this point, the pitmaster looked at the photographer and I and decided we'd probably had enough. On the way out, we got an economics lesson: with brisket prices at over $4/pound, the restaurant recently raised prices. Said Ramos: "You buy a 20lb. brisket for around $80, but 60-65% of it cooks off over the day. So the meat actually costs us about $12 before labor and rent for every pound we serve to customers." I was glad he hadn't told me that before; knowing I was working with pure gold would not have done wonders for steadying my hands.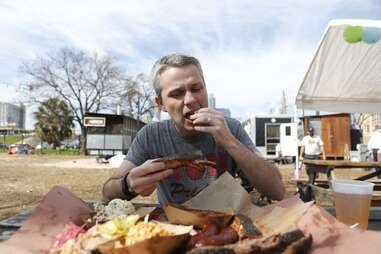 While I felt good about the day, it was also obvious that reps, consistency, and a natural talent are what make a truly great pitmaster; at this point, I was truly mediocre at best. Still, I'd managed to keep it together through some pretty nerve-racking conditions. And while I'd expected my shirt to look like it'd been dipped in Barton Springs, it was actually supremely dry -- probably because I'd been sent here by Gillette Clear Gel and Thrillist, and not just Thrillist (sorry guys, but wetness protection isn't your strong suit).
Would I do it again? Yes. Would I do it six days a week? Probably not -- but you'll definitely see me in that line, looking on with reverence.