50 Things You Didn't Know About BBQ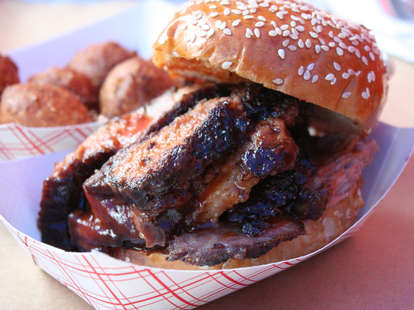 <a href="https://www.facebook.com/barbecuerankings/photos/a.601477613232230.1073741828.601322823247709/783292881717368/" rel="nofollow" target="_blank">The 100 Best Barbecue Restaurants in America/Facebook</a>
<a href="https://www.facebook.com/barbecuerankings/photos/a.601477613232230.1073741828.601322823247709/783292881717368/" rel="nofollow" target="_blank">The 100 Best Barbecue Restaurants in America/Facebook</a>
Barbecue is as American as John Wayne, muscle cars, and football. While most of us have the basics down, there's a Jeopardy episode's worth of BBQ facts out there. We rounded up 50 of the tastiest, from The Rolling Stones' favorite spot to the Kansas City Barbecue Society's judging rules (fingers out your mouth -- gross).
1. Thank stingy late-1800s cattle barons and resourceful cowboys for delicious, slow-cooked brisket: the barons didn't want to feed cowboys good meat, so threw them brisket instead. The cowboys soon figured out if they cooked it for a long time over a low heat, it wasn't just palatable, it was… awesome.
2. The word we use for all this tastiness most likely comes from Caribbean Island-natives -- either via the Taíno people of the Caribbean (Puerto Rico, etc.) or the Timucua of southern Florida; their word was barabicu. But it has also cropped up in multiple Romance languages as barbacoa.
3. Archaeologists discovered that the diet of whoever built Stonehenge involved copious amounts of barbecue (before that was even a word); traces of pork and beef were unearthed nearby, presumably from post-virgin-sacrificing feasts? Cool, but WHAT'S THAT THING FOR?
4. The first mention of a "barbecue" in America dates from 1733, when Benjamin Lynde of Salem, Massachussetts, wrote in his diary on August 31st, "Fair and hot; Browne; Barbacue. hack overset." Which sounds like he went to a barbecue with Mrs. Brown, or… there was Bobby Brown sauce.
5. Pre-Civil War, Southerners ate around 5 pounds of pork to every pound of beef, as pigs were easier to raise than cattle and could be let loose when they became too expensive. Oh and they're delicious, which was probably a factor.
6. Obama became the first person ever to skip the hours-long wait at Austin's Franklin Barbecue last year, but bought lunch for the line as a thank you. "I feel real bad, but -- I'm gonna cut." We say, why else be President?
7. In an early BBQ-politics tie-in, supporters of our seventh President, Andrew Jackson (nicknamed "Old Hickory" because he was as tough as hickory wood), distributed hickory toothpicks and canes at, you guessed it, hickory-fired barbecues.
8. Politics and BBQ tangled even earlier, when in 1800s Alabama a guy called Barbecuensis started talking smack about political barbecues. His 1829 petition to end the affairs totally sputtered out, because barbecue rules.
9. More than any other President, LBJ used barbecue and cookouts as diplomatic tools, hosting politicians like then President of Mexico Lopez Mateos and West German Chancellor Konrad Adenauer, and many members of congress. Nothing assures world peace and harmony like "You've got some sauce right there… Oh just come here."
10. BBQ & politics continue to mix today: Presidential candidate Jeb Bush placated deep-pocketed donors with barbecue at a recent two-day retreat in Kennebunkport, Maine. Nothing says "Commander-In-Beef" like barbecue brisket, smoked turkey, salad, and mashed potatoes.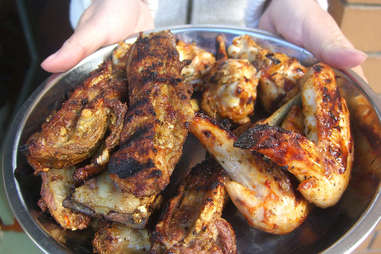 11. Aptly named Smokey Robinson's contract rider includes a request for a platter of barbecue chicken wings for himself, his vocalists, his dancers, his conductor, and his band members. Employer of the year?
12. Long before anyone pulled up and asked for a Sausage-Egg McMuffin, McDonald's was originally a barbecue drive-in, called… "McDonald's Bar-B-Que."
13. Not so fast. Top BBQ chefs maintain that barbecue meat needs to rest (otherwise you'll lose all the juices) way longer than you might think -- anywhere from 30 minutes to a couple of hours.
14. BBQ bologna is a thing. Just rub a log down with your favorite mixture, using mustard before as adhesive, and smoke it at a low temp for a couple hours.
15. Johnny Fugitt spent a year eating at 365 barbecue spots to research his book, 100 Best Barbecue Restaurants in America. He LOST WEIGHT during the tour, so we can only imagine an average year.
16. Judges in Kansas City Barbecue Society contest must be at least 16 years old. If you can't drive, you can't intelligently comment on the flavor profile of a rack of ribs.
17. KCBS judges cannot lick their fingers during judging. They can, however, use unscented wet naps and paper towels. Which is just no fun.
18. In the super weird documentary, Finders Keepers, two dudes buy a BBQ smoker at auction, find a mummified human foot inside, and then argue over who should get to keep it.
19. Evander Holyfield made a BBQ sauce. And… Mike Tyson referenced Evander's bitten ear to endorse it.
20. Dan Levine and John Shelton Reed formed The Campaign For Real Barbecue to defend 100% wood-cooked BBQ against "faux 'cue" from hybrid cookers that use gas or electricity. Heroes.
21. In 1964, Charlie Vergos (more on him later) of The Rendezvous in Memphis tried to boot the Rolling Stones out of the restaurant because they were "pretty raggedy-looking." (A Beatles fan, obviously). However, they ended up becoming regulars and played a show there in 1999.
22. If Kansas City Barbecue in San Diego looks familiar, it's because it was featured in a couple of Top Gun scenes, including the one where Goose and Maverick sing "Great Balls Of Fire" and Meg Ryan yells, "Goose you big stuuuuuud!" They probably never hear that.
23. Playwright Matt Lyle took BBQ to the stage last year with the world premiere of "Barbecue Apocalypse," a satire of BBQ gone wrong, at Kitchen Dog Theater in Dallas.
24. Among the celebrities in the BBQ restaurant game are Justin Timberlake (Southern Hospitality BBQ), and Billy Sims (Billy Sims BBQ, naturally). And Bobby Brown has his own sauces and seasonings -- as is his prerogative.
25. When the Longhorns beat the Sooners 24 -17 on October 10, 2015, Oklahoma Governor Mary Fallin came good on a bet with Texas Governor Grego Abbott and donated 600 barbecue meals, by Oklahoma City's Head County Barbecue, to Austin's Capital Area Food Bank. (Good guy Abbott still sent a shipment of barbecue from Railroad, Forth Worth, to Rescue Mission in Oklahama City -- which he promised if the Longhorns lost.)
​26. Texas A&M College of Agriculture & Life Sciences set up a "BBQ Genius Counter" at the Texas Monthly BBQ Festival, where you could, presumably, bring your malfunctioning barbecue after you dropped it. At the helm? Meat Science Professor (and what do you do?) Dr. Jeff Savell.
27. BBQ is its own crime genre: a "brisket bandit" made off with thousands of dollars-worth of meat in San Antonio, and Florida's "barbecue bandit" went for the sides as well.
28. As of 2014 you can grab BBQ at 8.27% of all Alabama restaurants.
29. As of this writing, only 509, 624 people have seen the full length Mr. Spriggs BBQ commercial. You should change that now.
30. According to Major League Eating, the current record for baby back ribs is held by Patrick Bertoletti, who disappeared 5.24lbs in 8 minutes. And kudos to Bob Shroud, for 34.75 beef brisket sandwiches in ten minutes.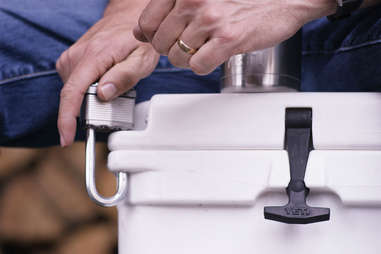 YETI Coolers are what you want holding your BBQ meat
So maybe this isn't a surprise, but if you don't know, now you know. YETI Coolers are built for the wild and your next barbecue.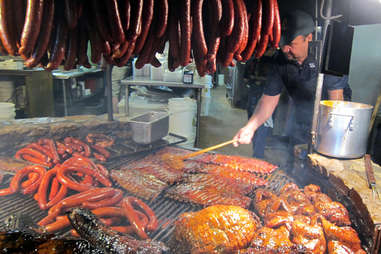 31. The world's largest BBQ pit hails from, where else, Texas. It serves up 8,000lbs of meat, and recently sold for $350,000 on ebay.
32. Reg E. Cathey, who plays rib savant "Freddy" on House of Cards, believes the best BBQ comes from North Carolina (sorry, South Carolina, where Frank Underwood is from, and Alabama, where Reg E. Cathey is from).
33. Charlie Vergos, of Memphis' Rendezvous restaurant, is credited with inventing the dry rub seasoning style, which is basically a variation on Greek seasoning (rumor has it that Charlie's meat guy thought the original color was gross, so he added paprika).
34. Memphis has been throwing a Kosher BBQ Competition for 27 years -- the ASBEE World Kosher Barbeque Championship.
35.Robert Wright saved his wife, children, and then his ribs when his home caught fire.
36. Calvin Harris's courtship of Taylor Swift was sealed when he threw her and her squad a "vegan-friendly barbecue" (i.e., no Red meat).
37. Texas leads the BBQ nation with 2,238 restaurants and 1,983 independent locations in which to get your meat on.
38. Tuffy Stone, leader of Richmond, Virginia's Cool Smoke BBQ team, made history this year by becoming the first person to ace the American World Series of Barbecue Invitations (2013), the America World Series of Barbecue Open (2014), and Jack Daniel's World Championship Invitational (2013 and 2015).
39. Henry M. Williams took BBQ to the Supreme Court in 1914, when the Cotton Mills Company in Columbia, South Carolina, fired him for taking two days off work to cook barbecue. The mill denied Williams' request, but a craving is a craving, so he skipped out anyway. When they gave his loom away, Williams sued and won -- amid the mill's lawyers objections that knowing a man took off to cook barbecue would skew any South Carolina jury in his favor.
40. Oklahoma has the most Barbecue restaurants per capita, ahead of Georgia at number two, with one for every 5,000 residents.
41. South Carolina stands out among the barbecue states for having a whopping four distinct, native barbecue sauces (vinegar & pepper, mustard, light tomato & heavy tomato), the inspiration behind the popular local quote, "Why would I leave South Carolina? We have four distinct barbecue sauces."
42. In 2014 the Pufendorf Institute in Lund, Sweden, held a symposium called "Eating E.T.," where the hosts barbecued a life-size, gluten replica of E.T. the Extra Terrestrial in order to "explore our intimate relations to other species, real and fictional" (and wreck intimate relations with the gluten intolerant).
43. Disneyland will close its Big Thunder Ranch Barbecue restaurant on January 11th, 2016, to make room for new Star Wars attractions including a "Launch Bay," where you can launch into a tirade about how you can't get good barbecue at Disneyland anymore.
44. In 2014, Talladega Superspeedway hosted what they claim was the world's first barbecue sauce wrestling match. Those stains will be Triple H...ard to get out! Ouch.
45. Cherry Street Bicycles in Macon, Georgia, specializes in both bicycles and barbecue. A more unnatural combination hasn't been seen since Nickleodeon's truly horrifying CatDog. Why don't they lean into it and sell cakes and treadmills?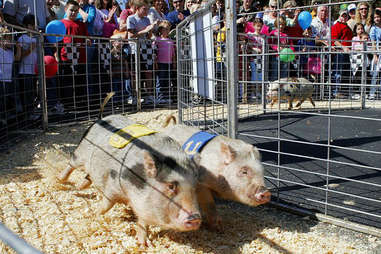 46. There is a Church of Bacon, and it bought magician Penn Jillette's ten-bedroom house (known as the "Slammer") in Nevada, renamed it The Nevatican, and held a giant barbecue.
47. The director of the Southern Food and Beverage Museum is a whole-hog barbecue expert and educator, and… rocket scientist (really) named Jyl Benson. Because in the South men are named Jyl, and into rocket science and pulled pork sandwiches.
48. Lexington, North Carolina calls itself "The Barbecue Capital Of The World," and attracts over 200,000 visitors every October to its annual BBQ festival, where it serves up more than 15,000 pounds of meat.
49. How BBQ is Lexington (again, "The Barbecue Capital Of The World")? While renovating City Hall, they found barbecue pits built into the walls -- remnants of the barbecue restaurant that once occupied the building.
50. In 1973, a man named George Steven Jr. filed a patent for an "electric barbecue." You haven't heard of him, because an electric barbecue is as un-American idea as a flag with colors that run. But that didn't stop 65 other inventors from referencing his idea in their patents.