Everyone knows that hunting was the best part of the classic kill-your-thankless-family-with-dysentery computer game The Oregon Trail. But what exactly should you hunt? It seems like there are almost countless options, until you count them, and realize there are only six.
The following is a guide to what you should and shouldn't be hunting if you want to make it to the Willamette Valley, so you can mispronounce its name and start life anew.
6. Squirrels
Why would you do this? Squirrels are tiny, and you're going to miss basically every shot you take at them, since you got greedy at the start screen and wanted ass-tons of money, and so chose to be a stupid banker who has no idea how to handle firearms.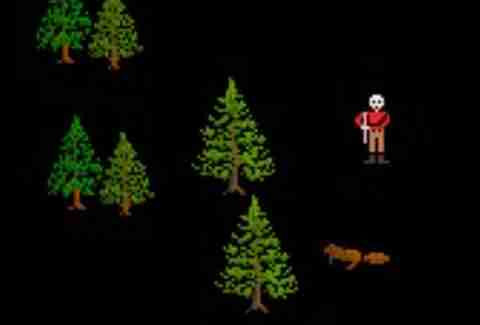 5. Rocks
You can definitely shoot them, but you can't "hunt" them, per se. Also you can't really rely on them for sustenance, unless you're a Rockbiter from The Neverending Story. And those guys are a totally effed up species, because they're essentially eating themselves to survive. It's like if you just sat there munching on random people's arms all day long. Additionally, you have to simply stay put as the Nothing comes and destroys everything, because you're too slow and too busy being ravenous for arms to escape. Long story short, don't shoot the rocks.
 
4. Rabbits
Much like the squirrels, they provide a scant amount of meat, but they're much dart-ier. What the rabbit lacks in pounds, it makes up for in raw challenge -- you know you're the kind of Oregon Trailer who's become totally distracted from getting to Oregon and totally addicted to hunting when you can wait for these varmints to pop onto the screen, then use the advanced move of working your Apple II's number pad to spin around and pop them.
 
3. Bison
These suckers are huge, and will give you wayyyy more meat than you can carry back to the wagon, but they barely move, taking all the sport out of the damn thing. And you definitely abandoned your lucrative banking job in Independence, Missouri for the sport.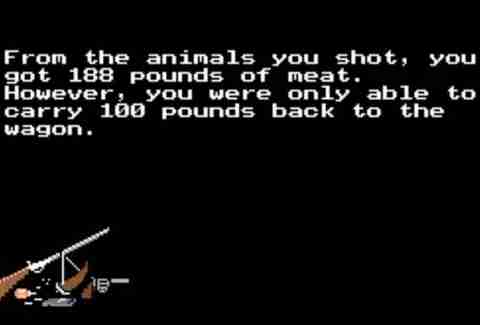 2. Deer
They yield a good amount of meat -- usually at least 60lbs. So while they're certainly not EASY to target, the tradeoff for a couple missed shots can be more than worth it. But the best part about deer is that you will need two of them to hit that ridiculous 100lb weight limit (What the hell are you doing on this wagon anyway, my worthless sons Boobs and Fart?? Come over here and carry some damn meat!!), which allows you to show back up at the caravan with one deer tossed over each shoulder, like Ted Goddamn Nugent.
 
1. Bears
Who cares who drowned in the Snake River. You just killed a bear.
Ben Robinson is Thrillist's editorial director, and will always ford that goddamn river. Wagon caulk ain't free, fool. Follow him to Fort Laramie: @BenjoRobinson.