Leah Flores / Stocksy
Leah Flores / Stocksy
What You Should Actually Bring to a Cookout, According to Real Chefs
There's a certain kind of casual culinary magic that happens when restaurant people cook out with friends in their off-time, when they're not obligated to impress (but do it anyway). A culinary pro is a good friend to keep: for us, entertaining friends is a whole world away from doing the same for guests at our workplaces. Sometimes we'll test out new dishes, flex on cuisines we don't usually cook, or do something totally unexpected. Here are a few examples of what might happen on the rare occasions when a chef's off day coincides with a cookout.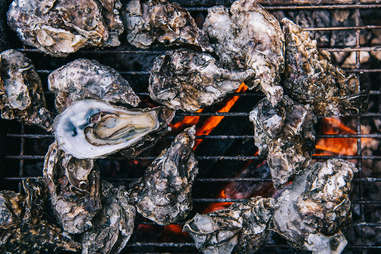 Throw Together An Oyster Grill
As a chef, I try to go all out because, damn it, I have a reputation to uphold. One of my favorite occasions happened years ago, when my fellow cook friends and I set up a tiny barbecue somewhere along a parade route in New Orleans to grill a bag of oysters on Mardi Gras. We took turns shucking, dirtying our pants and dresses with shell fragments and spilled oyster liquor, and basted the meat with slicks of garlic and herb butter. As the floats and marching bands passed us by and the cocktail of charred oysters and warm beer left us full and happy, the teetering stacks of discarded shells grew higher and higher. To us, it didn't feel like much -- it was a simple, tasty thing we could throw together despite our collective weariness. All it took was a portable grill, a sack of oysters, and some tools we nicked from work. It's something even non-cooks and chefs can do, as long as you have an oyster knife and $30. While grilled oysters are my fondest slapdash cookout move, other chefs that I know have their own ways to impress their friends.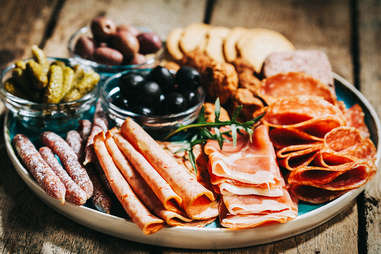 Charcuterie Looks Fancy Even When It's Not
"These days," says Christina Nguyen, the chef and owner of the bustling Hola Arepa and Hai Hai in Minneapolis, Minnesota, "The most common thing I'll bring is charcuterie: good meats and cheeses, which are better than anything my garbage-ass can make right now." With just a little bit of pro knife work and an eye for composition, she can make a platter of supermarket charcuterie look like it jumped out of her restaurant kitchen.
The truth is, Nguyen doesn't often make it out to parties. And when she does, her friends insist that she relax and just enjoy herself. Still, her low-effort dishes, whether they're a decadent 7-layer dip or Ritz crackers with creme fraiche and $8 caviar, still betray a chef's sensibility.
But on rare occasions when she's feeling more ambitious and energized, she'll bring something neat and tidy that can just get tossed on the grill: vegetables to char, or whole fish, cleaned out and stuffed with aromatic lemongrass and ginger, that friends can eat family style with Thai-style fish sauce. "I'll also throw a bunch of green things into a sauce to make salsa verde to marinate chicken thighs in," she says. "I like it because it's a bit different and not just more hot dogs or hamburger meat."
Embrace Krishna's Toes
At work, Chris DeBarr, chef of New Orleans' Revel Cafe and Bar, is a wizard with hors d'oeuvres. But at parties, he dresses down his food to blend in with the citizenry, like Usain Bolt playing tag with kids. "Honestly, I usually don't bring stuff because it makes people nervous enough sometimes when they invite a chef over to dine at their place," he says. But while he insists on being modest, he's not about to bring a bag of Ruffles to the table. "Sometimes I'll bring some homemade pimento cheese, or my muhammara because every party likes a good dip!"
What does he serve at the restaurant for partygoers? Fried shrimp crackers stuffed with shrimp salad and sprinkled with seaweed furikake or Krishna's toes: hollowed-out cherry tomatoes with curried potato salad nestled inside. They'd work well for parties, too, if one isn't afraid to show off.
It Doesn't Have To Be Sexy To Save The Party
Brent Reaves, chef and founder of Smokey John's BBQ in Dallas, is pretty transparent about what his friends can expect, and it's not his restaurant's extravagant meat-stuffed baked potatoes or slow-cooked brisket (though no cookout was ever made worse with those, either). His family has produced classic Texas barbecue, the stuff fanatics dream about, since 1976. As a guest, though, he really tries to keep things simple. "I'm kind of the opposite: we bring cups and plates!" It's not sexy, but it's the mark of a seasoned cookout guest: no one ever thinks to bring tableware.
For chefs like Christina Nguyen, Chris DeBarr, and Brent Reaves, the adoration of family and friends makes it worth the effort to do a little something, whether it's cooking or shopping for paper plates, on their off days. After all, it's that kind of feeling that keeps them feeding people day after day.