What your Chipotle order says about you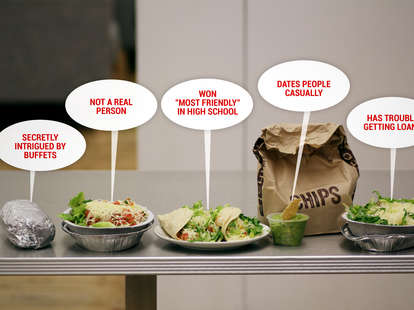 Though there is clearly a lot that people don't know about Chipotle, what we do know is that it is a regular stop for tons of folks, be they college students, office workers, or Presidents who refuse to respect the sneeze guard. But did you know that I am basically a trained social scientist who can tell EVERYTHING ABOUT YOU just by your order? Don't believe me? Well, check this out:
A chicken burrito with just black beans and salsa
You own several hand mirrors. Sometimes, when you are running alongside a car that has just been washed, you lose yourself in your own reflection and crash into old people holding shopping bags filled with empty cans. You get mildly annoyed when the ref makes you take off your FitBit during co-ed soccer games, because your steps won't be reflected on your chart. You occasionally do the American Psycho pose during sex.
A regular burrito "however you usually make it"
You are one of those people who fills in "Neither Agree nor Disagree" for all the answers on your cable customer feedback surveys.
A grilled steak burrito with no beans, extra rice, double guac, double cheese, double sour cream, no salsa
You own three Jake Plummer Denver Broncos football jerseys, all in the "third" color way. Your family has been the only family in your town buying Cadillac Escalades for years now.
Sara Norris
A half barbacoa/carnitas burrito with both types of beans, all the salsas, plus guac, cheese, and sour cream, plus all the hot sauces
You are secretly intrigued by buffets, but feel like your socioeconomic standing doesn't permit you to admit that openly. You are one of the only people who actually uses the screen-within-a-screen function on your TV. You're like the NAFTA of food consumption: you don't believe in borders.
An adobo-marinated chicken burrito with roasted chili-corn salsa
So you're the one person who gets the adobo-marinated chicken AND the roasted-chili corn salsa, huh?!?! WHAT IS YOUR LIFE LIKE?!?! YOU ARE A MYSTERY TO US ALL.
Quesarito
You are hip, though you like to use the word "hep" because less people are doing that nowadays. You live in a neighborhood that makes you slightly uneasy, just so you can watch people's faces when you nonchalantly tell them your cross-streets. You read Lucky Peach before they, like, got a little bit corporate and mainstream. You own vinyl records because "the sound quality is so much better". You are not going to be happy when you discover Taco Bell is also making these things now.
A chicken burrito, add in fresh cilantro
You live a colorful life. You go to farmer's markets, and not just for the free samples of olive oil. You once dated one of those people whose taste buds make them think cilantro tastes like soap, and you fought so much. The sex was weirdly good, though.
A burrito with no meat, just cilantro-lime rice and extra guacamole
You're my weird cousin who is super weird.
Sara Norris
Crispy tacos with chicken, cheese, and salsa
You have a fondness for Matt Christopher and Hardy Boys books. You often wear shirts with the Animaniacs on them, and call girls "icky" and "smelly" and "realistically out of your league". You are 37 years old.
One barbacoa, one chicken, and one carnitas soft taco, each with a different type of salsa, cheese, and sour cream combination
You won "most friendly" in high school, and said hi to everyone in the hallway, including Rick. You don't make fun of people with a ton of bumper stickers, even internally, just to yourself. You hated Lebron's ESPN special "The Decision", not because of its audacious, lame, and overblown premise, but more just because you felt uncomfortable that he had to choose at all. You don't get laid a lot using online dating sites.
Steak soft tacos w/ red chili salsa, cheese, sour cream, and lettuce
You have a (leased) sports car, with a vanity license plate. You were good at one varsity sport in high school, but it isn't the one you tell people it was. You live life in the fast lane. Literally, you've gotten three tickets for speeding this year, which partially explains why you're always eating Chipotle.
A carnitas burrito bowl with everything
With you, it's not about what you're spending, it's about what you're saving. You once bought an owl box for your backyard, just because it was 70% off, and you don't even have a backyard. You keep a running tally in your head of all the money you've ever won/lost gambling, so when you lose $300 at the casino, you can still convince your brain that you're actually up $80 from four years before. You have trouble getting loans from non-private lenders.
Sara Norris
A double-wrapped burrito, any style
When you leave your house, you automatically say "wallet, keys, phone" aloud three times. You don't like riding public transportation because of people's gross elbows and bodies and faces. The last impromptu thing you did was buy a Swiffer WetJet.
A burritodilla
It doesn't matter who you are, because no one really seems to understand exactly what you want.
A chicken quesadilla
You're one of those people who ends up pressing the meat down on the grill several times even after Sam Sifton SPECIFICALLY SAID not to. You also tend to leave your seat belt off even in cars where it beeps, and pretend not to notice. Actually, you may have a hearing issue.
The Kid's Menu chicken quesadilla with chocolate milk
A kid, hopefully, or at least young enough-looking to get carded when attempting to buy cigarillos from gas stations.
Sara Norris
Just chips and guacamole
You don't like to be locked into longterm commitments. You've moved three times in the past year. You date casually. You own a pre-paid cell phone, which alarms your uncle, now that he finally got around to watching The Wire.
Nachos (essentially a burrito bowl, but sub out the rice for tortilla chips)
You tend to do well when watching Jeopardy, especially during foreign categories Alex Trebek enjoys annunciating. You're a regular at a cool bar by your house. Your doctor thinks you need to stop subbing tortilla chips in for normal foodstuffs.
A sofritas burrito bowl
You're a vegetarian, but you don't like to advertise it, or lord it over people like Darlene did on Roseanne. WHY ARE YOU ALWAYS BOSSING AROUND DAVID HEALY?!?!
HE NEEDS YOUR LOVE NOW MORE THAN EVER SINCE HE DIDN'T GET INTO THAT ART COLLEGE IN CHICAGO!
Any type of salad
You're not real, therefore you don't exist.
Kevin Alexander is Thrillist's food/drink executive editor, and stopped ordering kids' quesadillas MONTHS ago, okay? Follow him to the DMV to get a vanity license plate at @KAlexander03.