What Your Favorite Fast-Food Chain Says About You
Drew Swantak/Thrillist
Drew Swantak/Thrillist
Though you may not know it, the fast-food chain you love the most is actually a gateway into your soul. And since one of us very nearly majored in sociology, we feel confident that we can tell everything we need to know about you from that choice. Check it out, and if you disagree or want to Venmo us money, do so in the always-classy comment section.
Burger King
Suspecting you might have royal ancestry, you started to trace your lineage but balked at Ancestry.com's pricey $19.99 membership. Instead, you spent the money on a Whopper Jr. and, like, 600 chicken nuggets.

Steak 'n Shake
You love John Mellencamp almost as much as you distrust anyone who is lactose intolerant.

Sonic
You own 36 pairs of roller skates, but have never actually skated. You like Joaquin Phoenix's versions of Johnny Cash songs more than the originals. Your computer screensaver is of three hedgehogs, but most people can only really see two.

Arby's
You are confused and somewhat incensed by the Notorious B.I.G. song "What's Beef." Your 2005 Hyundai Accent has a vanity license plate that reads "Nce2MEATU." You have trust issues.

Chipotle
You spend a lot of time on the Kia website customizing Sorentos you'll never buy. You have seven different pairs of NIKEiDs, two of which aren't even in your size. The New York Times thinks you're fat.

Panda Express
Eddie Bauer. Assistant Sales Associate. 2005-2007. Hot Topic. Sales Associate. 2008-2010. Lids. Assistant Manager. 2011-2013. Sunglass Hut. Manager. 2015-present.

Sbarro
Same as Panda Express, but your palate favors the vibrant flavors of Napoli. Buon Appetito!

Jimmy John's
You just straight-up LOVE mayonnaise.

Checkers
You've got some stuff in your past, man. Some dark, dark stuff. You're also very good at chess.

Long John Silver's
You own an authentic 17th-century buccaneer costume and can't bear to watch those Johnny Depp Pirates of the Caribbean movies because "they never get it right."

Popeyes
You grew up in Franklinton, but tell everyone you're from Baton Rouge. Your job in data processing at Our Lady of the Lake Medical Center doesn't challenge you in ways you thought it would. You're not good at hunting, but you like the camaraderie.
Wendy's
A ginger fetish that is surpassed only by a fondness for cubist artwork. And Frostys. So many Frostys.

Chick-fil-A
You're weirdly susceptible to the misspelled missives of surprisingly literate cows you have never met. What other talking animals are lurking out there waiting to manipulate you? TELL ME, GOD. TELL ME NOW.

Church's Chicken
Atheist. Curveball!

White Castle
Secretly, you actually don't LOVE White Castle that much, but you figure cementing your superfandom now is paving the path to a really inexpensive wedding in the future.

Subway
Your name is Jared. You lost a tremendous amount of weight and managed to keep it off with a somewhat unconventional diet. Your dramatic wealth makes you feel like it's hard to trust people, so you spend an increasing amount of time playing Rollercoaster Tycoon in your solarium.

Culver's
You put butter on your margarine. Robin Yount once filed a restraining order against you for undisclosed reasons. You went to New York once, and didn't care for it. You have a season pass to more than one indoor water park and everyone seems to be okay with that.

Zaxby's
You are former United States Senator Saxby Chambliss.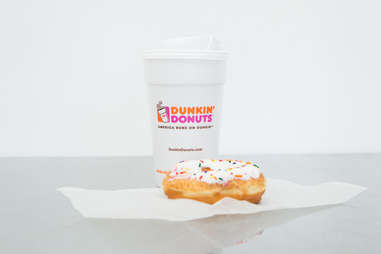 Dunkin' Donuts
You own four Red Sox caps, at least two of which are camo. You hate when weather dictates changing from your North Face fleece to your North Face puffy coat. You have three friends named Sully, none of whom carry the surname Sullivan. You are watching The Town right now. On your phone.

Krystal
You graduated from Tennessee in 2001, and spend each Saturday during the fall dressing up your children in retina-burning orange and plying them with bags of burgers in the hope that they'll fall asleep in your leased 2011 Honda Odyssey while you meet up with your friends during the tailgate and get tipsy enough to sing "Rocky Top" unselfconsciously. Your FICO credit score is slightly below average.

Dairy Queen
When you hear a weatherman say "blizzard," your Pavlovian response dictates that you immediately open the freezer drawer and start shoving Oreos into the ice cream containers. At group dinners, you secretly cry inside when the group decides to forego dessert. You own Frozen on VHS, somehow.

Five Guys
You were the social chair of your fraternity two years in a row, which you keep claiming is "unprecedented." You've gotten deep into Tinder, to the point where your friends are quietly concerned. You use the phrase "da shiznit" unironically.

Jack in the Box
You get the absolute most out of your Costco membership. You once ate a taco at a Mexican restaurant and swore off "ethnic" cuisine forever. You have lengthy bouts of insomnia.

Taco Bell
You are deputy editor of High Times magazine.

KFC
You wanted to be deputy editor of High Times, but they promoted the guy who likes Taco Bell. Things are tense at work.
McDonald's
You were a big fan of the Jordan-era Bulls, but then that era ended and suddenly it was all Kobe and the Lakers. You will only see movies once they've grossed at least $100 million domestic. If they star The Rock, that is a plus. You are proud of contributing to Big Bang Theory being America's most-watched sitcom.

In-N-Out
You're from California. Whenever you leave California, you won't shut up about California. You weren't always religious, but damn if that verse from Corinthians you picked up on the bottom of your Animal fries container didn't cut you to your core.

Whataburger
You're from Texas. Whenever you leave Texas, you won't shut up about Texas. You were always religious.

Hardee's
You're constantly clearing your Internet history, if you know what we mean. You don't? The cache. You clear the cache a lot. Get it? You know, the old "incognito on Chrome" move? Nothing? YOU REALLY LIKE INTERNET PORN, OKAY?!

Carl's Jr.
Same as Hardee's, but you live farther West and are less vigilant about that cache.
Kevin Alexander is the executive Food and Drink editor and might actually be Saxby Chambliss. Follow him to the free-trial membership page at Ancestry.com: @KAlexander03.
Matt Lynch is a senior editor at Thrillist and apologizes for causing any editorial tension at High Times. Follow him to the Honda Odyssey leasing office: @MLynchChi.