If giant, incandescent bodies of hydrogen and helium are enough to give shape to astrology, we'd like to hypothesize that something as deeply personal as your ice cream sandwich preferences are equally indicative of your personality. Ever since Baskin-Robbins rolled out the ever customizable Warm Cookie Ice Cream Sandwich, the possibilities and personality types are almost as myriad as the stars in the sky. Are you a vanilla and chocolate chip cookie kind of guy? It says more about you than you think, and we're here to tell you exactly what that sandwich is telling the rest of the world.
Vanilla Ice Cream and Dark Chocolate Chunk Cookies
You are laid back, and take pleasure in the simple things, and crave order and stability. You're not the type to have very detailed coffee orders -- you like to just keep the line moving. You work a high stress job that calls you at 4am but somehow never seem fazed by it. In line with your classic ice cream picks, you seek out the traditional culinary experience, with white tablecloths and leather-bound menus. You want to taste the core essence of a cuisine rather than experiment with its fusions and modern incarnations.
Very Berry Strawberry Ice Cream and Dark Chocolate Chunk Cookies with Rainbow Sprinkles
You're a passionate person, and are often made very upset by even small injustices, like when someone doesn't hold the door open for the person behind them. Growing up, you were president of your class and the captain of a debate team, and in your spare time you volunteered at a local animal shelter. Your loved ones often tell you that you're stretching yourself too thin, and your therapist recommended that you start telling people "no" more often, but you just really enjoy helping others and being part of a community, even if it means being sleep-deprived. You also haven't done your laundry in a month.
Old Fashioned Butter Pecan Ice Cream, Dark Chocolate Chunk Cookies with Chopped Almonds
Your friends call you an "old soul" because you like to be home by 11, but really you just like to stick to a routine. Your home is full of vintage items, not because they're trendy, but because they truly don't make things like they used to -- which is also why you still keep that old flip phone in a junk drawer somewhere. In your spare time, you read classic works of fiction and a fair amount of your sentences begin with "I was listening to public radio and..."
Chocolate Ice Cream and Double Fudge Cookies
You just know what you like. In abundance. Your local burrito place knows your order before you even have to say it. You've adopted the "I like this shirt so I've bought three of them!" method of shopping and are, generally speaking, pretty routine oriented. You probably decorate extensively with your favorite color on par with Prince's passion for purple. You're a person of a single mind, when you latch onto an idea you dig deep -- in college, your thesis advisor probably oscillated between loving and hating you on a pretty regular basis.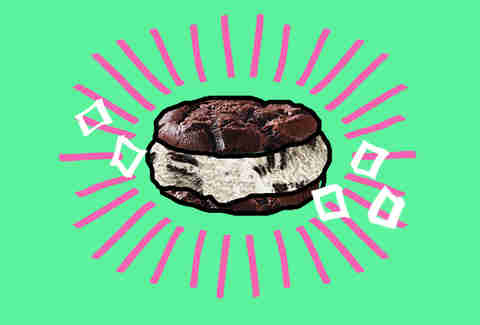 OREO® Cookies 'n Cream Ice Cream, Double Fudge and Dark Chocolate Chunk Cookies
You're not indecisive, you're just very choosy. You have a borderline disturbingly extensive knowledge of wine and food pairings -- but striking a balance and finding the complement is kind of your bag (your bag which incidentally matches your shoes on a preternatural level). You know how to look at the big picture, then rearrange elements of the big picture until they all fit perfectly, like a life-sized game of Tetris. You're excellent at planning dinner parties and juggling awkward conversations.
Jamoca® Almond Fudge Ice Cream & White Chunk Macadamia Cookies with Chopped Almonds
You're ambidextrous! You're all about mixing and matching textures. If you don't have a shag rug, you've dreamt about owning one. In fact, you find the '70s aesthetic in general pretty appealing. You probably have cultivated a very impressive and cozy collection of pillows, so much so that you're maybe running short of places to sleep/sit in your house. You're a creative if not eclectic person, and you bounce around conversation topics at lightning speed since everything interests you -- but you never stop on one thought for too long.
Made With SNICKERS® Ice Cream, Mint Chocolate Chip Ice Cream, Peanut Butter Chocolate and Double Fudge Cookies
If there's more than one option to pick from, you're inclined to go with "all". As a kid, you smooshed multiple double-stuff cookies together to create towering, creme-filled, edible towers of Pisa, as a teenager, you mixed all the soda flavors you could fit in your cup. This isn't a hunger thing -- you just legitimately love to create, and probably have an extreme respect for impressionist painters. You are also the sort who never matches their socks, and have never used an iron, and never will.