What Your Potbelly Order Says About You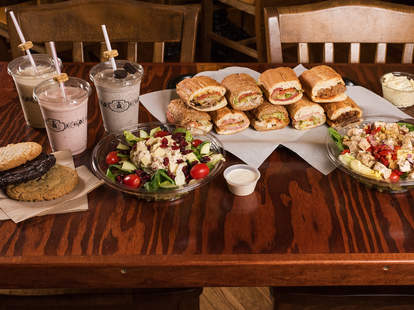 If you're grabbing a Potbelly sandwich, your identity is already firmly wrapped in the deliciously awesome (in the literal sense) selection of options for customizing that tasty meat/vegetable/bread missile. But within that vast field of choices lie the fundamental Potbelly orders that provide the base for so much mouthwatering improvising (you're the Louie Armstrong of sub ordering already), and one of those selections say a lot about you. Now, this isn't as scientific as, say, astrology -- but your choices are a pretty surefire way to get a sense of not only what kind of sandwich-eater you are but what kind of person, deep, deep down in your gut... a gut that's best full of your favorite sandwich.
Courtesy of Potbelly
A Wreck®
Salami, roast beef, turkey, ham & Swiss cheese
At big group dinners, friends hand you the menu knowing their shared app destiny is safe in your hands. You want all the things. When you listen to music, you pump up the volume; you turn it up to eleven on all fronts. And your ceaseless enthusiasm for life gives you an appetite unmatched by most, which is why your sandwich has everything. 
 
Fireball
Meatballs, cheddar, chili & hot peppers
You're never satisfied with what's presented on the surface, that's why you order from secret menus. "Where should I go for my bachelor party" is a question you've been asked more than once. If someone is in trouble or needs help, you've "got a guy."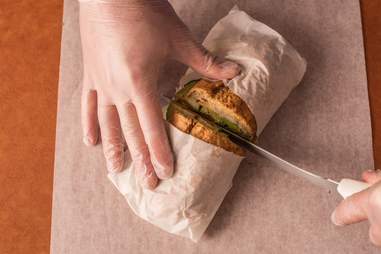 Anthony Humphreys 
Roast Beef Sandwich 
Thin-sliced Angus beef & provolone
"Meat & Potatoes Mike" is what they would call you if your name was Mike. You enjoy life's simple pleasures: two-ingredient sandwiches, binge-watching DVR reality shows, and a fine light beer at the end of the day. You've seen Shawshank Redemption 412 times. On special occasions, you add hot peppers, and that spicy experience is enough to slake your thirst for adventure for months. 
Sean Cooley 
Cookie Collision Shake
Vanilla ice cream, Oreo crumble & shortbread butter cookies 
Yeah you know about the secret menu, but you're no mystery. Open and trusting, you're the guy with a million friends in a million places. You don't just "know a guy," you're going to introduce the guy, his family, and his dog to whoever is standing around. You're the life of the party and everyone is ju-u-ust a little bit jealous.
 
The Elvis
Peanut butter, Nueske's bacon & bananas
Nobody has any idea what the hell you're going to do at any given moment of the day. You are the wildest card. If one thing is good and something else is good, you will savagely combine them regardless of convention. Ice skate basketball? You'd try it.
 
Courtesy of Potbelly
Tuna Salad Sandwich 
Tuna with Swiss cheese
You don't ask why salad should be a sandwich—you ask why shouldn't it be? You like a slice of yuzu in your water, a date with an accent you can barely understand, and those seat cushions in airplanes that work as floatation devices. Basically, you prefer when things have a twist, especially an unexpected one on an old favorite.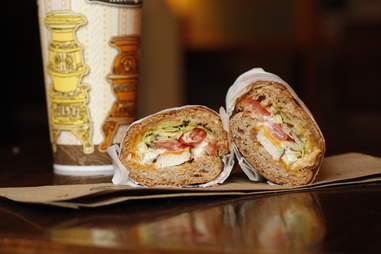 Courtesy of Potbelly
Grilled Chicken & Cheddar Sandwich
Hand-sliced, all natural grilled chicken breast with cheddar cheese
An ex-girlfriend insisted you eat grilled chicken for a few months and you lost a good 15 lbs. She broke your heart, but damn if you don't remember the grilled chicken with a passionate love-hate. So show her you're doing fine without her (but still, really, you totally love her) you get that chicken slathered in delicious yellow cheese. That will show her (sob).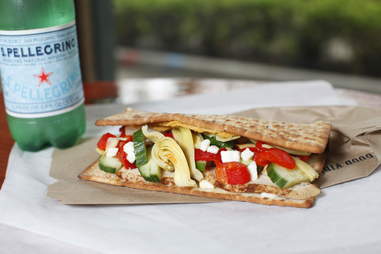 Courtesy of Potbelly
Mediterranean Sandwich
Zippy hummus, feta, artichoke hearts, crispy cukes & roasted red peppers
A yoga instructor has definitely asked you to "take over for a minute" while they run to the juice bar. You're the rare guy with the six-pack who keeps it in the case -- because you're kind enough to keep your shirt on (thank you).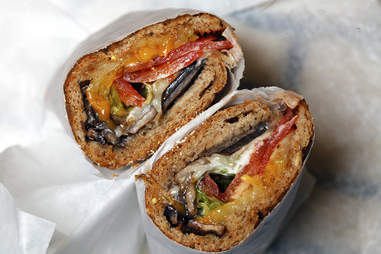 Courtesy of Potbelly
Mushroom Melt 
Mushrooms, Swiss, provolone & cheddar cheeses on thin-cut bread
You live the power vegetarian lifestyle. You make no compromises, so you don't skimp on flavor, and you eat like this is your last day on Earth. You played high school football without ever eating a piece of chicken. Nobody has ever made fun of you because you could crush them like you regularly crush mushroom melts... but you don't because, hey man, you're a pretty chill dude.
 
Courtesy of Potbelly
Italian Sandwich 
Capicola, mortadella, pepperoni, salami & provolone cheese
You've said "Gabbagool" apropos of nothing at least four times this year. "Gabbagool" -- you just love how it sounds. You have no idea what it is or even what makes an Italian sandwich an "Italian Sandwich," because seriously, are there any rules to which combination of meats it is? You don't know and you don't care, as long as the meat torpedo is STACKED with flavor.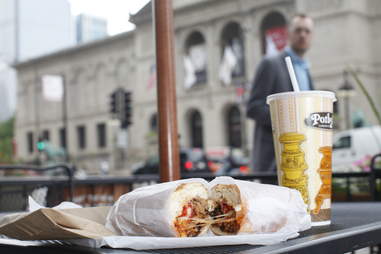 Courtesy of Potbelly
Pizza Sandwich 
Pepperoni, meatball, capicola, marinara, provolone, mushrooms
You've given thoughtful reviews about pizza delivery apps on the iTunes store. The new pizza delivery guy who you never met knows your name just by word-of-mouth in the delivery community. Your dedication to the pizza lifestyle is second to none, so even when you mix it up with a sandwich, you dedicate it to the ingredients you know best.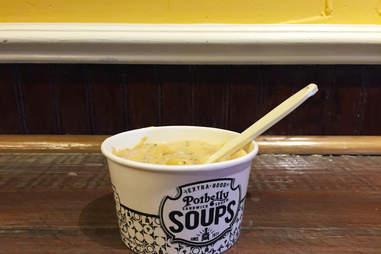 Courtesy of Potbelly
Broccoli Cheddar Soup
Cheddar, broccoli, carrots, sautéed onion & celery
You own a $1,000 DSLR because you can't capture the hidden urban milieus around you with anything less. You are in debt due to the thread count in your bedding. You put both hands on your soup (tea mug, et al.) because it feels cozy. When you stare out a window as it rains you listen to the Garden State soundtrack.