We tried Whataburger's grocery store sausage, fries, and honey butter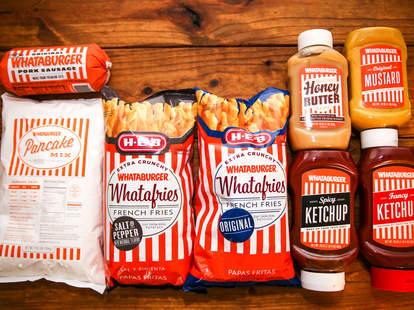 Whataburger has more than 36,846 ways to customize your burger (here's all the other stuff you didn't know about them!), but thanks to the beloved Southern fast-food institution's recent expansion into grocery stores, there are even more ways to get your What on.
The chain has recently stocked the shelves of Texas-based supermarkets H-E-B (and their online store!) with a slew of goodies: premium pork sausage, pancake mix (online only), Whatafries, and an arsenal of condiments, including their signature spicy ketchup and honey butter. We tasted them all. Here's what we found:
Dan Gentile
Pork sausage
Amongst the canon of breakfast items, sausage patties are perhaps the most infallible. Even a poor microwaveable patty relegated to the arctic corner of a freezer for years requires only 60 seconds to turn into a hearty puck of flavor. Despite the difficulty in making breakfast sausage suck, that shouldn't discount the power-play that Whataburger has pulled off with this sausage. It's fantastic.
The 1lb roll of sausage is "premium pork" -- while you can't exactly taste the heritage breed, the character of the meat doesn't scream fast food. The spice blend is bewildering, but in a good way. There's a lot going on here. Run out of coffee one morning? This'll wake you right the hell up.
Dan Gentile
Pancake mix
Just add water and you've got yourself a serviceable little flapjack. They're dense, spongy, fluffy, and texturally a home run. Not quite a Grand Slam, but that's a compliment. There's a natural sweetness to them, making them a double threat as a dessert item. They taste cheap, but like you got a good deal, not like you got ripped off.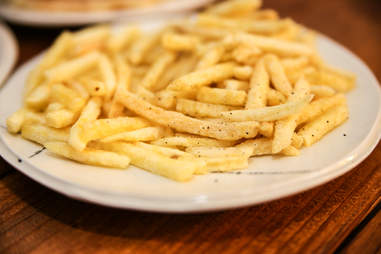 Dan Gentile
Whatafries
Buying a fast-food brand of pancake mix or sausage requires a level of dedication to the brand that not all men possess. But French fries are another beast altogether. The impulse buyability of a bag of potato sticks, such as this, is off the charts.
You can eat them straight out of the bag or stick them in the microwave, but when heated, the crunchy exterior protects the interior of the fry from becoming soft. Either hot or cold, the taste and texture is identical. These are like the fries that land in the purgatory that is the bottom of the fast-food bag.
As potato sticks, these are an acceptable snack, but the fact that they're marketed as fries makes them a bit disappointing. If you're going to buy these, definitely get the salt and pepper version.
Dan Gentile
Condiments
Whataburger's condiment spotlight is shared between two heavy hitters: spicy ketchup and honey butter. The honey butter has racked up 20k Twitter mentions in 2014 alone, which is about 19.9k more than I have, so I respect its level of celebrity.
Honey butter
I generally only consume honey butter at an hour which would turn Gizmo into a Gremlin, so tasting it in the afternoon felt like mid-week day drinking: enjoyable, but a bit unsettling. I dipped each of the other products in this, and, whereas I love it glazed across a chicken biscuit, the condiment was underwhelming when lacking its poultry vessel.
Spicy ketchup
This was a much greater success. The wild streak of chipotle bites at your taste buds and adds a bit of Southern charm. It definitely jazzes up the Whatafries.
Original mustard
I'm really not the right guy to be tasting this, but I gagged through a smudge. Personal prejudices aside, I found it to be much more complex than your average ballpark offering.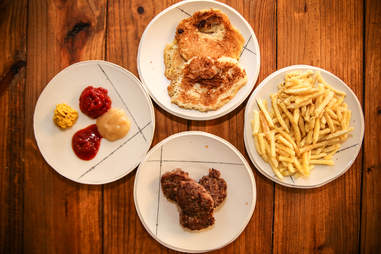 Dan Gentile
Conclusions
I greatly enjoyed the novelty of eating a fast-food breakfast in the comforts of my own home, but much of the beauty of fast food is not having to cook. Making it myself seemed somehow wrong, no matter how right it tasted.
In terms of the Whatafries, I wish I had better news to report, as these are easily the biggest impulse buy in the bunch. On the condiment front, any Whataburger fan will tell you that spicy ketchup is the lifeblood of the chain, and it does not disappoint. The honey butter, on the other hand, tasted like a fish out of water. Without its warm, crispy chicken accompaniment, it floundered.
So next time you're in the grocery aisle, you could do worse than grabbing some of these Whataproducts. But you'd do just as well to hit the drive-thru on your way home.
Dan Gentile is a staff writer on Thrillist's national food and drink team. After eating all these products, he couldn't help but exclaim "Whataday!". Follow him to who, when, where, why, and What at @Dannosphere.