Carla Hall's
Carla Hall's
Nashville Hot Chicken Is Taking Over The World
Nashville hot chicken is quickly becoming Nashville's worst kept secret. The scorching, crunchy poultry explosion -- so uniquely appetizing it'd make Music City a worthy vacation destination even without the music -- is suddenly popping up on menus from New York to Australia. To prepare you for your first encounter, we took a closer look at where hot chicken came from, where it's at, and where it's headed. Like any truly iconic dish, it has a great story to tell, filled with raw human emotion, controversy, and strange hallucinations.
Origins: revenge is best served hot
Back in the 1930s, Thornton Prince III's girlfriend was so fed up with his womanizing that, one night when he stumbled into his Nashville home late and full of excuses, she decided to teach him a lesson. Putting a malicious twist on the old saying that the way to a man's heart is through his stomach, she prepared Prince a buttermilk-fried chicken breakfast, doused in what she believed to be an intolerable amount of cayenne pepper.
She showed him. Well, she showed him a business opportunity, anyway. Prince, soon single, honed the recipe (basically a flavor bomb of oil and a proprietary, cayenne-heavy spice mix) and opened a restaurant. Fast-forward more than 70 years, and Prince's Hot Chicken Shack is still considered the mecca of Nashville Hot Chicken. Far from the tourist traps, it sits in a nondescript mall, where food pilgrims from around the world converge. Today, Prince's great-niece, Andre Prince Jeffries, carries on the family legacy and closely guards the exact recipe -- if you have a loved one you're currently hating, you'll have to invent your own culinary punishment, or try therapy.
The fire spreads slowly
As profound an institution as Prince's became, it didn't quickly become flush with imitators, perhaps not surprising given the degree of bravery and/or madness required of its customers. That began to change in the 2000s with the opening of spots like Bolton's Spicy Chicken & Fish (owner Bolton Mathews' uncle had opened a spot in the '80s but then fell ill; Mathews uses that same family recipe); 400 Degrees (its owner, Nashville native Aqui Hines, grew up eating at Prince's); and Isaac Beard's Pepperfire. Whereas Prince's concentrates entirely on hot chicken, these spots -- all of which have their own proprietary spice blends -- opened the funnel for new devotees by adding a few other dishes to the mix and experimenting with new chicken preparations like Pepperfire's fulfilling marriage of tenders and deep fried grilled cheese, the Tender Royale.
Around that same time, former Nashville mayor Bill Purcell (also a Prince's regular) started the Music City Hot Chicken Festival. Soon after, Hattie B's opened its first location in Midtown (another followed in West Nashville), bringing local craft beer and slightly more upscale ambience into the mix while making hot chicken accessible to those with a more casual level of commitment. ("Prince's is a 24-hour experience," says Sarah Gavigan, chef-owner of Nashville's Otaku Ramen and Otaku South. "It dominates your day and night. If you want an experience, go to Prince's. If you want to eat some good hot chicken and go about your day, go to Hattie B's.")
The heat accommodates, but is still ready to punish
When Ms. Prince took over the family business in 1980 there was just one spice level, hot, but she was eventually moved to introduce more compassionate options, which now include plain, mild, medium, hot, and extra-hot. But it's still the inferno that keeps many coming back for what some describe as a very real form of addiction. "Two weeks after I ate Prince's I was craving it," says Timothy Davis, author of The Hot Chicken Cookbook. "It creates an endorphin rush, like a runner's high."
"Extra-hot" is served with warnings like, "don't even think of touching your skin; put the toilet paper in the freezer as soon as you get home; and say your prayers." Your nose and toes will tingle, your scalp will itch and your pores will sweat with each bite. Yet there's something in that chicken that compels you to keep eating, long after you've officially lost your mind -- as actually happened to Sean Brock, the chef-owner of Charleston's famed Husk, who started hallucinating as he struggled to finish a serving while filming an episode of The Mind of a Chef.
The newer school places all launched with more forgiving heat level options, but still offer the masochistic the meal they deserve. Some believe 400 Degrees' hottest level is even more punishing than Prince's, while at Hattie B's, chef John Lasater plays around with different combinations of peppers -- scorpion, habanero, ghost -- to achieve maximum pain. "We've got Southern fried chicken for kids and older folks, and mild/medium and hot are pretty doable for everyone," says co-owner Nick Bishop Jr. "The jump from Hot to Damn Hot and Shut the Cluck Up is pretty brutal." (His personal favorite: Hot. "It's the perfect amount of heat with a little sweet at the end and a little savory kick.")
The quality of the actual chicken is never overlooked
Emily Walters, a founding member of The Fraternal Order of Hot Chicken (the Facebook group is invite-only), insists that the chicken comes before the hot. "Ms. Prince serves perfectly fried chicken," she says. "The fact that it's got some spice on it is almost secondary. And the spice isn't about the heat, it's got to enhance the flavor of the chicken." In other words, this isn't a novelty dish; heat won't make bad chicken good any more than a cowboy hat will turn a lousy singer into the next Hank Williams.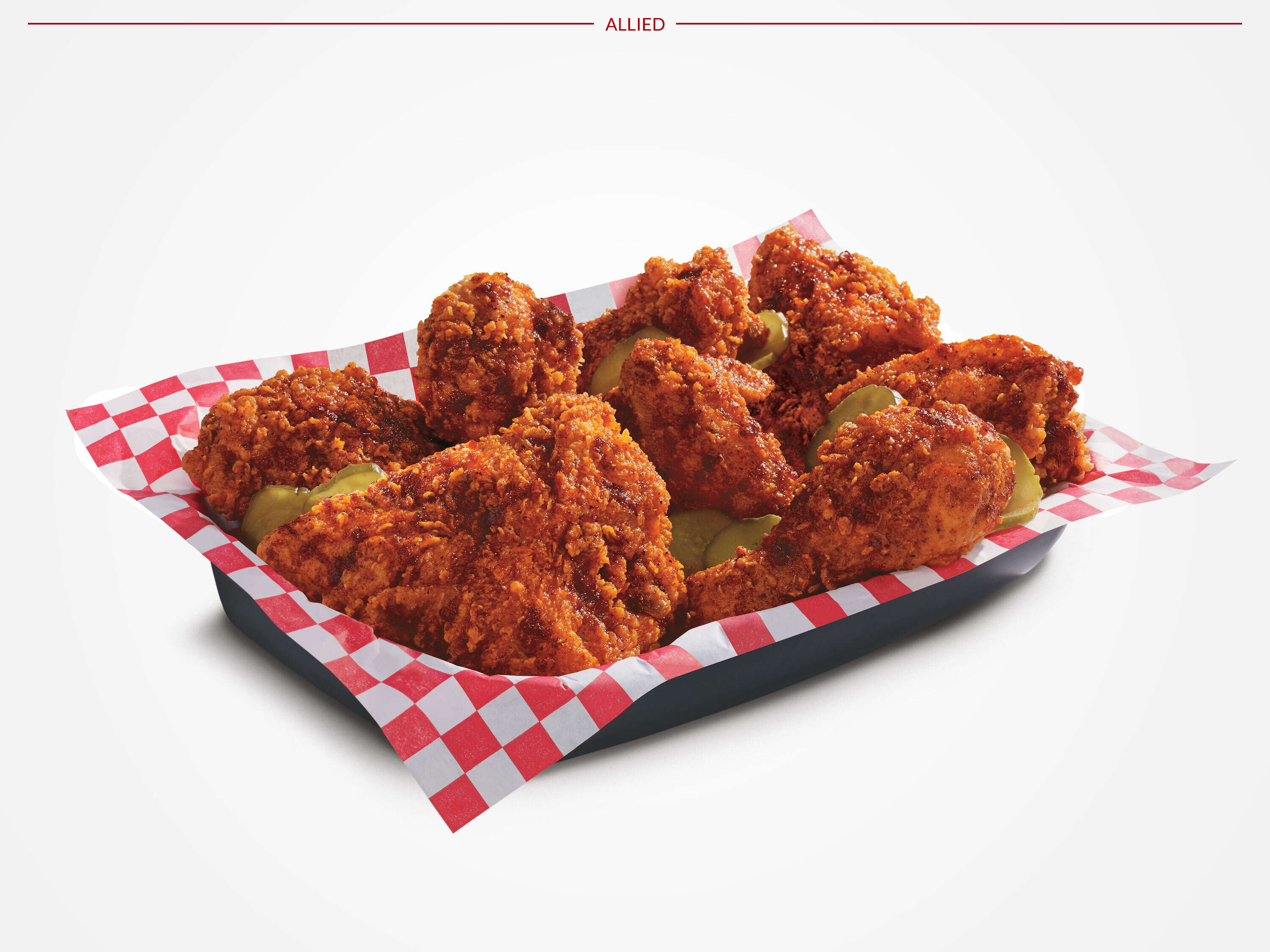 Try it for yourself
You might be a long way away from Tennessee, but with KFC's new foray into Southern favorites, you'll never be too far from Nashville Hot Chicken.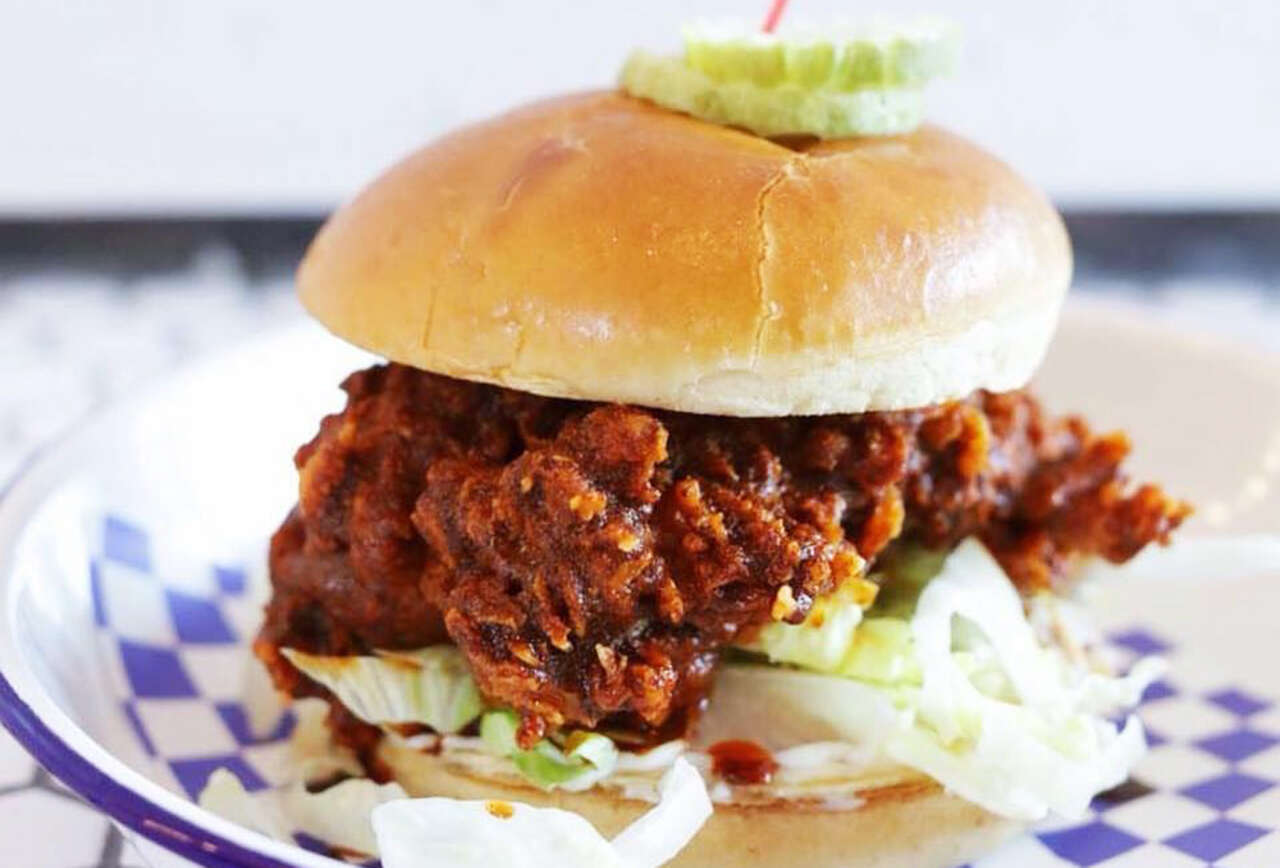 Hot chicken conquers America and beyond
The long siege of Nashville completed, hot chicken's now looking beyond Music City. Hattie B's co-owner, Nick Bishop, grew up in Franklin, Tennessee, where his father, Nick Sr., runs Bishop's Meat & Three. "As a kid we'd drive to Nashville for hot chicken. At the time, no one outside of the city had really heard of the dish," he recalls. Mr. Bishop plans to open a third location early this year in Birmingham, Alabama. As he helps the bird fly its Nashville coop, he says he feels a tremendous burden to remain faithful to the Hot Chicken spirit. "I feel like the protector of the dish," he says. "If you don't do a good job it's an insult."
Some Tennesseans are taking hot chicken even further afield, but planning on serving it up with the same sense of loyalty. "It's very important to me to open a restaurant that is a love letter to Nashville," says Music City native, Carla Hall, whose Carla Hall's Southern Kitchen opens in Brooklyn, this month. "You can tell when someone has researched a dish and brought it to a place versus having lived it," she says. "I want to deliver that authenticity."
That's not to say you have to be from Tennessee to do this right. L.A. native Johnny Zone was first introduced to hot chicken during a stage at Husk Nashville. "I had never heard of it before," he admits. "I was completely blown away. When I returned to L.A. I couldn't stop thinking about it and knew I had to bring it here," he says. Zone spent nearly a year developing the brine, flour and breading process for the hot chicken he started serving out of Howlin' Ray's food truck last year. "I experimented with every brine from sweet tea to cola and then toyed with nearly 30 starches. It was quite scientific to find the perfect flavor to crunch ratio," he says. A brick-and-mortar restaurant will open this year. "Serving out of a truck was amazing, but I always felt something was missing. The buzz of people chatting and crying from the heat, eyes, noses dripping and in pain, still laughing all the while. All of it is what makes the experience whole."
Chef Morgan McClone of Belle's Hot Chicken, which now has outposts in Melbourne and Sydney, says that to truly replicate Nashville Hot Chicken you need to understand the South. The Kiwi himself lived there nearly four years, first working at Husk in Charleston and then moving to help Mr. Brock open Husk Nashville. Hattie B's majorly influenced his concept at Belle's, though some minor tweaks had to be made for the intercontinental move. "Hattie B's medium would be our hot," he admits. "We had to make it one spice level less in Australia, but that's really the only difference." Ozzies were instantly infatuated: one group of guys came in 21 days out of 27 days, eating their way from mild to really ----ing hot.
It's gonna be good everywhere, but never forget the original
"If you put spicy fried chicken on white bread with pickles and do it in a way that pays homage to the original it will be great and tasty no matter where you are," says Jennifer Justus, author of Nashville Eats. "But it's like going to Paris in Vegas. For the real experience, you go to the source. You go to to Prince's and you don't just go to eat something, you go for the entertainment. You wait in line in anticipation with people from all walks of life and then you sit down and share a moment -- possibly a painful one -- around food."