When Foods Attack: The tastiest, most impressive food-related traffic accidents of all time
Thanks to the miracle of Russian dash cams, we now see all sorts of horrifying/hilarious little accidents, but, sometimes, you can almost taste them. Whether it's two trucks carrying beer and burgers crashing not far from each other, or a virtual river of Mountain Dew, these are some of the tastiest crashes of all time.**In which no people were killed!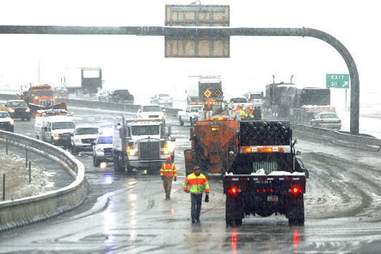 Jeffrey D. Allred / Deseret News
Beers AND Burgers: One of the most amazing coincidences in food spill history occurred on February 17th, 2009, in Utah, where a truck carrying hamburgers hit an icy patch of road and sent patties flying everywhere. Just a few hours later, a few miles away, another truck crashed, spilling delicious beer onto the roadway. Unless you were a state trooper in charge of cleanup, there was much rejoicing.
Greg Gilbert / The Seattle Times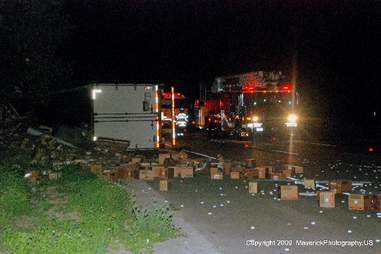 Maverick Photography
Jelly: Keeping with the breakfast theme, this truck spilled an entire load full of Smuckers packets near Sacramento, and, unlike the jelly he spilled, the driver was cited for going too fast.
KHOU Houston
Molasses:Everything's bigger in Texas, so the fact that, in July of 2008, this truck spilled 5000gal of molasses shouldn't be too terribly surprising. The fact that it spilled all that molasses in a town called Sugar Land, however, is amazing.
WCPO Cincinnatti
Syrup: Not to be outdone by Texas, Kentucky had its own it's-OK-to-laugh-because-no-one-died spill when a semi full of Hungry Jack syrup crashed and spilled hundreds of containers all over the Buttermilk Pike in 2012. Sweet, sweet coincidence.
Pot: In San Jose in 2011, a truck carrying not-even-legal weed gloriously spilled tons of the stuff all over the road, where a bunch of fine, upstanding citizens dutifully picked it up and carried it home, rather than let their state be littered.
Barbara Satterthwaite / The Virginian Pilot
Chips: Of course, Doritos are some of the kings of munchable goodness, which makes it all the more amazing that this shipping container full of them fell off a ship in November of 2006 and floated to NC's Outer Banks, providing stoners munchy enthusiasts with a lifetime supply, or at least a week's.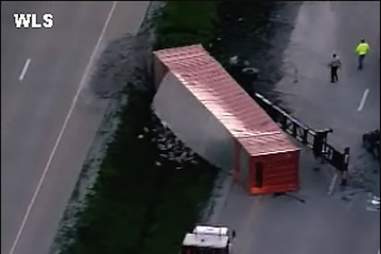 KOMO TV Seattle
Oreos: You've gotta hand it to Chicago. In 2008, this truck leaving the city didn't just spill Oreos -- it was 14 tons of Double Stufs, and there weren't any milk trucks nearby.
WIVB Buffalo
Milk: For that, you've gotta go to Buffalo, where, like so many sports seasons, everyone was left crying over 5000gal of spilled milk in January of 2013.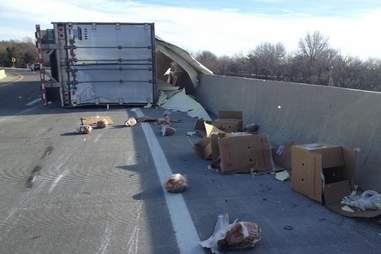 WIBW Topeka
Ham: Not counting basketball, this hog spill on I-70 was likely the most exciting thing to happen in Kansas in all of 2012.
Columbia Fire Department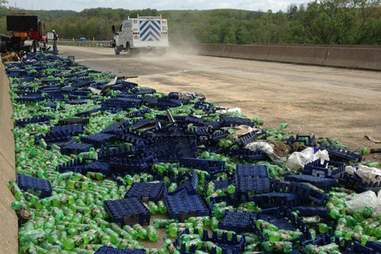 WPXI Pittsburgh
Mountain Dew: Another thing that makes I-70 great? The convenience: if you're thirsty after a bunch of pork riblets that you found on the side of the road, there's likely still some Mountain Dew lying around after an entire trailer-full found its way to the pavement back in May.