The true origins of 13 classic American foods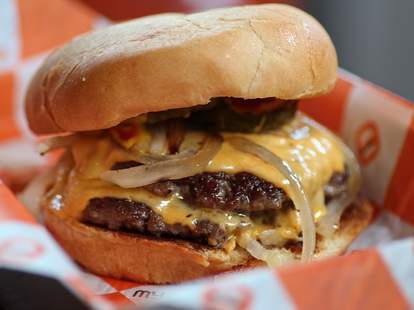 Did you know that the series of events that led to the invention of the cheeseburger can be traced from Genghis Khan to a (probably pimple-faced) teenage fry cook in Pasadena? Of course you didn't. But it's still true. Turns out that a lot of the quintessentially American foods we eat every day were invented in moments of culinary genius by kids, innkeepers, and just plain hungry people all over this great nation. Their stories deserve to be told.
Here are the origins of 13 classics:
Matt Lynch
HOT DOG: NEW YORK, NY - 1860s-70s
While the classic frankfurter (or "dachshund" sausage) was developed back in Frankfurt am Main, Germany, it wasn't until an innovative German immigrant in Brooklyn (probably Charles Feltman) served them up in rolls that the hot dog that we know and love today began to take shape. They were further popularized (and some would say perfected) in Chicago in 1893, when a vendor at the World's Columbian Exposition sold them to the hungry masses. Apparently, the rolls were used as a serving implement because the white gloves typically given to customers to handle the sausages kept getting stolen.
Sara Norris
CHEESEBURGER: PASADENA, CA - 1926
Hamburgers were based on meat patties eaten by nomadic Mongols under Genghis Khan in the 12th century. The humble cheeseburger, however, owes its inception to a cheeky, 16-year-old kid in Pasadena. Back in 1926, Lionel Sternberger, the son of the owner of a little sandwich joint called The Rite Spot, decided to slap a piece of American cheese on top of a burger patty as it was frying. Thus, the cheeseburger was born (although they called it a "cheese hamburger"), and Genghis Khan's spirit could be at peace, knowing that his work was finally complete.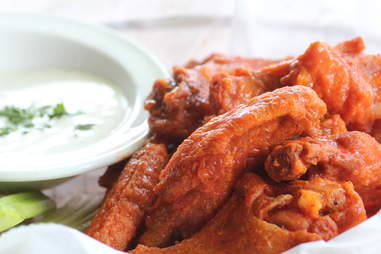 Thrillist
BUFFALO WINGS: BUFFALO, NY - 1964
OK, so maybe this one's a bit obvious, but not everyone knows that it was Teressa Bellissimo, co-owner of the Anchor Bar with her husband Frank, who first whipped up Buffalo wings in response to a sudden Friday-night surge of customers (led by her son Dominic) hungry for meat. Due to a shipping mistake, the Anchor Bar was awash in chicken wings instead of the usual backs and necks used for their spaghetti sauce, so Teressa decided to fry them up and douse them in hot pepper sauce, thus creating the signature bar food of every Friday night for the rest of time.
Scott Gold
REUBEN SANDWICH: NEW YORK, NY - 1914
There's a bit of debate surrounding the origins of the Reuben sandwich (corned beef, Swiss cheese, sauerkraut, and Russian dressing), with some folks audaciously opining that it was invented in Omaha in 1920, but its first reference in print (in a 1926 edition of Theatre Magazine, of all publications) points to a special sandwich made at the now-defunct Reuben's Delicatessen by proprietor Arnold Reuben in 1914. And if there's one thing we trust, it's old theater magazines.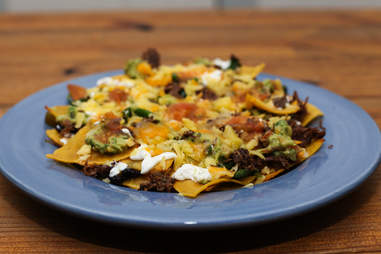 Dan Gentile
NACHOS: EAGLE PASS, TX - 1943
Technically, the place where nachos were first created by Ignacio "Nacho" Anaya was Ciudad Acuña in Mexico, at a restaurant called the Victory Club. But since he served them to a group of soldiers' wives from nearby Fort Duncan in Eagle Pass, we'll be a bit liberal here. Having arrived at the restaurant right after it closed, the wives were delighted to find that Nacho would still serve them food. He whipped up a snack based on the ingredients he had (tortillas, which he deep-fried, shredded cheese, and jalapeños), and "Nacho's especiales" were born. Generations of lazy American vernacular later, they became just "nachos". 
Mike Barish
NEW YORK-STYLE PIZZA: NEW YORK, NY - 1905
Gennaro Lombardi opened the first pizzeria in America (Lombardi's, DUH) in 1905 in Manhattan's Little Italy, which his employees soon fractured off from to create thousands upon thousands of Famous Original Ray's their own authentic, Neapolitan-esque pizzerias all over the city. It wasn't until the 1940s, though, that New York pizza truly took off, when soldiers returning from Europe after the war began to demand the pizza they tried in Italy.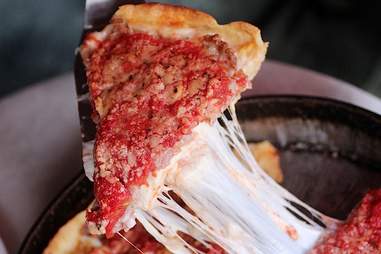 Sean Cooley
CHICAGO-STYLE DEEP DISH: CHICAGO, IL - 1942
Believe it or not, the first deep-dish pizza in Chicago was served at Pizzeria Uno (the chain your parents from Boston go to for the Deep-Dish Sundae), and was thought up by either the founder, Ike Sewell, or the original Uno's pizzaiolo, Rudy Malnati -- whose son Lou went on to found his own Chicago deep-dish empire. Is it a pizza?
Jon Stewart doesn't think so
, but then again, this is America, and we embrace all ideologies.
Sean Cooley
ICE CREAM CONE: NEW YORK, NY or ST. LOUIS, MO - 1904
While fans of edible cones were appeased back in 1820s France by "little waffles" rolled up into their favorite portable shape, it wasn't until the early 1900s that someone thought to perch America's favorite frozen treat on top -- however, it isn't known whether it was Italo Marchioni (who filed a patent in New York for ice cream held by pastry cups) or George Bang (who allegedly ran out of bowls at the St. Louis Exposition and began hawking ice cream in rolled waffles) who truly invented the ice cream cone in earnest.
David Baldwin
CHOCOLATE CHIP COOKIES: WHITMAN, MA - 1930
Quite ironically, the famous chocolate chip cookie was invented by a dietician: Ruth Graves Wakefield, who, in 1930 in her Toll House Inn kitchen, added chocolate chips to a normal batch of her cookies, expecting the dough to absorb the chocolate and thereby become chocolate cookies when fully baked. But oh, THE HORROR, when she found that the chips remained intact, and that she had invented what would become every dietician's worst nightmare (with the notable exception being her, because she probably made a lot of money off of them).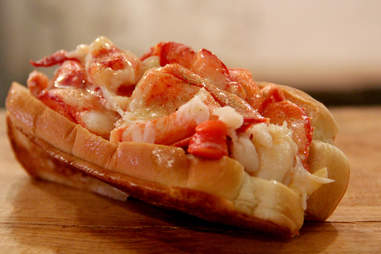 Adam Robb
LOBSTER ROLL: MILFORD, CT - 1929
There is a huge difference between a lobster salad roll and a lobster roll -- one is a cold sandwich composed of lobster salad with lots of mayonnaise that nobody wants to take credit for, and the other is a delicious, warm mix of fresh-cooked lobster and a dressing of pure butter on a griddled hot dog bun that was invented at a restaurant called Perry's in 1929 at the urging of a customer named Ted Hales, and which soon proliferated throughout New England. Ted Hales, we salute you.
Jeff Miller
BURRITO: LOS ANGELES, CA - 1920s
The foundational concept of a burrito -- a tortilla wrapped up with beans and meat -- was developed by Mesoamerican peoples hundreds, or even thousands, of years ago, but genius marketers didn't become hip to the idea until the 1920s, when it was first served on restaurant menus in LA, starting with Alejandro Borquez's Sonora Cafe. They were definitely eaten in California far prior to that moment, most likely by Sonoran workers in the Central Valley area, but didn't include the huge array of fillings we see today until around the 1950s.
Andrew Zimmer
TATER TOTS: OREGON/IDAHO - 1953
Tater Tots are actually a registered trademark. Yup. They were first developed by F. Nephi Grigg and Golden Grigg for their potato company, Ore-Ida (their potatoes come from Oregon and Idaho, hence the name), as a way of dealing with leftover scraps of potatoes from their manufacturing process. They decided to chop them up, filter them through a porous sieve with flour and seasonings, and clip the resulting mixture into nuggets. The tots were a huge hit with early tasters, but the Griggs originally charged too little for them, and people were turned off by the low price. They didn't become popular until costs were raised.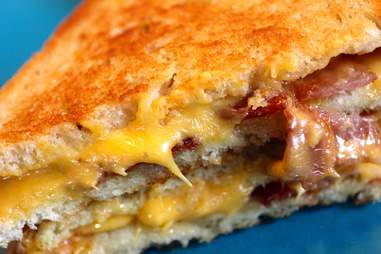 Lee Breslouer
GRILLED CHEESE: EVERYWHERE - 1920s
Ah, the grilled cheese sandwich. So simple in its design, so efficient in its cost. Which is to say that making a grilled cheese sandwich is pretty much the cheapest (and most delicious) combination of two ingredients people could feasibly make back during the Great Depression, and they hit the grilled cheese HARD. When you think about it, didn't we all invent the grilled cheese? Yeah. We kinda did.
Adam Lapetina is a food/drink staff writer at Thrillist and the inventor of the grilled cheese sandwich. Read his musings on Twitter at @adamlapetina.