Paid Content For

Where to Eat Every Meal on Your Next Trip to Vegas
Paid Content For

With so many dining options in Las Vegas, and only so many meals in a day, planning where you're going to eat during your trip can feel daunting. That's why we've done the work for you and found seven restaurants for every time of the day -- from an Italian brunch heaven to late-night food truck bites -- all without stepping foot outside Caesars Entertainment properties throughout Vegas.
Whether you're checking into The LINQ Hotel + Experience, Caesars Palace, or The Cromwell, the dining options, of course, include familiar celebrity chefs -- like Diners, Drive-Ins and Dives host Guy Fieri, Giada at Home's Giada De Laurentiis, and MasterChef's Gordon Ramsay -- but there are also some hidden foodie gems worth salivating over.
So if you've got 48 hours in Vegas, these are the restaurants you need to pack into your itinerary to really make every bite count. Could you do all seven in one day? Well, we're not going to tell you not to...
Have an unapologetically indulgent brunch
Even the pickiest of eaters will be able to find something to love at the sundrenched enclave that is GIADA at The Cromwell, which includes several vegan and gluten-free options on its robust menu. Any fan of De Laurentiis knows that she loves a good cocktail, so start things off with a glass of her signature sangria; you'll get a choice of La Marca Prosecco or Brachetto d'Acqui mixed with fresh lemon, lime, strawberries, and mojito mint syrup. On the food front, don't miss out on the fresh pastry assortment, which includes her mouthwatering chocolate croissant monkey bread. Then there's the lobster hash, which features potatoes, bacon, peppers, tomato, and onion confit with two eggs and toast. Warning: You might need a post-brunch nap after this meal.
Line up lunch at Flavortown
Known for his penchant for carnivorous decadence, Guy Fieri's Vegas Kitchen & Bar at The LINQ Hotel + Experience makes you feel like you're eating something cooked up by the Donkey Sauce inventor himself. Turns out there is a perfect lunch burger, and it's Fieri's Bacon Mac 'n' Cheese Burger. The all-beef patty is topped with crispy Applewood smoked bacon, a six-cheese mac 'n' cheese sauce, onion straws, and Donkey Sauce and served on a garlic-buttered brioche bun. Feeling extra indulgent? Sip on Guy's Old Skool Chocolate Milk, which is a good ol' glass of whole milk served alongside a chocolate syrup shooter to give it that signature Fieri twist. Welcome to Flavortown, Vegas-style.
Dive into the quintessential Vegas buffet
You'll be hard-pressed to find a buffet more decadent than the one at Caesars Palace, appropriately named Bacchanal Buffet because it is a wild foodie party from start to finish. Start by choosing a seat in the air, water, or wood-themed dining areas, aptly decorated to reflect each element, before setting your sights on the literally hundreds of daily offerings. Think dry-rubbed smoked spare ribs, red velvet pancakes, and baked-to-order chocolate lava cake. There's also fresh watermelon drizzled with sweet vinegar dressing if you need to meet your fruit quota for the day.
Enjoy some pre-show bites at a steakhouse
Before you head out to see Xavier Mortimer's Magical Dream magic show or laugh it up at Harry Potter parody Potted Potter, check out BLT Steak's daily happy hour at Bally's. From 4pm-6pm, you can get half off on all drinks in the bar and lounge area. May we suggest the restaurant's signature BLT Cocktail, made with Bulleit bourbon, Lillet Blanc, house-made ginger syrup, lemon juice, orange bitters and topped with elderflower tonic. BLT Steak also makes the perfect place to grab a little nosh before the show. Order the half dozen East and West Coast oysters served with mignonette and cocktail sauce, go halfsies on Wagyu filet mignon with your choice of four decadent sauces, or enjoy the acclaimed popovers (airy, warm, Gruyère-laced puffs of dough).
Book your dinner reservation with Gordon Ramsay
Fear Gordon Ramsay's wrath, but not his namesake Paris Las Vegas steakhouse, Gordon Ramsay Steak, which pays homage to his London roots. You'll enter beneath a towering ceiling painted with the Union Jack flag and arrive in a chic dining room with swinging London ambiance. The dinner menu is equally British, featuring British-style onion soup (caramelized onion broth, Gruyère, Welsh rarebit) and roasted beef Wellington garnished with glazed root vegetables, potato purée, and a red wine demi-glace. And because carbs are essential, save room for the potato flight, which features loaded potatoes topped three ways: with caviar; with crab meat, asparagus and hollandaise; and with a fried egg and duck bacon.
Experience one of the best restaurant bars around
Martorano's in Paris Las Vegas is the perfect fusion of two epic food destinations, Italy and Philadelphia. Steve Martorano shares his authentic, old-school dishes topped with his East Coast style. Make sure to ask for a scoop of water ice in your cocktail if you want to know how they do things in South Philly. Dining here involves attention-grabbing decor (like disco balls hanging from the ceiling), but the food is equally show-stopping. Martorano's famous Sunday gravy with chunks of pork and a generous scoop of ricotta cheese, and of course, the Philly cheesesteak packed with prime rib-eye, caramelized onions, and white American cheese on an Italian roll are among the options. And don't even think about asking for any alterations to your meal: "Don't break my balls," Martorano writes prominently on the menu. Respect the chef, people.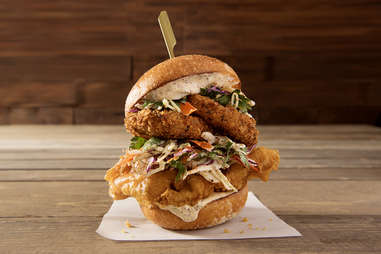 Get your late-night bite on
Located outside of The Book, The LINQ Hotel + Experiences' sports and race betting venue, is a chicken lover's sanctuary. The Sticky Chicken food truck's signature wings are the perfect late-night bite, and can be ordered tossed in flavors like cacciatore and Parmesan, Caribbean jerk, Sriracha, and salt and pepper. There's a range of sauces to dunk them in, too, including sticky Korean, mango chipotle, and bourbon barbecue. Don't deny yourself the indulgence of Sticky Chicken's fried Oreo with powdered sugar and caramel sauce, either. Happy food coma, Vegas revelers.