Which BBQ Sauce Is Right for You?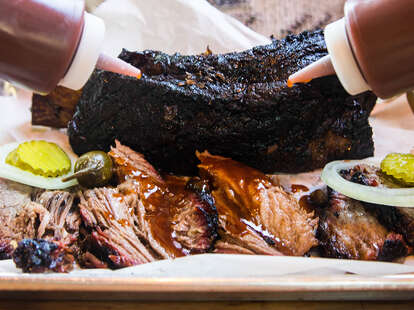 Pitmasters might scoff at diners defacing their masterpieces of meat, but even the most diehard barbecue purists can appreciate the complementary flavor of a fine-tuned sauce. Since there's no taking back that dousing, here's the best sauce for every type of palate, from coffee nerds to citrus lovers.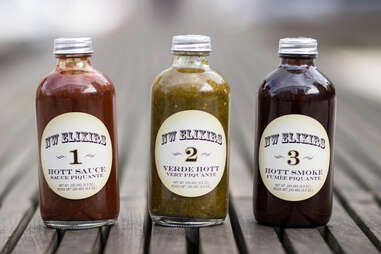 For those who like spice with their smoke: NW Elixir's Hott Smoke #3
Portland-based NW Elixirs are renowned in the industry for tongue-destroying heat that still tastes like more than just fire. Their Hott Smoke #3 has a foot in both the hot sauce world and the barbecue circuit, it's a condensed chipotle-based hot sauce that amplifies smokey flavors without any of the artificial additives.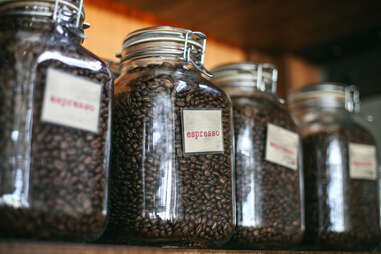 After waiting five hours in line for Aaron Franklin's brisket, saucing up your prize is sacrilege, but for the home cook with a coffee fixation there's nothing better than the rich, roasted flavors of his espresso barbecue sauce.
Although Alabama might not be considered a 'cue stronghold, Big Bob Gibson's is a must-visit pilgrimage for any connoisseur, thanks largely to the signature white sauce that coats their smoked chicken. A complex mix of horseradish, mayo, vinegar, and apple juice makes this a tangy addition to any smoked meat.
For the music fan: Stubb's Original
Located in the heart of Austin's Red River Cultural District, Stubb's Barbecue is more synonymous these days with smoking riffs than smoked meats, with some of the nation's top talent gracing its two stages. What hasn't changed is their sauce, which can still seriously level up brisket and sausage thanks to a classic Texas flavor profile driven by molasses, tomato, and black pepper.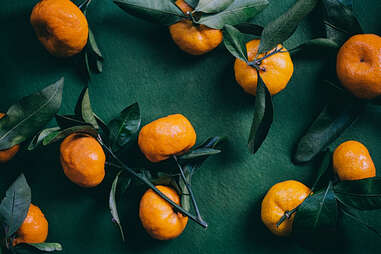 Mississippi stalwarts The Shed have taken home a trophy case's worth of circuit awards for their whole hog cooking, and nearly as many for their sauces. Concocted by the family patriarch Daddy-O, the sunset sauce is a sticky, citrusy boon to barbecue (as with Big Bob's, it's especially great with chicken).
Hungry for barbecue but also seeking crunch? Lay's has just added even more smoky/saucy/tangy flavor to their classic Barbecue Chips -- because while "more cowbell" might be debatable, the wisdom of "more barbecue" is indisputable.
For the subtle sauce fan: Bull's Eye Original
These days Bull's Eye is pushing its regional sauces, but when we put a group of nine sauces to the test, their original version stood out as best in class for a less dominant flavor that earned bonus points for a lack of high fructose corn syrup.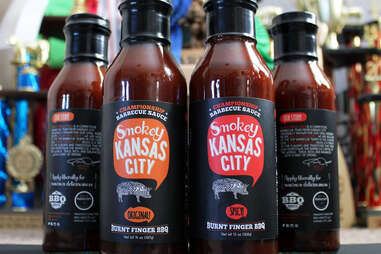 For those who love bacon explosions: Burnt Finger BBQ Smokey Kansas City Original
If you don't know about the bacon explosion, now you know. The recipe for bacon-wrapped, bacon-studded sausage took the internet by storm in 2008, and in addition to a pig's worth of hogsgold, it calls for a dose of competition veteran Jason Day's Smokey Kansas City Original, a balanced sauce that pays homage to a proud barbecue capital and plays especially well with pork.
For vinegar addicts: Carolina Cue
Elizabeth Karmel's known for kickstarting the New York City BBQ revolution through her work as executive chef at Hill Country Barbecue Market, but these days her efforts are focused on sharing her love of whole hog through a mail order service. The perfect accent for those pickin's? A Lexington-style vinegar based sauce designed for dipping.
There aren't that many purely mustard-based sauces on the market (most pitmasters make their own), but if you don't have the patience for do-it-yourself, Carolina Treet has been bottling their iconic tomato-free mustard and vinegar sauce since 1953 to cultish acclaim.
Charlie Rendezvous is famous for a dry rib rub, inspired by the founder's father's Greek chili recipe. But for taking their bones to the next level of spice, the tables are stocked with bottles of their hot sauce -- which carries flavor notes of Tennessee sweetness and can hold its own on top of even the most robust rubs.