Who makes the best fast-food chicken nuggets?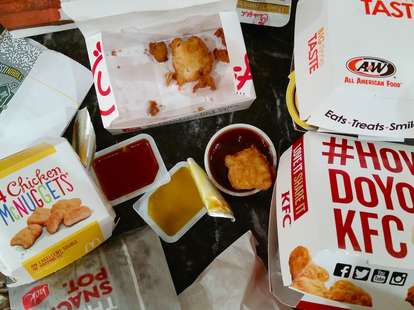 Kevin Alexander
Kevin Alexander
Although I've long considered chicken nuggets a side dish to order while you figure out what you really want to get, there is no doubt that they are an essential part of the fast-food experience. And, as such, it was only a matter of time before I tried to figure out which ones were the best.
After doing some initial research, I decided to judge the nuggets based on three tastes: once by themselves (this was weighted the highest, of course), and then once dipped in BBQ and once dipped in honey mustard. The reason for adding in the condiment judging was essentially because chicken nuggets are often thought of merely as a vessel for condiments (much like fries), and -- as such -- the quality of those condiments should be evaluated alongside. The reason for choosing BBQ and honey mustard was because they were available at all the restaurants and are most typical. This entire taste-test was done over the course of two days in October in and around San Francisco, CA.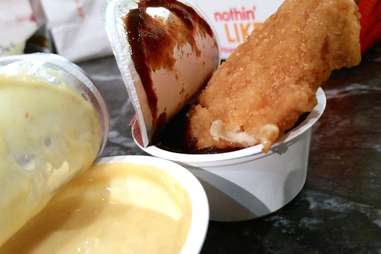 10. A&W Hand-Breaded Chicken Tenders
The build: Three 100% all-white meat chicken tenders, which come with a choice of "signature dipping sauces" -- ranch, BBQ, honey mustard, and "spicy papa". I'm abstaining from making Latin Biggie Smalls jokes right here.
Wait time: 5min 31sec
Tasting notes: Few caveats here, before we get into the taste: first, they don't technically have nuggets. These things are tenders, and, as such, may get short shrift. And also, I wasn't originally going to include them, but they were right next door to the McDonald's I was going to, and, man, it JUST SEEMED LIKE FATE, OKAY?
But fate did not smile upon these things when I tasted them. There was just too much breading, they lacked punch or spice, and they tasted more like nuggets you might find in my high school cafeteria or a Greek pizza place in suburban Boston. The BBQ sauce was thick and overpoweringly smoky, sort of like KC's Masterpiece, and the honey mustard's faint creamy mustard flavor faded away almost mid-chew. Stick to the cheese curds and root beer floats.
9. Carl's Jr. Chicken Stars
The build: Crispy-breaded, star-shaped pressed chicken served with sweet & bold BBQ, buttermilk ranch, or honey mustard dipping sauce.
Wait time: 3min 14sec
Tasting notes: These things taste like childhood. And by childhood, I mean days when Mom was super busy and just microwaved a bunch of generic, over-salted frozen nuggets. Except they're crispy, and nobody's yelling at me to be quiet for just one goddamned minute so she can have some peace. The star shape simply makes me wish they were shaped like dinosaurs. Dinosaurs taste way better than stars.
8. Sonic Jumbo Popcorn Chicken
The build: All-white meat breaded in the popcorn style (also a spicy option), with buttermilk ranch, honey mustard, or hickory BBQ sauce.
Wait time: 2min 28sec
Tasting notes: Popcorn chicken is the best because, unlike those other stingy fast-food chains, you get a ton of them. Seriously, there must have been nearly a thousand (Editor's note: this is an estimate.) little breaded popcorn nuggets. The downside to this is that they're mostly breading. You're eating little bread hunks that sometimes have chicken inside. Also, the honey mustard kind of just tasted like yellow... sauce? On the plus side, they have a great black pepper snap in the finish, and the hickory BBQ is bold and tangy. If only you didn't feel like you were playing chicken roulette every time you bit into one.
7. Burger King Chicken Nuggets
The build: Made with premium white meat and coated in a homestyle seasoned breading. Choice of honey mustard, barbecue, Buffalo, or ranch.
Wait time: 3min 21sec
Tasting notes: Though the breading is fine and almost tastes like the breading on a thick-cut onion ring, the crunch was lacking. Of the actual nuggets in the taste-test, these felt the lightest -- the most insubstantial in terms of weight -- which made me feel like I could eat 30 of them relatively easily, which is alarming. The BBQ sauce came in its own container that was not prepackaged, which excited me, and it had a pepper bite at the end, which also excited me. I'M EASILY EXCITABLE, OKAY?!? The honey mustard, however, lacked any real flavor or tang.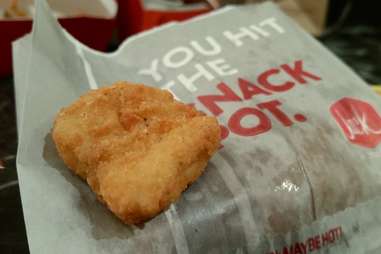 6. Jack in the Box Chicken Nuggets
The build: "Crispy white meat chicken nuggets". Choice of barbecue, honey mustard, Frank's RedHot Buffalo, sweet & sour, or teriyaki.
Wait time: 2min 14sec
Tasting notes: Well isn't this just a pleasant surprise? Jack in the Box tends to finish in the bottom-half of these tastings, as they have positioned themselves as the food of people who want to eat a lot at 2am for various reasons that may not be medicinal, and those people tend to just want weird foods. But these nuggets really kind of did it for me. They have a crispy, almost hash brown-esque breading, and a subtle heat, which is also the tagline of the Miami basketball team's marketing and publicity strategy this year.
Of course, the chicken inside looked like shredded coconut, and that was somewhat off-putting, the BBQ sauce seemed more like ketchup with onion and garlic added, and the honey mustard was a brown color that made me nervous, and almost tasted like almonds, and isn't it when you taste almonds you know you're poisoned or something...? BUT STILL, let's not put a damper on an underdog moving its way up the ladder, okay?!!?
5. KFC Original Recipe Bites
The build: Premium 100% breast meat, freshly hand-breaded and served with your choice of creamy ranch, honey mustard, BBQ, or creamy Buffalo sauce.
Wait time: 4min 56sec
Tasting notes: Considering KFC was the winner of my chicken sandwich taste-test, I had high expectations coming into this. To set the mood, I went to my normal KFC/Taco Bell joint and watched a particularly disheveled woman wearing a towel like a cape throw a bunch of pennies at the drink machine. And then I asked for my bites, and was told that they only had four left, and the very pleasant counter guy (also named Kevin!) asked if I wanted a "sh*tload of bonus tenders". I passed on the bonus tenders (sorry Kevin!), got my four chicken bites, thought about throwing my own pennies at the drink machine, then settled in.
The chicken was spicier than most of the others I'd had -- not in a red pepper way, but more like black pepper hints. The breading was crispy, and the chicken tasted fresh. All in all, it was a solid bite, but it didn't shine in any particular way. The BBQ sauce that came with it had a smoky kick, but then faded, and the honey mustard was, again, like the condiment equivalent of one of those cowboy movie facades of a saloon. It looked like some damn good honey mustard, but when you tasted it, you realized it was all first impression, and there was no foundation. Final call: perfectly good nuggets, but nothing game-changing.
4. Wendy's Chicken Nuggets
The build: All-white meat chicken nuggets (also a spicy option), either in four, six, or 10-piece. Choice of BBQ, honey mustard, sweet & sour, ranch, or honey.
Wait time: 1min 49sec
Tasting notes: Though you can opt for the spicy nuggets, I went with the regular because they are more tender and juicy, and I'm trying to play by the rules. The breading is delicious, with a peppery kick and a fried chicken crunch. The BBQ sauce is thin and tomato-y, but even. The honey mustard has that thick salad dressing consistency, but gives off a nice tang at the end that separates it from the poorer versions. The only issue with Wendy's is the quick fall-off in flavor as they cool. The nuggets I enjoyed fresh out of the box ranked right near the top, but, a few minutes later, the breading had congealed a bit, and I found myself slightly sad, like at the end of an emotionally taxing Nicholas Sparks film.
3. Popeyes Chicken Nuggets
The build: 100% whole breast meat, marinated in "Louisiana seasonings", and then hand-breaded and battered. Choice of blackened ranch, Sweet Heat, Bayou Buffalo, ranch, BoldBQ, and Mardi Gras Mustard.
Wait time: 16min 16sec
Tasting notes: Obviously if you look at the wait time, something was amiss. The good people of Popeyes had just run out of nuggets as I made my order and, due to some confusion, must have forgotten about me. When they finally did bring out my order, they guiltily included three extra nuggets and a pie.
Though no fast food is worth that wait, they came close thanks to spicy breading and the peace of mind that comes when chicken is in non-uniform shapes. The Mardi Gras Mustard had a horseradish bite I could literally feel in my nose. I kinda wanted to drink it. Don't judge me. Despite all those positives, the nuggets felt like they weren't quite as flavorful as Popeyes' regular chicken, and their BoldBQ sauce lacked really any tang. I am happy to report the pie was delicious.
2. McDonald's Chicken McNuggets
The build: Made with USDA-inspected white meat, tempura battered, fried up, and served with basically infinity sauces: chipotle barbecue, creamy ranch, honey mustard, hot mustard, spicy Buffalo, sweet chili, sweet & sour, and tangy barbecue.
Wait time: 2min 21sec
Tasting notes: These were one of my favorite things to eat in high school, so I was really hoping they would stand up to my nostalgic love, and, man, they really actually do. Biting into that famous, crispy tempura texture is really satisfying -- a little peppery, great crust on the breading, chicken seems much more white and not clumpy like it might've been 15 years ago. They were delicious.
The sauces, however, were a little lacking: the BBQ had a ketchup mouthfeel, but a vinegary smell, and not much of an aftertaste, and the honey mustard was creamy despite a grainy mustard look, and didn't overpower, but also didn't do much of anything. I always get the hot mustard with these things, and I would encourage you to do the same, because I feel like we're best friends now. But overall, McDonald's still has it when it comes to nuggets. I want to eat a 20-piece right now while lounging on Grimace, that comfortable Barcalounger-looking bastard.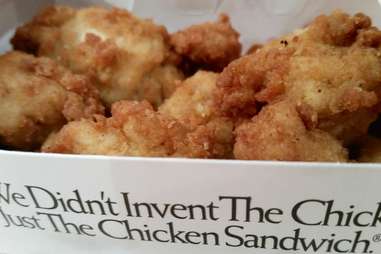 1. Chick-fil-A Nuggets
The build: Hand-breaded, all-breast meat chicken, pressure cooked in peanut oil, either in an eight- or 12-piece. Comes with your choice of barbecue, Buffalo, buttermilk ranch, Chick-fil-A sauce, honey mustard, honey roasted BBQ, or Polynesian.
Wait time: 2min 38sec
Tasting notes: After everyone in my company, family, gym, and church yelled at me last taste-test when I ate a Chick-fil-A sandwich with cheese on it, I've been eyeing my return to the Southern chicken chain nervously. What if they never stacked up to the high expectations in my eyes? What if I just couldn't see what everyone else saw, like my boss Ben Robinson, who is color blind?
Well, it turns out, I see the light, friends. And it is shining all over these glorious little nuggets. First of all, they were all different sizes, which was actually pleasing to me in its realism; they have that famous Chick-fil-A breading taste, with a solid black and red pepper kick, and the chicken looks delicious and normal when you bite it. While the BBQ was perfectly serviceable, the honey mustard -- more honey based than most -- was the best honey mustard of the night. Eat these. Eat a lot of these.
Kevin Alexander is the Food & Drink executive editor and has the blood pressure of a 63-year-old man, who might be mildly active, after this taste-test. Follow him to better sodium intakes: @KAlexander03.