For me, a trip to the grocery store is like a trip to prison. Think about it: the sterile lighting, tile floors, the metal bars of shopping cars trapping hapless kids while their moms trade organic produce for cigarettes. OK, so not the last thing. But plenty of weird drugs are involved.
Metaphors aside, when I heard that Whole Foods has vowed to stop peddling goods created by prisoners, I had two thoughts: A.) Wow, I was weirdly spot on, and B.) When the fuck did Whole Foods start getting convicts to make their "wholesome" goods? As it turns out, many of our national supermarkets have been hawking foods -- specifically, in WF's case, goat cheese -- farmed by the very hands that (possibly) killed another human in cold blood. 
Okay, maybe that's a little extreme, but there are some serious problems surrounding the use of imprisoned labor. So why do so many supermarkets use these prison-sourced food goods? And why is it such a big deal, that WF had to publicly distance themselves from it, and vow to remove all prison-labor food by the beginning of next year?
Well, like most prison-based dramas -- and the aisles at Whole Foods -- it's pretty damn complicated. 
 
Recommended Video
The Real Reason Chick-Fil-A Is Closed on Sunday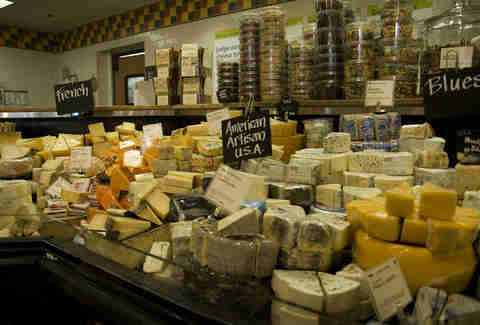 For Whole Foods specifically, the issue was brought to light by a widespread demonstration/protest in Houston, lead by Michael Allen, founder of End Mass Incarceration Houston. Allen told NPR "People are incarcerated and then forced to work for pennies on the dollar — compare that to what the products are sold for."
Whole Foods was selling goat cheese and tilapia from two companies --  Haystack Mountain Goat Dairy and Quixotic Farming, respectively -- who partner with Colorado Correctional Industries, who employ prisoners to farm dairy and fish. 
According to the NPR piece, CCI's mission is designed to provide training and employment for inmates, and a spokesman for Whole Foods told them "We felt that supporting supplier partners who found a way to be part of paid, rehabilitative work being done by inmates would help people get back on their feet," while admitting he had heard some shoppers were uncomfortable with using prison labor. 
Whole Foods caved to the public outcry, and has vowed to cut all prison-sourced food by April of next year. Though, using these methods to source food is not uncommon in American grocery stores. CCI alone provides food for Colorado-area supermarkets with more than 2,000 inmates "employed," and is worth around $65 million dollars.
The morality of using cheap labor, and the argument that it provides inmates a valuable service, is very much subjective. But one thing is certain: the cheese you buy at Whole Foods will be prison-free come April. Ridiculously overpriced? Maybe. But definitely not from prison.

Wil Fulton is a Staff Writer for Thrillist. Follow him @wilfulton
Sign up here for our daily Thrillist email, and get your fix of the best in food/drink/fun.