You can tell a lot about a person's character by the contents of their grocery cart, but to truly understand a shopper's soul, you've got to discover their deepest, bougiest, most overpriced Whole Foods guilty pleasures. Farm-to-table fennel? Line-caught river trout? Perhaps an entire wheel of organic Jarlsberg, simply because one rarely gets the opportunity to spend $90 on organic Jarlsberg, and like, why the hell not? In service of socioeconomic schadenfreude & cathartic class guilt, I asked 21 Young Urban Professionals -- including several Thrillist editors -- to reveal their most embarrassingly unnecessary Whole Foods purchases.* These are their stories.
"I'm definitely guilty of buyingcheese there for no reason other than 'surely this smoked Gouda is better than the smoked Gouda at Stop & Shop.' I just want to put cheese in my facehole, so I'd be happy eating Easy Cheese. But if I'm having company, I should serve the 'nice cheese' with the ancient-grain crackers right? How did I spend $50 on this stuff that's going to make a mess on my floor because no one is eating over the goddamn cocktail napkins that I bought for this party?" - Mike, 35, Westchester
I haven't even used those herbes de Provence once.
"I needed to take a drug test for my job, and read online that I'd be able to pass if I drank a gallon of unfiltered organic cranberry juice. This sounded fancy and I was nervous that I wouldn't get the right kind, so I figured Whole Foods was my best bet. The juice was overpriced & gross to drink. The worst part, though, was that I had no explanation for my coworkers as to why I was chugging a gallon of fancy cranberry juice all day. They probably all thought I had a really bad UTI or something." - Michelle, 30, Manhattan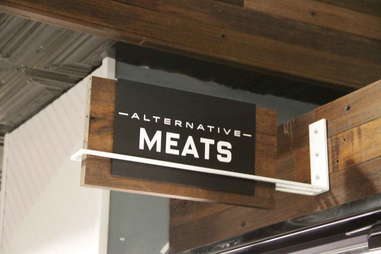 "I'll tell you what's dumb. Their stupid meat ratings. But I was dating this guy who was mega-crunchy and I needed to show him that I actually cared about animals, despite the fact that I come from a culture that eats dogs. Step 5+ meat guarantees that the animals are 'born and live their entire lives on one farm.' It's also like, 100x as expensive. When I went over to make him dinner, he told me he planned on going vegan by the end of the year. I politely gathered my things and went home." - Wendy, 29, Manhattan
"I bought a burrito bowl at Whole Foods and ate it alone in the cafe while listening to an episode of Serial. The combination delighted me with the unearned satisfaction that comes from choosing to consume marginally more sophisticated versions of goods." - Mike, 26, Brooklyn
I went for Emergen-C, and left with a stainless steel coffee Thermos.
"Herbes de provence, because I had no idea what it was. Even after multiple Google searches, I couldn't find the matching container. So I asked a store clerk, who picked one up right in front of me. Also I've never used it once." - Liz, 30, Manhattan
"The upstairs level of the Houston Whole Foods is for those who find the main floor too affordable or too common. This is the ivory tower sitting on the top of an ivy tower. A place for those who go to a grocery store seeking non-grocery items. Lavendar bath salts, yoga mats, Tom's shoes, or homeopathic placebos. You know, the bare essentials. Walking up those stairs, one enters into what a Greenwich Mother would remember from her trip to the Grand Bazaar. Blythe Danner meets King Xerxes. Where J. Peterman buys 'Klean Kanteens' for his next safari expedition. So it is with great shame, when I admit I have frequented this rarified air. I was directed there to find Emergen-C, and walked down the stairs laden with a stainless steel 20oz coffee Thermos. That was four years ago, and all I have done is wash it out. If only I had bought that carabiner, I would have brought it to work with me every day. Since this ill-advised event, I have not again dared to venture to the upstairs level of Whole Foods. But if I had to hazard a guess, they probably have a solid holiday deal this time of year on gold, frankincense, and myrrh." - Blake, 27, Manhattan
"Do you think I WANT to go there for my French chestnuts?"
"I routinely pay $10 for a jar of 'artisanal' pickles. This fills me with shame because for that price, they're not even the best I've ever had. Those would be the pickles in the $13 jar, which I bought a few times. I haven't in a while. I couldn't stomach that level of shame. Sometimes when I'm eating the 'cheap' pickles, I think about how much happier I'd be if I would've sucked it up and bought the bigger jar. But I can't. Also, I'd like this to be anonymous. I am ashamed." - Jed, 34, Denver
"This might not be what you're looking for, but it's about that stupid organic vitamin aisle. They clearly try hard to not use Johnson & Johnson branding, so it's really hard to know what types of vitamins you're actually buying. Long story short, I bought fancy prenatal vitamins while food shopping with my Dad. This was back in high school. Things got weird." - Melissa, 27, Long Island
"I go through a pack of dried mango every couple of days. It costs $12.99. I don't think I really have to say anything else about this." - Britt, 30, Brooklyn
"I shop at Whole Foods for the express purpose of buying overpriced meat substitutes. I'm talking 11oz of fake beef crumbles for $6.29 -- and multiple packages, at that. I once checked out with two bags of beefy crumbles, two bags of different brands of fake meatballs, a box of tofu ribs, and nothing else. Plus, whenever I go, I try to stock up to avoid going back anytime soon, which ultimately makes me look like I sustain myself solely on things like pea protein. Which is fine?" - Rachel Freeman, 23, Brooklyn
"You just read about people buying $50 pickles or artisanal mayos hand-mixed by the last of the Mohicans. So dumb, right? What I buy at Whole Foods? French chestnuts and taramasalata? Painful necessities that are not dumb, but actually really smart. Like me. See, you can buy reasonably priced pickles and mayos that haven't been small-batch blended by Nepalese goatherds at any store. My delicious fish roe spread and Gallic nuts can only be found in upscale food dispensaries (nobody even commercially grows chestnuts in America, so they have to be fancy and from France). Do you think I want to go to Whole Foods? Do you think I want well-meaning, skinny kids with tasteful neck tattoos handing me samples of $30 chorizo? Do you think I want to wait on lines separated by colors in a quasi-fascist display of neo-liberal capitalist order? No. I just want fish egg spread and French nuts to put inside me. Whole Foods is just another necessary evil, like taxes, trips to the dentist, and Batman's Bane." - Jesse Brukman, 32, Brooklyn
"I've spent upwards of a grand on their Indian food."
"I'm not really a Whole Foods guy, because we have a local equivalent called New Seasons that's more prominent, and right down the street from me. It's basically the same thing, though, because it's expensive and there are always people with clipboards outside asking if I have a minute for the environment. Honestly, I think the only thing I've bought from Whole Foods is a beer and some overpriced antacids, which were $5 for a roll and gave me even more heartburn. Also, I buy beard oil at New Seasons. Combined with 'I don't shop at Whole Foods because I shop local,' that's about the most Portland thing I've ever said, and I maybe died inside." - Andy Kryza, 33, Portland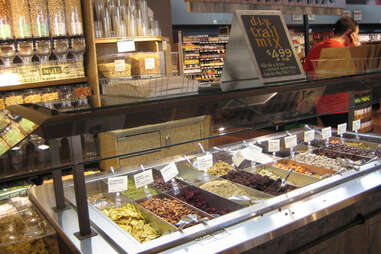 "Well, there are a few kinds of trail mix at Whole Foods. Some have those gross/delicious pseudo-M&M's and yogurt chips, some just have healthy crap like chia seeds or Goji berries and no treats, and others have both treats and healthy crap but not enough nuts. Nuts are important. And since a healthy, balanced lifestyle is also really important, I wanted to have a fair distribution of all elements, so I bought three separate containers to DIY at home in a big-ass Mason jar. Trail mix is effing delicious." - Carrie Dennis, 26, Brooklyn
"You come in with the mindset, 'Well, I know this store has a reputation of being expensive, but that's for the idiots that buy BLK Water and anything approaching a superfood [makes smart quotes gesture]!' But your total always ends up being $100 or more, even if it's just for the embarrassing basics, like boneless, skinless chicken breasts, frozen vegetables, and other foods articulating the laziness/self-hatred of a single guy that doesn't work in finance (i.e., poor). So, I guess the silliest thing I've done at Whole Foods is convincing myself that buying 'whole foods' there is a reasonable proposition to begin with. And I still pick up a BLK Water every once in a while. So that, too." - John, 27, San Francisco
"My favorite workout class is this mind-body zen yoga kickboxing bootcamp."
"The Whole Foods prepared food is a textbook move for a certain type of potlucker, but if you're throwing a party yourself, everyone knows that you MUST have a damn plate of celery, carrots, and ranch. If you don't, the roof is going to catch on fire, or not catch on fire, or whichever is worse. So, instead of taking a few minutes to chop up some cheap loose veggies, I dropped $20 on a plate of vegetables that I don't even like and that no one ever eats." - Dan Gentile, 30, Austin
"Funny you should ask, because I once raided Whole Foods' medicine aisle and wrote a story about it. I spent a day sucking down almost every single natural pill, elixir, and voodoo-based pharmaceutical the place had to offer and then went out to a club. I took St. John's Wort, passion oil, sexual vitality tonic, herbal hangover pills, African black soap... you name it, I bought it. I spent at least $60 on the stuff, but felt better about the experience once I was reimbursed from accounting -- plus the story's success got me hired as Supercompressor's vice editor. Aside from that, I've probably spent upwards of a grand on their Indian food. Suck it, world!" - Jeremy Glass, 27, Brooklyn
"I swear, it's worth it."
"Like an asshole, I was convinced that sea salt English toffee with chocolate was healthy when it came from Whole Foods. Erroneous." - Alex, 24, Manhattan
"The first time I went to the Whole Foods salad bar, I panicked and bought $17 worth of hard-boiled eggs & vegetarian dumplings. That was a bad lunch." - Chad, 27, Chicago
"It was a nice fall day and I was feeling a health kick coming on, probably after a weekend of wine and Thai food (SO basic). I started the day with my favorite workout class, Circuit of Change, a mind-body zen yoga kickboxing bootcamp. Naturally I needed a pick-me-up afterwards and headed to my neighborhood Whole Foods store where I splurged on a $5.99 coconut water (I swear it's worth it). I figured while I was on the path to health enlightenment I would also buy my favorite citrus fruit on this planet, Cara Cara oranges. Last on the menu was some high-quality, organic, cage-free, no-hormone, vegetarian-fed, all-natural chicken breast. The odds and ends I bought didn't quite add up to a meal, but I look back with no regrets. The cost of health is high, and it better taste good." - Beatrice, 25, Manhattan
"I've never been inside a Whole Foods. That, in itself, is sorta embarrassing... right?" - Mark, 27, San Diego
*Responses were edited for brevity & clarity. Pseudonyms were used in place of real names at yuppies' requests.
Dave Infante is a senior writer for Thrillist Food & Drink, and hates himself just a little more every time he passes Whole Foods' hot bar. Follow @dinfontay on Twitter, Instagram, and Snapchat.