We dunked Oreos into every milk Whole Foods carries
Editor's Note: This is the first in our series of deep culinary investigations led by our Official Taste Tester, Mara Montalbano. She used to be a crime reporter on Staten Island, so don't mess with her.
No matter how broken your heart is or how much weight you're trying to gain that you swear you're going to turn into muscle at the gym, there's only one good reason to eat an entire sleeve of Oreos in a sitting: research.
I was told I'd be tasting as many different kinds of milk as the Thrillist staff could find at Whole Foods. I was afraid I'd be poured anything from alligator milk to Olivia Wilde's breast milk. The spread was actually a lot less scary, but still impressive: goat milk, dairy milk (whole, 2%, fat free, & chocolate), a variety of unsweetened vanilla non-dairy milk (coconut, almond, rice, soy, hemp, quinoa) and -- not from Whole Foods, but why the hell not use them? -- some little packets of half and half found buried in a drawer in the test kitchen.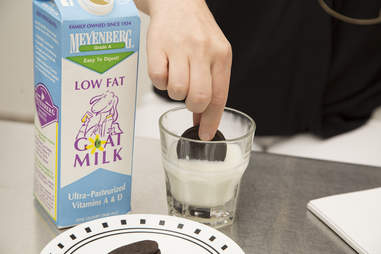 M.A.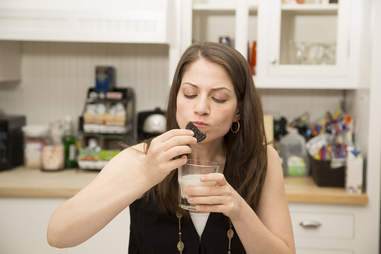 M.A.
Absorption
It's just not appropriate to take the Oreo out of the milk until it has reached desired level of sogginess. For me, that's when the cookie is soaked just enough that I don't even have to use my teeth to bite it. There was a clear distinction when it came to the rate of absorption and animal milk won this round, hands down.
M.A.
The goat, dairy milk, and half and half absorbed quickly and thoroughly, while the non-dairies varied. Some performed better than others: rice and soy did the best. Coconut milk didn't absorb well at all. You might as well drop the whole cookie in the glass and come back later with a spoon -- otherwise you'll be waiting with your fingers hovering over that glass for a while.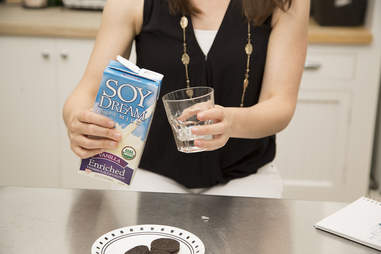 M.A.
Taste
The non-dairy winner for me was the soy. It tasted the least artificial, with a kind of peachy aftertaste that went pleasantly with the Oreo. Almond milk was a close second. I liked it very much with the cookie, though on its own it had this plastic aftertaste that cost it some points.
M.A.
The coconut milk smelled better than it tasted. You get a big whiff of vanilla when you first hold the glass up to your face, but it also has that artificial aftertaste and doesn't do anything for the cookie either. Rice milk was very neutral. It added no flavor to the cookie at all. It was almost as if the cookie was dunked in water, yet retained all of its flavor. A miracle! But not the tastiest miracle.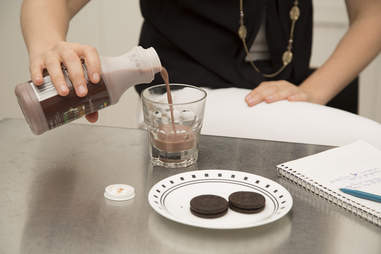 M.A.
Chocolate milk is always a good time on its own. With the Oreo, not so much. I thought this was going to be total decadence, but it was a big disappointment. The two were fighting to show off who had the most flavor. The Oreo won and the chocolate milk just kind of hung around whining about how I don't love him anymore. It was very odd.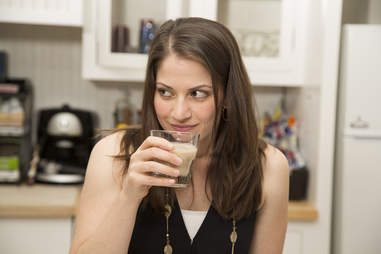 M.A.
Goat milk was very similar to the non-fat dairy milk and very neutral on the cookie – you shouldn't be afraid of it (even though it kind of tastes like goat), but don't expect much of it either. On the other hand...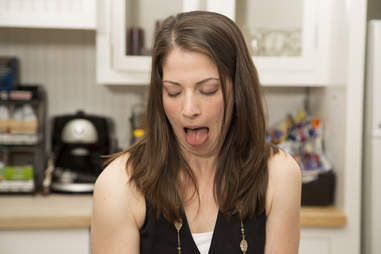 M.A.
...be very afraid of the hemp and quinoa milk. I am not a mother and have never had an infant projectile spew breast milk into my mouth, but I imagine these varietals taste, look, and smell similar to that experience. Fun!
M.A.
Conclusions:
If you grew up dunking your Oreos in the real stuff, then the fake stuff just isn't going to cut it. 2% provided the right balance of creaminess with the Oreo, and if you're against things being that creamy, even the fat free milk gave the cookie a familiar richness that the non-dairies just couldn't muster. Some of the non-dairies gave the cookie a more grown-up taste, but if you're an adult pouring a glass of milk just for Oreos, I doubt "grown up" is the experience you're going for.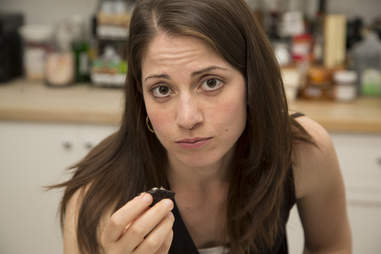 M.A.
If you've developed some kind of adult-onset lactose intolerance, first let me express my condolences. Then I would suggest the soy as my favorite of the non-dairies. I've had soy milk in the past and didn't care for it. Maybe I just tried the wrong brands, or maybe it was because I'd never tried soy milk with Oreos – either way it was a pleasant surprise. Almond milk was a surprise as well, though not quite as pleasant; it'd do in a pinch.
M.A.
Epilogue: Epic Fail
Oh yeah, that half and half. Since we weren't going to get a dunkable glass out of four little packets, we just dumped one on top of the cookie. It absorbed very quickly and thoroughly. I got excited, but that was quickly ruined when I ate it. It was foul and the aftertaste was kind of like parmesan cheese. Hey, Thrillist, clean out your drawers more often.
M.A.
That taste was not what I wanted to be left with at the end of this experience, so I went straight back for a pure shot of chocolate milk. See? Now that he's single I love him again!

Mara is also on the Twitter. Follow her here.