Whole Foods Sales Plummeted After the Overcharging Scandal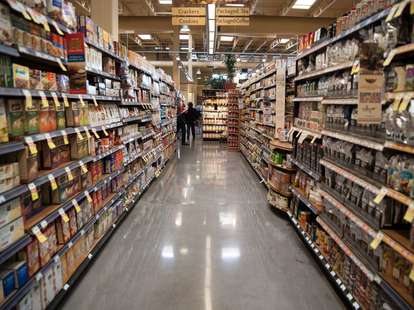 Whole Foods is paying the price for ripping off customers.
After a damning investigation last month revealed "systemic overcharging of pre-packaged foods" at Whole Foods stores in NYC, sales growth took a big hit, according to a report by the Associated Press. In the aftermath of the scandal, executives admitted to overcharging customers for some pre-made foods and promised to change its practices around weighing and pricing the items, but it appears that wasn't enough to keep Americans from taking their organic kale needs elsewhere.
Specifically, Whole Foods said sales were up 2.6% at the beginning of the quarter, but that number fell to just 0.4% in the final weeks of the period, after double-bagged backlash spread nationwide. And with sales up only 0.6% at "established" locations so far in the current quarter, Whole Foods has lowered its expectations for the whole year, according to the report, which quotes co-CEO Walter Robb saying, "There's no magic bullet for restoring whatever trust was lost." Not to be confused with the Magic Bullet, which makes great smoothies.
The bad publicity and bite in sales also come as Whole Food plans to open its first batch of cheaper stores geared to poor millennials, who, at this point, are probably going to come armed with digital scales.
Tony Merevick is Cities News Editor at Thrillist and wonders what the next grocery store scandal will be. Send news tips to news@thrillist.com and follow him on Twitter @tonymerevick.