Paid Content For
Campbell's
12 Reasons Why Being a Chef Is Way Harder Than You Think
Paid Content For
Campbell's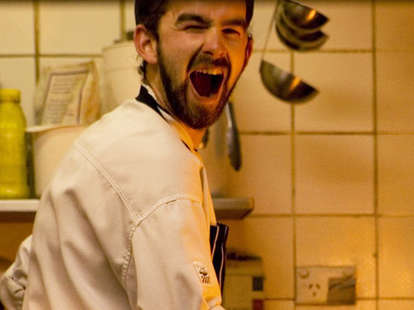 <a href="https://www.flickr.com/photos/twobigpaws/186284186/" rel="nofollow" target="_blank">twobigpaws/Flickr</a>
<a href="https://www.flickr.com/photos/twobigpaws/186284186/" rel="nofollow" target="_blank">twobigpaws/Flickr</a>
As much as chefs get put on a pedestal (ahem, Food Network), there's more to it than TV judging stints, product endorsements, and having Bradley Cooper play you in a movie. Like, all pretty much everything else -- the time consuming, day-to-day work. We talked to real professional chefs to get the low-down on what it really means to work in one of the busiest and hardest industries in America.
1. Relationships are really tough
Dating can be nearly impossible when you're a chef -- unless you find someone who works the night shift, considers Monday a weekend or is fond of having dinner at 1am. Taking it to the next level? That's even harder. "Having a family while being a chef is an exercise in lifelong sleep deprivation," says Edward Lee, chef-owner of 610 Magnolia and MilkWood in Louisville, Kentucky. "It forces you to manage your time down to the minute. It is insanely difficult but not impossible."

2. Holidays are work days
"Skipping holidays, family gatherings, weddings and funerals to hump a shift on the line isn't always appreciated by family," says Daniel Holzman, chef-owner of the Meatball Shop in New York City. "But your restaurant is your family and that's what makes working in a restaurant so special."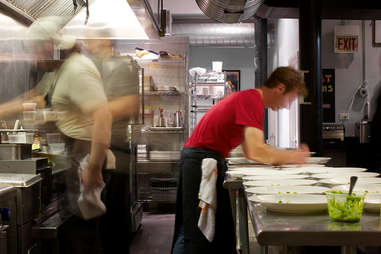 3. And don't even think about sick days
Working in the kitchen is not for the faint of heart -- or mere mortals, apparently. "When you get sick, you go to work," says the chef-owner of a soon-to-open restaurant in Brooklyn. "In 22 years I think I've called out once or twice, not including surgeries and things like that. Twice in 22 years. That's not very much."

4. Cooking is just the start
When you're a chef at a serious restaurant, you need to be a butcher and a fishmonger, too. "When I worked at Gramercy Tavern we'd get whole lambs twice a week, suckling pigs. Everything that came in was whole: whole fish, whole sea urchin, whole sardines," says Akhtar Nawab, chef-partner at Table in Washington, DC. "The anatomy of a rabbit is very tricky when you're working on the line. Carving a rabbit off the bone is very different than cutting chicken off the bone."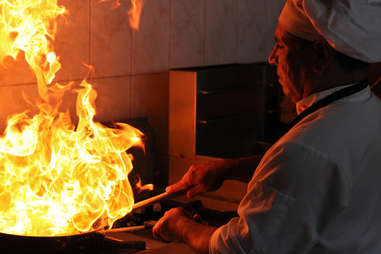 5. Because it hurts
Twelve-hour days on your feet are rough. So is working in an environment that can double as a sweat lodge. But it's kitchen injuries that take the cake. "One night I literally burned the pupil in my right eyeball in the middle of a hectic service while sautéeing a whole trussed squab that had been corn fed," says Mike Colameco, a kitchen vet and host of Real Food with MIke Colameco. "Some corn fell out and popped in the 435-degree oil. I stayed for the entire service and went to the ER after my shift, no days off, just used eye drops."

6. Off-the menu ordering sucks
If it doesn't seem like a big deal to ask for a side of cheesy mashed potatoes with the entrée that gets the quinoa salad, think again. "People take for granted the hard work that goes into making an entire menu with so many options for customers," says Lee. "You and your team spend 8 hours in the kitchen prepping upwards of 25 to 30 items on a dinner menu in time for service and there's always the jerk that comes in and says, 'Don't you have a grilled chicken breast because I'm on a diet?'"
Don't Just Take It From Us
Hear what it's like to work and cook in one the most high-pressure culinary cities in America from Vanessa Cantave, Executive Chef at yumyum in New York City.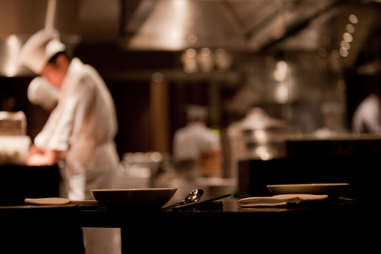 7. There is always an emergency
The saying that anything that can go wrong, will go wrong? That's totally about chefs. "Any day of the week you have a cook that calls in sick, is in jail, doesn't show up, got hurt and needs to go to the hospital, comes in hung over," says Seamus Mullen, chef-owner of Tertulia, El Comado and El Comado Butchery in New York City. "On top of that your produce guy confuses Seamus Mullen with Shea Gallante and you get the wrong order. Add to that you come in and the sink is leaking and the toilet in the downstairs bathroom is backed up and it's flooding and the porter didn't take your garbage. Every day is a crisis."

8. You never know when the health department will show up
"It's a nightmare when the DOH arrives, especially during service," says Colameco. "The entire staff gloves up, dons hats, hair nets, wipes down work areas, covers everything that may be uncovered in the walk-ins, loses that cambro of metal tasting spoons, covers everything in the reach-ins and low boys, trash cans out… then pray they don't see a roach or find a mouse dropping."
9. You probably won't get famous
So, you enrolled in culinary school because you fancy yourself a millenial Bourdain? Doesn't mean you're destined for chef-lebrity. "I started cooking because i was fascinated by restaurants and food, but I don't know if that's why a lot of kids are cooking now," says one Michelin-starred New York City chef. "I think they see a lot of fame and glory that exists in 1 percent of chefs. And those people who are famous for the most part, they've been doing this for 20 to 30 years."

10. People hit you up for freebies
Margins are at restaurants are beyond tight -- now factor all the free stuff chefs are expected to give away. "People are constantly asking us to cook them dinner at this charity event or that charity event," says one chef with restaurants in New York City and London. "In the end do you really get much marketing value? Probably not. Do you lose a lot of money? Very rarely are those costs absorbed by the charity that you're working for. Philanthropy is great and giving back is really important, but we don't benefit at all and it ends up costing us a lot."
11. Your parents just don't understand
Not all parents get the appeal of chef-dom. After Nawab became a cook, he and his Dad didn't speak for a couple of years. "In India there are kinds of employment -- businessmen, doctors -- [that require] a certain kind of education," says Nawab. "A cook was considered a laborer. My parents had servants when they were younger, cooks were servants. My dad wasn't happy."

12. Despite all that, you can't help but love it
Being a chef may be the toughest job you'll ever love. Jesse Schenker, chef-owner of Recette and the Gander in New York City, says "the coolest part of being a chef is the rush of being in the kitchen and seeing my team put out great food, having an idea become a reality on the plate and seeing the smiles on the guests face when they eat my food."