This Thanksgiving Manicotti Is as American as They Come
We all have that one, unusual Thanksgiving side.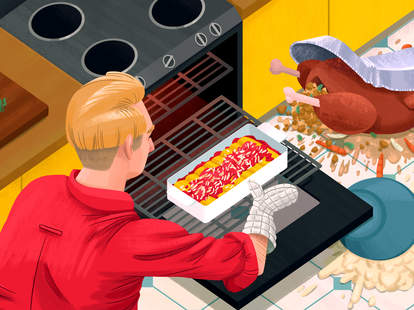 It's Thursday November 22, 2018, and I'm smoking cigarettes with a few other stand-up comedians on the balcony of a nondescript apartment complex in Glendale. This isn't my first Friendsgiving. I spent half a dozen with comedians in Austin, Texas doing roughly the same thing—smoking cigarettes and drinking liquor on the balconies of gray apartment complexes. I haven't spent Thanksgiving with my family back in Western Pennsylvania in over eight years. Flights are expensive and Christmas takes precedent. The once family holiday is now a potluck tradition of alcohol and crass, off-the-rails conversations with friends. But I miss my family of origin, which is why I showed up to this Friendsgiving with my mother's recipe for manicotti.
I start by making dough sheets one by one in a pan like crepes. I make red sauce, fresh ricotta, and meat filling. After all that, I'm ready to begin the most tedious step: rolling the shells (which has to be completed without a break). It's an arduous process, and I do it year after year.
I grew up in a once-thriving, now dead rust belt town in Western Pennsylvania called New Castle. Dubbed "Tin City," New Castle boomed for the first half of the 20th century, then slowly caved under the weight of its own expectations. It became overrun with drugs and crippled by a lack of opportunity. New Castle is decidedly not the place to realize your dreams, unless your dream is to own an Italian restaurant that sells cocaine after dark.

That said, there's a lot to like about home. New Castle is an immigrant city of Syrians, Italians, Greeks, Lebanese, and more who came here to get mill jobs. That influx of immigrants undoubtedly formed how we ate. Kibbeh and dolmas are common bar food. Grape leaves grow on the outskirts of an abandoned amusement park downtown. Fresh pasta and sauce dominate the Sunday culture. Grilled lamb on the rod, marinated in plastic bags stuffed with garlic, lemon, olive oil, and oregano, are eaten on July 4. Middle-Eastern and Mediterranean flavors permeate the local cooking—people today still use Amish produce to cook Syrian food.

My dad's side of the family is Italian and Greek, and they were never crazy about Thanksgiving fare. This is what they called medigan food. Medigan, for those uninitiated with The Sopranos, is slang for suburban Anglo-American culture. Medigan is waking up early to go deer hunting. It's country music and NASCAR. It's Prego and Olive Garden, sure, but it's also green bean casserole—bland. My grandfather and uncle despised the typical whitebread Thanksgiving foods, especially the turkey. They wanted familiarity. They wanted red sauce.

One year my mother made manicotti to accommodate my grandfather and uncle's tastes, and it stuck. It's a wonderful holiday addition. It consists of layers of rolled up pasta sheets stuffed with meat and cheese, topped with red sauce and mozzarella, baked in a casserole dish. That's potluck food if I've ever heard it. In our family, manicotti became synonymous with Thanksgiving. With November came the smell of roast turkey, but it also meant the slow-cooked aromas of oregano and brightly acidic tomatoes. Manicotti bullied the other smells at dinner. From then on, the dirty dishes on Thanksgiving were always stained a little red. Manicotti had a good run.
My grandma died in 2004. Soon after that, my uncle was murdered in his own home after a break-in. In 2007, my grandpa died of cancer, although I suspect heartbreak had a role to play as well. The strength of my family would not recover from these events. It was especially hard for me to watch my father lose his parents and his brother all within a few years. Said my dad about the black suit he bought me: "Well, we're getting a lot of mileage out of this thing."

Suddenly, the family gatherings weren't so big anymore. People moved on and grew apart. Thanksgiving, a holiday that was always a little unnecessary to us, quickly became obsolete. It's a sad thing to watch your mother cook a turkey for three people. No longer were there big lunch meat trays and intricate cookie tables. Certainly, nobody made manicotti anymore. With my grandpa and uncle gone, nobody demanded it. Even if my mom did make it, who was going to eat a tray of 20 stuffed shells? You? Do you want to come over for Thanksgiving? There's room, ya know.

Years back I asked my mom why she stopped making manicotti, hoping for a heartfelt response or maybe a, "Gee, we should make it again." She gave me an answer that relieved the tension of my own heartbreak. "Danny," she said, "it's a pain in the ass."

She's right, too. I've made manicotti five years in a row, now. At first, I did it to feel a connection with my family, to take some time to remember those lost Thanksgivings when the room was vibrant with people, food, and conversation. But my mom had it right all along. Manicotti is a pain in the ass. Maybe it's finally time to let it go. Maybe this year I'll stop making manicotti and just relax.
Sign up here for our daily Thrillist email and subscribe here for our YouTube channel to get your fix of the best in food/drink/fun.
Danny Palumbo is a comedian and writer living in Los Angeles. Follow him on Instagram and Twitter @palumbros.