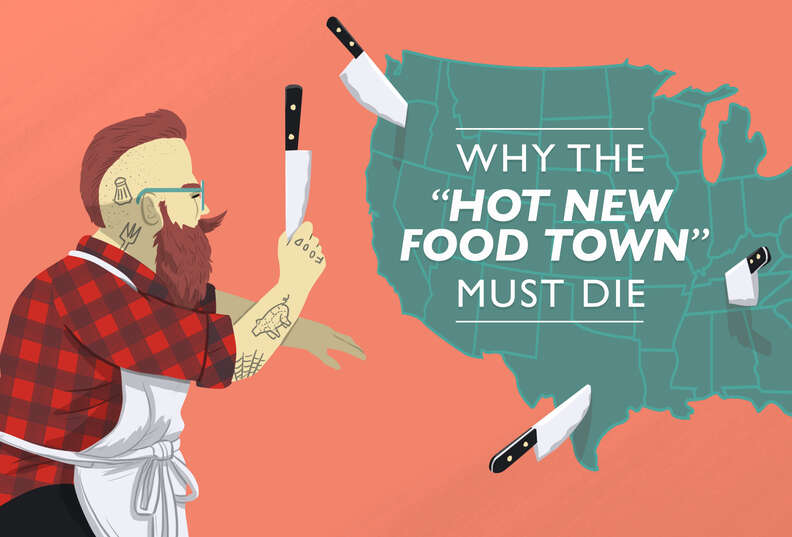 Jason Hoffman/Thrillist
Jason Hoffman/Thrillist
Why the 'Hot New Food Town' Must Die
Editor's Note: This story is the first in Kevin Alexander's sweeping, obsessive, ravenous three-part investigation into the state and meaning of American food and drink in the year 2016. You can read part two and part three here.
It's Thursday night in America's Hot New Food Town, and everyone wants to be in the mix. Friends text friends and hop in Ubers to meet on the cool street in the cool neighborhood, the one with the oyster bar with the craft cocktail program and that omakase place with the craft cocktail program and that indie movie theater that doesn't have a craft cocktail program, but is in an old warehouse.
Over sherry and/or mezcal cocktails, these friends talk the small talk of a Hot New Food Town: about how much the Hot New Food Town has already changed just in the past few years; about the traffic (worse); about that neighborhood on the east side that used to be bad (it's good now); about how two years ago one of them got robbed right over there in broad daylight in front of that old dive, but look, now it's a boutique stroller-cleaning service (with a craft cocktail program); about the skyrocketing rents and what all this must be doing to the older residents of that neighborhood.
Just kidding, that last part never came up -- but anyway, have you tried that new venison charcuterie spot? Or the proto-Tiki speakeasy above that French epicerie? Did you hear David Chang might be thinking about opening a Momofuku? Also, does anyone even know what city we're in? And more importantly, does it even matter?
***
Like most things great and mildly annoying, the Hot New Food Town juggernaut can be traced back to Portland, Oregon. On September 26th, 2007, Eric Asimov of the New York Times wrote a story titled "In Portland, a Golden Age of Dining and Drinking." The story checks all the boxes that would soon become a template of sorts: local chefs in "funky neighborhoods"; "a cadre of farmers" supplying them with locally grown bounty; "affordable real estate" for chefs who "have a vision" and want to "take risks without lining up corporate backers"; and profiles of two of these chefs -- one moving from New York (Vitaly Paley) and the other from Northern California (Gabriel Rucker).
As we know, Portland quickly morphed into shorthand for anything and everything hipster and hirsute, and it proudly wore the Best New Food Town sash until Charleston snatched it away in 2011, thanks to the arrival of Sean Brock's Husk, and a slew of other James Beard-nominated, nationally lauded restaurants like Hominy Grill, FIG, and McCrady's. The year after that was Austin's turn to shine, helped along by Aaron Franklin moving his now-world-famous barbecue to a brick-and-mortar, the explosion of bars and food carts on both Rainey St and E 6th in East Austin, and universally praised chefs like Tyson Cole and Paul Qui. Nashville followed, with Rolf & Daughters headlining, hybrid bar/restaurant/bowling alleys from the Goldberg brothers of Strategic Hospitality opening, and everyone outside of the South simultaneously discovering hot chicken.
And now, this year, it is Pittsburgh's time to bathe in the soapy, praise-filled waters of the national food media. Zagat named the Steel City the top food town of 2015. The Times' Jeff Gordinier followed the Hot New Food Town template flawlessly, managing to work in millennials, chefs insisting on feeding people rabbit and acting as pioneers in "dingy" areas, and deploying phrases like "early adopters" and "purple-haired free spirit."
And around and around we go. The fact that you can basically write each of these food-city stories before you even get to said city got me wondering: is all this less about a city doing what it does best, and more about its willingness to faithfully uphold the tenets of the HNFT playbook and join the Good Food Revival Movement?
Also: what the hell is the Good Food Revival Movement?
Since it's the Golden Age of calling things the Golden Age, allow me, friends, to put forth a theory to help explain why we're seeing this explosion of Hot New Food Towns in America. I call it -- you already guessed, but I'm saying it anyway -- the Good Food Revival Movement.
Unlike the 19th-century tent revivals from which I've stolen the name, the GFRM's religion is not Christianity, but rather an enlightened view of how to work with food and drink. The movement has several prophets, depending on the type of Good Word you're seeking, ranging from Alice Waters (farm-to-table) and Thomas Keller (fine dining), to David Chang (hip-casual Asian crossovers), April Bloomfield (elevated gastropubs), Chris Bianco (artisanal pizzas), Aaron Franklin (modern barbecue), Danny Meyer (detailed attention to front of the house; beautiful spaces), and Sasha Petraske (craft cocktail bars). It's important to understand that acolytes need not spend time specifically with any of the prophets. Merely being amongst someone shaped by their different spheres of influence is enough.
Once an acolyte has learned the Good Word of Good Food (usually by spending time working at a restaurant in one of the Good Food origin cities like San Francisco, New York, or Chicago), they often return Changed to their home city, or at least to a second- or third-tier city with cheaper rents, less competition, and lower expectations, where they have a better chance to express themselves creatively.
Like most things great and mildly annoying, the Hot New Food Town juggernaut can be traced back to Portland.

Now, some of these chefs and bartenders are merely talented mimics, able to copy what they saw succeed within the bigger cities, and, for the most part, that is fine. It might even bring them initial and/or sustained financial success. But the truly innovative chefs and bartenders use that knowledge as a baseline to create their own unique thing. Before, say, 2007, if that new thing was happening in a random city, it might be overlooked. But two factors changed that:
1) The rock star-ification of chefs by the 24/7 food media
2) Instagram, et al.
Suddenly you didn't need to be in a large city, you just needed a hot Instagram account and a savvy PR person who could get your forward-thinking cuisine in front of that 24/7 food media, which is thirsting for stories and LOVES undiscovered places doing cool new things. Once it's established that you might actually be doing the Hot New Thing, you might get a visit from Eater or Bon Appetit or Food & Wine or Serious Eats or Lucky Peach (or hell, even me). And maybe after confirming that you are, indeed, doing a Hot New Thing, the writer will make small talk, and ask who else in your town is spreading the Good Word of Good Food.
And because you want to share the love, you will shout out the others in town adhering to the Good Food Revival Movement, and the original dojo which taught them the craft. Like the bartender down the street doing amazing cocktails who used to work at The Violet Hour in Chicago. The chef two blocks over doing Chinese-American riffs (he did a year at Mission Chinese in SF). An artisanal donut guy who spent nine months at Blue Star.
And we will go back to our editors and file a story, and the editors will lick their chops, because they count at least three creative restaurants and bars doing Hot and Cool New Things in this city, and according to what I remember from journalism school, three is a trend. And a month later, you can expect the New York Times to send Kim Severson or Jeff Gordinier to pop into your city for 36 hours and interview you before your first service, and the week after that the Gray Lady has published Her Final Word, and you, friend, are now living in a Hot New Food Town.
That's the good thing. The maybe-not-so-good thing is just what comes after that.
***
Let's be clear: there is certainly nothing wrong with more people eating well, using local farms, aiming for a higher level of service; with ambitious chefs trying to invigorate their city's cuisines, and in turn create new economies and sources of revenue for that city. Those are all good things.
But a less obvious consequence of the Good Food Revival and the birth of an increasing network of Hot New Food Towns across the country is the sense that what starts out feeling unique to each city when examined up close, eventually starts to all look the same from a few steps back. And the truth of the matter is chef/owners and restaurant/bar groups are increasingly incentivized and rewarded for exchanging their originality for Originality™, because a playbook now exists mapping out exactly what you need to get Gordinier and the Times in your town. If you build it (using locally sourced reclaimed hardwood and a design motif that pays homage to the building's previous tenants), they will come.
And so it was for Pittsburgh.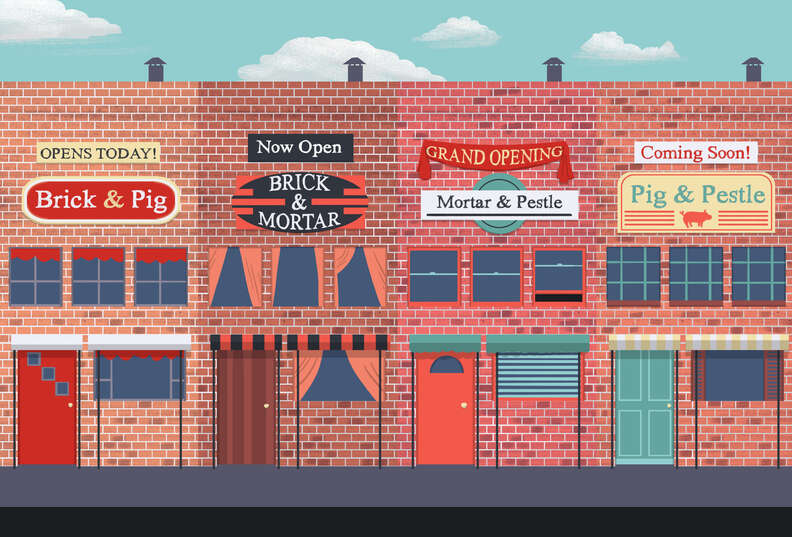 Here is an extreme CliffsNotes version of Pittsburgh's Good Food Revival Movement (if you want more, talk to Big Burrito executive chef Bill Fuller, and David Bernabo, the man behind Food Systems, a fascinating documentary series about Pittsburgh's food scene):
For a long time, Pittsburgh was a crap food town. For one, you couldn't eat steel. For two, there was no vibrant ethnic scene, just a divide between, as Fuller put it, "really rich people who ate in private clubs, and their workers who cooked at home. Basically there was no middle-class dining."
The '70s brought a little bit of Thai and Indian food, some sushi in the '80s, but it was essentially a burgh of red sauce Italian restaurants, steakhouses, pierogies, and fries on sandwiches/salads. Then Big Burrito restaurant group came through in the '90s and raised the bar with locally sourced food (working with farmers), creatively designed restaurants, and a higher level of service. BB acted like a culinary finishing school/networking center for lots of chefs who went on to open their own places (Justin Severino, Kevin Sousa, etc.).
In 2007, Pittsburgh native Sonja Finn came back from SF to open a modern pizza spot called Dinette in the East Liberty neighborhood, five blocks from where she grew up. That same year, Legume, from Trevett Hooper, opened with its own intense focus on locally sourced foods. The Movement grew stronger.
Then in 2011, Richard DeShantz -- another native son who'd cooked under Charlie Trotter in Chicago -- opened Meat & Potatoes Downtown. Severino opened Cure in Lawrenceville. Justin Steel, Bobby Fry, Kevin Cox, and Michael Kreha launched Bar Marco in the Strip District. And it goes on from there.
If I see another thing turned into "pastrami," I might lose my shit.

The point is this: in Pittsburgh, the template holds. A visionary restaurant group (started by people who spent time in SF and NY) serves as a creative cauldron. Its acolytes go on to their own projects, which beget more projects from the people working for them. Young people move to the city and color their hair unnaturally. An Ace Hotel opens. And voilà: a gritty industrial city becomes a Hot New Food Town.
But let's take a deeper look. It is true the city is experiencing its own -- powerless to stop the phrase -- Golden Age of Food and Drink. But only on a local level. What's happening in E Liberty and Lawrenceville and the Strip District isn't an explosion of new ideas, per se. They're just new to this place.
***
Look. This is not the story I intended to write. I interviewed chefs and bartenders and food writers and presidents of cool hotel groups all over the country because I was trying to understand the good and bad sides of being named a Hot New Food Town, and what the repercussions were one, two, and five years down the road. But when I examined each of the cities that was being lauded in these ways, and the same templates showed up again and again, it became unbearably obvious that we in the food media are sticking to one particular story, and just rewarding a new city every time one does its 2007 Portland impression.
I am as guilty or more guilty than most in perpetuating this narrative. Every year I do Thrillist's 21 Best New Restaurants in America, and I am absolutely tickled when I can write about a restaurant doing something cool in a city we usually don't cover. As journalists, we love the idea of the underdog, of that undiscovered place no one else knows about, so we perpetuate the myth that what it's doing is new and creative, when, at best, it's micro-creative.
You can't blame a chef in Pittsburgh or Nashville or anywhere else who just wants to make good food and be able to make a living at it, and is savvy enough to notice that the food media tends to pay the most attention to places of a certain ilk. And once you get the food media, you get the diners that follow said food media, ranging from the hipster millennial contingent who use trendy food as their social currency, to the older Chowhound crowd who tend to introduce themselves as "foodies" using air quotes. And that means crowded, successful restaurants. So really, if, as a chef, you're offered a litany of financial and critical incentives for doing the same sort of thing that has won praise in other cities, why wouldn't you do it?
To their credit, the chefs I talked to in Pittsburgh, to a man/woman, all seemed to think the deluge of national press exposure is a little ridiculous. "I don't think it's a coincidence that once some of our restaurants were able to afford to hire NY PR firms, we started to see national exposure," says Bill Fuller. "There's a sentiment here now where people are like, 'OK, stop telling everyone how fucking great we are.'" He went on to talk about how many of the national stories just get things wrong anyway. "I saw one story praising Justin [Severino]'s Morcilla, and how good it was. It wasn't opening for another two months."
"People read these stories," says Severino, "and think that when they come to Pittsburgh, they're going to dine like they're in SF, but way cheaper. That's never going to happen. The food culture here is really young."
Chef Sonja Finn of Dinette (and consulting chef at the Carnegie Museums) puts it a different way: "We appreciate the press obviously. But when you can see that the narrative is written before the writer gets to town, there's not much to be done."
"Plus," she laughs, "I want to see all those people calling us a Hot New Food Town come back through here in the winter."

***
In the end, I'm not even sure if any of this matters or should matter to people outside of my own little food-world bubble. As I said before, if people are caring more about what they eat, and food is better, local farmers are being supported, and chefs are encountering more open-minded diners in cheaper places, maybe that's enough and I should just be happy that the Good Food Revival Movement took place at all.
But I can't stop thinking we can all do better. That the food media can stop treating every city that goes through this revival movement as the next culinary Shangri-La. That diners can stop complacently demanding and rewarding the same types of things on each and every menu (if I see another Brussels sprouts dish with/without bacon, or a vegetable "tartare," or another fucking thing made into "pastrami," I might lose my shit). And that more chefs see past just introducing a "concept" that worked well in another city, and really try and push the gastronomic envelope until that envelope is filled with all sorts of weird, cool, scary foods.
In David Chang's incredible "The State of Ramen" essay from last year, he mentioned his opinion on why food and restaurants were becoming more uniform: "It's because there's no more thirst for knowledge, no catalyst for imagination or reason to try to create new and different things anymore."
Until we start searching out and celebrating new and different things, the Hot New Food Town playbook will keep repeating until every city's 5 Points, E 6th, N Mississippi, King St, and Highland Ave just becomes a more stylized form of homogeneity -- post-suburban America's answer to the strip mall, where the exact same people you imagine from every other city are all there, sipping the exact same "updated" Mai Tais in between bites of the exact same venison soppressata, striving to be different by doing the same exact thing.
Sign up here for our daily Thrillist email, and get your fix of the best in food/drink/fun.
Kevin Alexander is Thrillist's national writer-at-large and a former shameless promoter of the Hot New Food town. Buy his Good Food Revival Movement bumper stickers: @KAlexander03.