Paid Content For
Mexico City Tourism
Why Your Next Foodie Vacation Needs To Be Mexico City
Paid Content For
Mexico City Tourism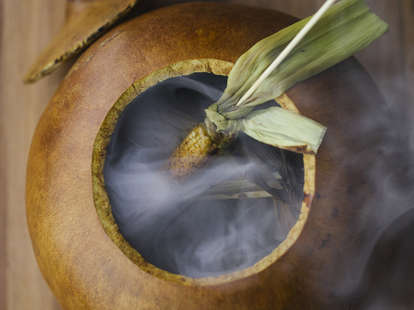 Araceli Paz
Araceli Paz
Mexico City, with its temperate climate and easily navigable neighborhoods, makes exploring the tastes and smells of this culinary epicenter mouth-wateringly enticing. For real: Mexican gastronomy, which blends nearly 700 years of modern, colonial, and pre-Hispanic influences, is the only cuisine in the world recognized on UNESCO's cultural heritage list.
The diversity of food features everything from exquisite fine dining to the simplest of street-food pleasures. Whether you want familiar fare like tacos, tamales, and quesadillas, or more adventurous antoijitos ("little cravings"), escarnoles (ant eggs), or chapulines (grasshoppers), Mexico City has something for everyone.
Already salivating? Start with these 12 essential eateries:
Quintonil
One of Mexico's leading culinary hotspots, Quintonil mixes old-world rituals with modern flair. Chef Jorge Vallejo and his team make magnificent spins on traditional Mexican dishes like mole con chilacayotes and shrimp tamale in chilpachole sauce while his wife Alejandra tends to every detail of the restaurant's upscale interior. Relying on fresh ingredients from local Mexican farmers, ranchers, and fishermen, Quintonil specializes in simple preparation and generous service that goes hand in hand with gastronomic precision and flavor complexity.
Cantina El Sella
This boisterous dive specializes in chamorro and ate con queso -- bone-in pork shank cooked in its own fat and tiny slices of cheese and quince paste drowned in Amaretto and lit on fire, respectively. That crazy combo perfectly jives with Cantina El Sella's communal-table environment, where the guy next to you might just buy you a cerveza, ask for a spare tortilla, or steal an extra helping of habañero salsa.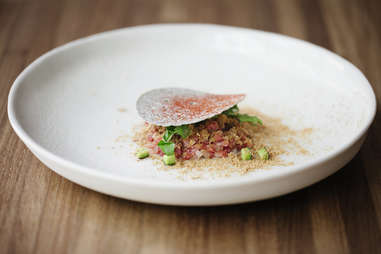 Pujol
Routinely hailed as one of the most affordable fine-dining experiences in North America, Pujol will satisfy all your cravings. Mole so rich you'll cry tears of culinary joy? Chef Enrique Olvera has been letting it marinate for a year. Miniature elotes, or street corn, with the usual mayo topper spiked by coffee flavor and ant eggs? Why the heck not? And yes — somehow, someway, those tortillas really do taste like movie theatre popcorn. It's criminal, but it's divine.
Contramar
The bounty of the sea never tasted better or came out as refined as it does at Contramar. Chef Andrés Barragán's tuna tostadas seamlessly blend street-food roots with modern gastro staples like chipotle mayo, while the carnitas de pescado dunk one of the region's standard dishes in a salty brine. If you ever find yourself in Mexico City and want the finest fresh seafood, Contramar is the best way to teleport to Mexico's distant coastline (four hours by car in either direction, FYI).
El Hidalguense
Oh, barbacoa, how we love thee. El Hidalguense trucks its braised meat in from the neighboring state of Hidalgo, where the beef is wrapped in maguey leaves and slow roasted in specially dug underground fire pits. (Bless you, Hidalgo.) Blue corn tortillas and fresh sides make it easy to craft your own DIY tacos. But the unprecedented star of the show here is that delectable meat, which falls off the bone and slides ever so smoothly into your stomach. Word to the wise: El Hidalguense is only open Friday through Sunday.
Tostadas de Coyoacán
This tostada puesto occupies a stall in the bustling Mercado Coyoacán, one of Mexico City's more southern neighborhoods. Its historic location near the first capital of New Spain means local culinary history is famously multi-layered, and the menu packs a riot of flavors from all over the country. Ceviche, pulpo (octopus), and crab reflect a Yucatán influence, along with pulled pork marinated in citrus juice and annatto seed. Meanwhile, modern interpretations of rural favorites like chicharrón (pork skin) and manitas de cerdo (pork feet) will make bacon lovers swoon. And no matter what you order, it's all served atop crispy, golden corn masa tortillas surely sent down straight from heaven.
Nicos
This off-the-beaten-path fixture mixes the high with the low, the easygoing with the buttoned-up, and the seasonal with the standard. Families flock to Gerardo Vázquez Lugo's welcoming kitchen, which excels at staples like mole and chiles en nogada while also jazzing things up with desserts like pan de elote con rompope, a mouth-watering corn custard doused in eggnog sauce. Hey, it's December -- who couldn't go for a little eggnog right now?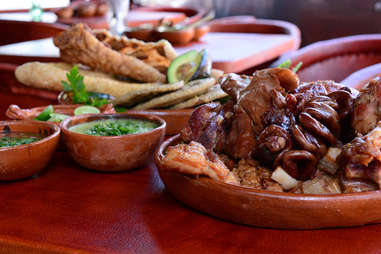 La Reina de la Roma
Carnitas is literally translated as "little meats," but if you want to go big on this traditional dish, make a beeline for Mexico City's fashionable Colonia Roma neighborhood. La Reina de la Roma slow-roasts every last part of the pig in its own delectable juices, producing piles of meat that are anything but dainty and everything a true pork lover could dream of. Add an assortment of salsas along with the cilantro-onions-lime trinity of legit Mexican street tacos and you'll be hooked for life.
El Vilsito
Stroll up under the intoxicating spell of a bright midday Mexico City sun and you might be confused: is this an auto shop or a taqueria? By day, the former, with mechanics twisting wrenches and fixing engines; by night, the latter, with chefs manning a spit and churning out magical tacos al pastor accompanied by fresh-sliced pineapple. Or go with the to-die-for steak with bacon and onions. Or try the gringas, an indulgent flour tortilla concoction stuffed with queso fresco, salsa verde, and pork al pastor. Need to feed your late-night taco craving after a delicious drink at the local mezcaleria? This hole in the wall is your holy grail.
Biko
Perhaps the most polished entry on this list, Biko recently made the uber-exclusive Pellegrino Top 50 Best Restaurants list (joining previously mentioned hot spots, Quintonil and Pujol). Blending Mexican and Basque culinary traditions with minimalist aesthetics and surreal presentation, co-chefs Bruno Oteiza and Mikel Alonso are following their molecular gastronomy muse. As far as we can tell, Biko is the only place in Mexico City where you can get foamed cauliflower, almond-infused pork cheeks, and cotton foie gras.
El Caguamo
Many budget-minded foodies believe the finest seafood in Mexico City exists not in fancy restaurants like Contramar but instead on the sidewalk outside this simple tin shack. Located in the heart of Mexico City's Colonia Centro, El Caguamo is always bustling, with diehard locals and adventurous young foodies tipping back parfait glasses containing tostada de jaiba (blue crab ceviche) and coctéles (shrimp and octopus cocktails with tomato juice, lime, onion, salsa, and avocado). Want super simple finger food after a drink at one of the many surrounding bars? Try an empapelado, fish and/or shellfish baked inside aluminum foil with tomato, onion, cheese, and butter. Late-night noms don't get much better.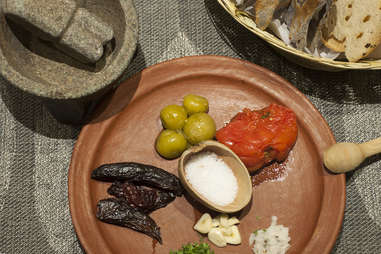 Guzina Oaxaca
Traditional Mexican fare from the state of Oaxaca isn't a common site in cosmopolitan Mexico City, but chef Alejandro Ruíz is out to change that. He recruits drivers to drive six hours each way to fetch native ingredients from his home district, and the result is divine molcajetesalsa made tableside with a mortar and pestle using rare morita and costeño chiles. The smoky cocktails are similarly divine, but the real star here is a blue corn tostada smeared with spectacularly greasy asiento (pork fat) and sharp crumbled queso fresco.
Overwhelmed by all the options? Outfits such as Eat Mexico Culinary Tours, Sabores Mexico Food Tours, and Club Tengo Hambre offer gastronomic walking tours deliberately limited to six to ten people for maximum gustatory pleasure and Mercado immersion. Also, we would be remiss to not mention that Mexico City likes its drinks as fresh as its food, so indigenous, handcrafted concoctions containing heirloom strands of mezcal and pulque abound.