June 12th marks that sacred holiday known as National Jerky Day. And while you could just snap up a Slim Jim and call it a (National Jerky) day, we know you're better than that. Run dried-meat-wild with one of these unusual jerky flavors, all of which make that plain beef stick seem sadder than Charlie Brown, when he's off his anti-depressants.
Cheese Jerky
This standard mozz stick is blasted with beef jerky, making it the king of all lunchbox snacks. Bow down, salami pudding cups.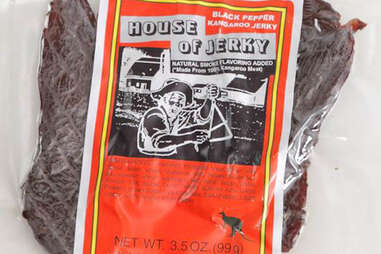 Kangaroo Jerky
Roo meat is much leaner and less fatty than beef, a fact you should share with anyone who gives you the stink eye for eating Winnie the Pooh's friends.
Hawaiian Jerky
Just like a Hawaiian pizza, if you added dried meat and got rid of all the dough, sauce, cheese, and delicious garlic dipping sauce.
Alligator Jerky
This is what pimps eat, after turning the rest of the gator into shoes.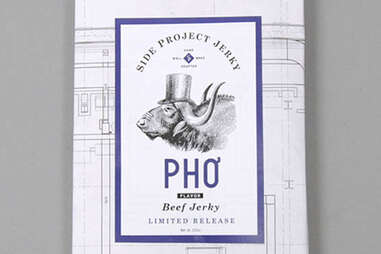 Pho Jerky
Sadly, the dudes at Side Project only offered their pho jerky on a limited run, and it has since gone up to the great resealable snack bag in the sky. The good news is they have plenty more jerky options to tide you over until phorky's inevitably, glorious return. The Mongolian beef is nice.
Sriracha Jerky
Because Rooster Sauce goes with anything and everything, the meat masters at J&D's decided to slather it on their recently debuted Sriracha jerky. Remember: These are the men who brought you Baconlube, so you should not question their methods. Or maybe you should, actually.
Caffeinated Jerky
Spiked with guarana, aka that thing with twice as much caffeine as coffee, the aptly named Perky Jerky gives you a beef fix and lets you skip your daily java injection.
Shark Jerky
"You're gonna need a bigger boat. And, in an unrelated snacking manner, also more Shark Jerky."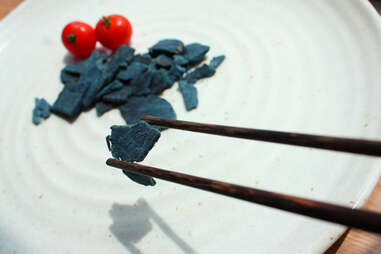 "Zombie" Jerky
Sold only in select stores in Japan, "zombie" jerky is made from all-natural undead flesh, and definitely not just beef mixed with blue dye #29.