Wingstop Is Simplified Fast Casual Done Right
The specialty chicken wings chain serves the basics with little flair but lots of flavor.
Amid the farm-to-table sophistry and plant-based leanings of so many rising restaurant chains in America today, a place like Wingstop isn't supposed to work.
The Wingstop menu does not offer wings made from pea protein or wheat gluten or asparagus sorcery. The best Wingstop flavor isn't heralded for its connection to local agriculture. There's no free Wi-Fi or nods to midcentury decor.
A Wingstop restaurant, if we can call it that, just sits quietly, mostly in small, relatively character-less strip malls, and offers up fried chicken wings and tenders in 11 different flavors with three choices for dipping sauces, and a handful of sides, all for you to take away and eat in the privacy of your own home, mostly during sporting events.
And you know what? It really works.
Where did Wingstop come from?
In the early '90s in the city of Garland, Texas (shout out to the Resistol cowboy hat factory!), pizza shop owner Antonio Swad began giving out samples of wings at his restaurant, and started to notice folks being more enthused about those samples than the pizza. Enlightened, he created a wing-centric spot in 1994.
Within three years, Wingstop began offering franchise opportunities, and by 2002 had allegedly sold one billion wings. As of now, Wingstop is a publicly traded company that has nearly 1,300 restaurants in nine countries, 28 of which are owned by rapper Rick Ross, aka Rozay, aka Teflon Da Don, aka A Chicken Wing Shop Entrepreneur Based Out of Florida.
Competition
Wingstop finds itself in the unique position of having lots of sort-of competitors but very few apples-to-apples competitors. Buffalo Wild Wings, for example, is primarily a sit down restaurant and sports bar franchise. Wingstreet, Pizza Hut's wing-based spinoff, exists mainly in tandem with Pizza Huts. Anchor Bar, the originator of the Buffalo wing, only has about 10 franchise locations. Wing Zone, started in a frat house kitchen (no joke) at the University of Florida, is probably the closest thing to a one-to-one competitor. They have fewer than 70 locations, 13 of which are in Panama.
What is Wingstop trying to do now?
As the dominant force in the fast-casual wing game, Wingstop knows its audience better than most. For one, no one eats in a Wingstop. During three separate visits, not a single person (except for me) ever took their wings and sat and enjoyed them in the Wingstop restaurant space. Employees don't bother to ask whether you're going to take the food to go or eat it there. Everything is handed to you in a brown paper bag. But that speaks to what they're doing right.
Rather than spend extra money trying to attract roaming Wi-Fi hoarders, they've doubled down on technology that'll get you in and out efficiently, like the "Wingbot," which you can use over Facebook Messenger, Twitter, text, or Alexa to order wings.
There have been subtle ad campaigns, like sponsoring gamers to eat wings on Twitch while playing video games. And comedian Anthony Anderson stars in a spoof of Jerry Seinfeld's "Comedians in Cars Getting Coffee" called "Carpooling with Cool People Eating Wings." Anderson picks up folks like, say, Real Housewives Dallas' Stephanie Hollman and implores them to eat wings while they drive around in an American sports car and quickly run out of things to talk about.
Wingstop Menu Review
How I Did It:
Over the course of three unannounced visits to two Northern California Wingstop locations, I tried all sorts of wings, tenders, fries, and sides to find the best Wingstop flavor. I did not try the brownie, though, and frankly, I feel fine about that.
The Good:
Before I get into the specifics here, a general note: In almost every instance, the best Wingstop flavors were the dry rubs for wings, but the wet sauces shone on the tenders. Most of this has to do with the fact that the heavily breaded tenders are just able to absorb more sauce and stay crunchy, whereas the wing in the wet sauces tends to get soggy and soft. This was especially true for the flats.
With that said, the best Wingstop flavor by far was the dry Lemon Pepper wings. The combination of the bite of the black pepper and the acid from the lemon with the fatty crunch and saltiness of the fried chicken wing created some sort of victual alchemy in my mouth.
Not far behind was the dry Garlic Parmesan. Before I tried these, I had little interest in eating a wing that tastes like an Olive Garden appetizer, but, my, how wrong I was. This combination dramatically improves when it jumps off bread as the bite and pungency of the garlic and the nutty, fatty Parmesan flavors are elevated by the satisfying crunch of the wing.
If you're opting for chicken tenders, the best Wingstop flavor is Atomic.
As you'll see, the traditional Buffalo sauce Wingstop flavor did little for me, but the Atomic Buffalo sauce was an entirely different story. Atomic sounds troubling (not the least because of the historical connotations) but it was actually just sort of in the "hot" category. There was no running to the fridge for milk, or not being able to touch my skin, or any of the other warnings you might get with stunt heat chicken.
For whatever reason, with the extra heat, the Buffalo flavor gets augmented, and the chicken tenders, with their thick crust, are better able to handle the sauce and remain crunchy. Dipped in either their blue cheese or ranch (as a Texan/New Englander hybrid who has spent a lot of time in Chicago and California, I am the Switzerland of wing dipping sauces), both do a great job dousing the heat in cooling fat and tang.
Now before I get to the sides, please pause for...
A Drums vs. Flats Interlude: A Brief, Measured Opinion
Drumsticks are so far superior to flats. First of all, they have a natural handle. Second, the bulb shape maximizes the amount of chicken per bite, and you aren't stuck trying to push a measly amount of chicken out between two bones. Third, drumsticks skin tends to cook more evenly and in a more crisp manner. I would never generalize about people by their wing preference, but folks who prefer flats are the same types of people who pick Luigi in Mario Kart.
The Best Sides:
This is where Wingstop truly elevated its game. Almost every side I tried was good to excellent. The flavored fries, which are hand cut at Wingstop locations, are a revelation when ordered "extra well."
Wingstop's best flavor for fries was the Parmesan, though honestly, both Lemon Pepper and Cajun were also good. In fact, the fries actually proved to be a better vehicle than the wings for dipping sauces. Did I think I would spend a day dipping Lemon Pepper fries in honey mustard in a public park as bees troublingly amassed around me? No, I did not. But the fries were just the beginning.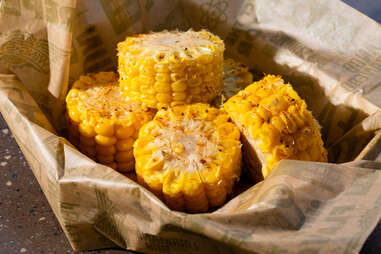 I certainly didn't think the Fresh Baked Rolls would be anything but a side note. I got one just to check the box, only to find that it was drizzled in butter and had a crunchy exterior and a pillowy warm interior. Now we're not talking Tartine-quality baked goods here, but the execution and simplicity were excellent.
A true legend in the group was the Cajun Fried Corn. Each order is essentially one cob of corn, cut into four slices, each of which has been seasoned and fried. It's spicy and satisfying and salty. But it also kind of feels healthy, as if your brain is still like "Oh, this is a vegetable. Well done."
The Best Wingstop Flavors, Ranked (wings, not tenders):
1. Lemon Pepper
2. Garlic Parm
3. Atomic
4. Louisiana
5. Hickory Smoked BBQ
6. Spicy Korean
7. Cajun
8. Plain
9. Traditional Buffalo
10. Mango Habanero
11. Hawaiian
The Not-So-Good:
Honestly, Wingstop didn't have a ton of slip-ups. As you can see from above, the worst flavors were the Mango Habanero, which didn't have nearly enough spice to counter for the cloying sweetness, and the Hawaiian, which lacked any of the redeeming spice, but fell into the same camp.
Though better than those, the traditional Buffalo was perhaps the most disappointing. A bright, nearly pastel orange, the ratios of butter to vinegar to spice seemed off, and in each visit, the wings, especially the flats, tended to be more soggy and underwhelming. In the spectrum, they were *fine*, but for a place called Wingstop, I think nailing the original Buffalo wing sauce likely should be a priority.
From a sides perspective, the smothered fry options like Louisiana Voodoo (ranch, cheese sauce, cajun seasoning on fries) and Buffalo Ranch (buffalo sauce... plus ranch) ended up too soggy to really be satisfying, even when cooked extra well. And the cheese sauce lacked the tang and bite I was looking for, but these are honestly nitpicks. Wingstop's side game is on point.
The Final Verdict
I don't know what I thought about Wingstop before this review. Perhaps I thought nothing. Perhaps I thought that a national fast casual wing chain shouldn't be on my radar because I am a food snob, and this is my burden.
But Wingstop exceeded all my expectations. It has managed to walk a business tightrope and focus in on a food subgroup that ordinarily gets mere lip service. And do it in a hyper-efficient way that seems to know exactly what its audience wants: a variety of flavors served to you on the vehicle of your choice (wings, tenders, fries... corn!) quickly and with little fuss.
So, while the other fast casual chains smash chairs over each others' backs in pleas for national attention, Wingstop will be over in the corner of your local strip mall, quietly waiting to hand you a dozen dry Lemon Pepper wings with parmesan fries and cajun corn, whenever you're ready.
Kevin Alexander is a contributor for Thrillist. His book on the unique mix of people, places, and circumstances that led to the last decade of eating/drinking in America, BURN THE ICE: The American Culinary Revolution and Its End is out now from Penguin Press. He is a 2017 James Beard Foundation Award winner.