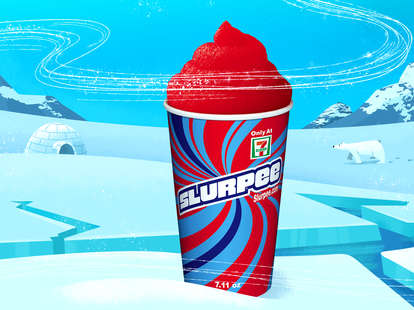 Jason Hoffman/Thrillist
Jason Hoffman/Thrillist
How One of Canada's Coldest Cities Became the Slurpee Capital of the World
What do you know about Winnipeg, the perennial little brother of Canada? If you're a hockey fan, you know of the Winnipeg Jets, a team that left Canada in 1996, only to return in 2011 to a nearly apoplectic fan base. You might know that Winnie the Pooh is named after Winnipeg. But perhaps the most important fact about Winnipeg, the frigid and flat city of 800,000 people, is that it is also the Slurpee capital of the world.
Yes, Slurpee. The frozen beverage found at 7-Eleven is enjoyed most by people who are used to wearing two pairs of gloves in the winter.
Located nearly smack in the middle of Canada, the heartland of the prairies, Winnipeg is an underdog of a city. Between the mosquitoes attacking in the summer, and the frostbite that can make your toes fall off in the winter, Winnipeg produces some hardened, scrappy, Slurpee lovers.
Winnipeg's obsession with Slurpees might make sense in the summer, when about 40% of Slurpees are sold. But hometown isn't exactly blessed with a balmy climate. Winters are long and hard in the prairies. Temperatures consistently stick around minus 20 degrees Celsius ( minus 4 degrees Fahrenheit) for months at a time, and it's not unusual to get lows into the minus 30s or 40s. Snow starts falling in October and doesn't stop until at least April.
What I'm saying is, it's cold.
Even then, in the middle of winter, you might stop in at 7-Eleven (or "Sev," as we would say back home) for a Slurpee. Teeth chattering in the cold, with multiple scarves and layers on to block out the wind, Winnipeggers are proud of their Slurpee title. There's something tough-as-nails about defiantly saying 'yeah, we know it's cold here. We hear the jokes. And guess what? We're going to make ourselves even colder.'
So exactly how much do Winnipeggers love Slurpees? In 2018, 7-Eleven named Winnipeg the Slurpee Capital of the World…for the 19th year in a row. Winnipeggers sport Slurpee tattoos. A search in Winnipeg buy-and-sell groups elicits multiple "commercial grade" Slurpee machines. They even sell hand-made Slurpee coozies. For 7-Eleven's annual Bring Your Own Cup events, Winnipeggers have filled milk jugs, crock pots, fish bowls, rubber boots, and kiddie pools with the frozen drink. They've been so enthusiastic about the event that 7-Eleven stores have had to issue directives to customers that should be self-evident, like the containers can't have leaks, can't be inflatable, and "must be food safe, and clean of any contaminants."
In 2018, the City of Winnipeg even gave a downtown street the honorary name of "Slurpee Way."
The first 7-Eleven store opened in Winnipeg in March of 1970, and the chain has been slugging Slurpees ever since. Representatives from Slurpee Canada wouldn't release current sales figures, but say Manitoba sells on average two and a half times more Slurpee than the rest of Canada in the course of a year. Previously reported numbers put the average sales just under 190,00 Slurpees a month. Coming in second are Detroit and Calgary, where the first 7-Eleven store opened in 1969.
Now, Slurpees cost about $2 each, depending on the size, but with the 7-Eleven app, every seventh drink is free. It makes it even easier to justify the mid-winter purchase, something Winnipegger Jameson Ade has done many times.
"It's for sure part of our city pride now," said Ade, whose favorite flavor is lime. He says he keeps reaching for the Slurpee because of the good memories associated with growing up in Winnipeg. "Personally, I'm drawn to them because they both remind me of childhood, and I love the texture."
Norman says that the beverage has become part of Canadian culture. "It's something kids grab after sporting events and teenagers bring to the beach on hot summer days. Manitobans—who have always displayed a special sense of Slurpee spirit— even serve Slurpee at weddings and to women in maternity wards." I once even convinced my most rule-obsessed friend to skip school by promising her a Slurpee.
Though I've never personally seen anyone bringing a Slurpee into a maternity ward, I wouldn't be surprised if it happened one day in Winnipeg. Whether it's genuine love, pride for a silly record, or a sense of obligation to keep this thing going for 20 straight years, Winnipeggers will not give up their Slurpees no matter how hard to you try to pry them out of their cold, frostbitten hands.
Sign up here for our daily Thrillist email, get Eatmail for more food coverage, and subscribe here for our YouTube channel to get your fix of the best in food/drink/fun.
Emily Baron Cadloff is a food and culture reporter. She is very Canadian, and always orders dessert. Catch her on Twitter @EmilyBat.