What It's Like to Be a Restaurant Worker Caught in the Coronavirus Pandemic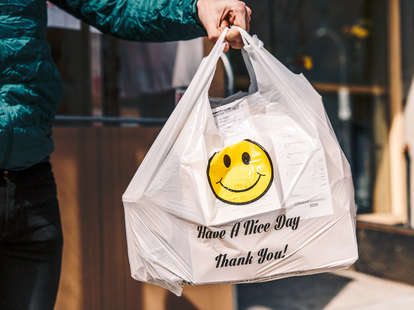 Cole Saladino/Thrillist
Cole Saladino/Thrillist
I can remember the moment when I first knew I wanted to be a chef. I called my mother to tell her the news. Her response was to question if I was sure, and then she began to lay out all of the cons: long hours, you work when everyone else is having fun, physically exhausting. I assured her I knew what I was getting into, I had been working as a line cook at a busy Caribbean restaurant in my hometown of Madison, WI. I had found something I was good at, and I enjoyed doing, and I was making decent money for being 19 and not in college.
Along with that, I developed strong bonds with my coworkers and we had a tight community with the service industry workers across the city. We would all go out together after service, we worked, played and lived together. There was no question in my mind that I had found my calling.

This was nearly twenty years ago and I still haven't left. I've built a life for myself working in restaurants. And lifetime friendships. I've traveled the world working as a chef. It has been the perfect trade skill because, no matter where I travel, people have to eat and restaurants need cooks. That is, up until now.
With the spread of COVID-19 and the forced closure of restaurants and gatherings of more than 10 people across the country (meaning no more catered event gigs) and the uncertainty ahead, myself, and my colleagues in the industry are left to wonder, what do we do now?
"That was when it hit me, I don't have a source of income."
Many small restaurant owners have been feeling in crisis for a few years now. The truth is, before COVID-19 there was a chance your favorite neighborhood pub was not going to be there the next day. Because eateries function within such small profit margins it is hard for a small-single owned restaurant to provide competitive wages or benefits compared to larger chains, many operate on the verge of staying in operation without the impact of a pandemic. I know this from experience; my restaurant was one of them.
A year ago I was making the hard decision to close an award-winning and favored restaurant that I had only opened 16 months earlier. There had been too many days with not enough revenue to sustain a staff, and I was physically and mentally burnt out. This closure sent me into extreme debt and depression and I've spent the past year working my way back to mental health by staying in the industry I love and surrounding myself with folks who are equally passionate about providing great service and making quality food.
For the past few months and up until this weekend, I had been living in Los Angeles and working at Kismet, a popular, award-winning restaurant from Chefs Sarah Hymanson and Sarah Kramer. When I arrived to work the morning of Saturday, March 14 for service I felt optimistic, but uncertain about how busy we would be. A typical Saturday shift is a pretty constant eight hours of steady business. But this was the first weekend that folks were being advised to stay at home because of COVID-19.
We had been open for an hour and had zero customers. Eventually a few tables of two trickled in. Nothing compared to a regular weekend morning, when usually groups of brunchers would come flowing in, keeping me and my fellow line cook heads down and constantly moving for hours. Instead, we kept occupied by cleaning and sanitizing, and cleaning and sanitizing.
When Chef Hymanson arrived I watched her huddled in the corner of the kitchen with the sous chefs. They were brainstorming how to continue business, just not as usual. How could they turn a sit down menu into a take out one? I looked around the restaurant. The number of staff was double that of the customers in house. Nothing about this situation was looking profitable. For a dine-in only restaurant, when you don't see people in seats, you immediately think, how am I going to pay my staff?
Four hours into my scheduled eight-hour shift I was sent home. As I was leaving I told Sarah that if she needed to call me off the next day to not feel bad and that I understood. "Thank you," she said to me, "we're just trying to figure out ways to make money." I was called off from my shift. The day after that the restaurant closed for service for the foreseeable future. That was when it hit me, I don't have a source of income.
"We consider those we work with to be our extended family."
The catering companies I had been working with all summer and over the holidays had to cancel all of their events going as far out as June. I sat at home watching as my friends posted online: restaurant owners announcing closures and restaurant employees in a panic, sadness and anxiety about the future. With restaurants nationwide being forced to close, the number of unemployed restaurant workers is increasing at rapid speed.

According to statistics reported by the National Restaurant Association, there are over 1 million restaurants in this country, with projected sales of $899 billion for 2020. Seven in 10 restaurants are single owned, and the industry as a whole employees 15.6 million people.
What has happened over the past week among restaurant staff is a heightened need to provide for one another in whatever way possible. Many are concerned about making rent and other payments. On Facebook, groups are forming in cities across the country like the Madison Area Service Industry Support and The Baltimore Area Restaurant Relief Group, to provide resources and a place to vent for folks. Small restaurant owners are setting up GoFundMe pages for their staff and The Restaurant Workers Community Foundation has created a COVID-19 Crisis relief fund to help restaurant workers and owners.
One fact about hospitality workers all over is that we consider those we work with to be our extended family. At many small restaurants we share what are called family meals. This is a chance for staff to sit together and eat a meal together either while preparing for service or recovering from a rough one. For all of us, part of working in this industry is food security. Even when making a low wage, you know where at least one meal in your day will be coming from.
"Choking back tears and a cannonball worth of anxiety."
In cities where restaurants have not been forced to close entirely, employers are offering family meals to employees at sliding scales. Paul Bartolotta, the owner and co-founder of The Bartolotta Restaurants in Milwaukee sent an email last week announcing the cease in operations, saying that "we are taking steps to ensure our employees and their families have the food and benefits they need to manage through this difficult time," adding, "We will be liquidating our inventory of food and distributing everything we can to our employees. The most important thing to us, as an organization, is that we take care of employees during this critical time, putting them in the best possible position to 'flatten the community spread curve' while helping feed them and their families for as long as we can."
Chef Jose Sosa (Gibsons Italia) posted via Instagram "ANY Gibsons Restaurant Group employee can go to ANY restaurant to pick up meals for themselves and their family every day. Family meals are always free of charge for all Gibsons employees."
As the city-wide shut down of bars and restaurants was going into place in Chicago, Chef Stefanie Izard (Girl and a Goat, Little Goat, Duck Duck Goat) invited staff to come in and take home perishables -- food that would otherwise be thrown away. Andrew Ibiza, a baker at Little Goat said, "I felt happy to see everybody again for a moment, but it also felt like everyone was choking back tears and a cannonball worth of anxiety." The Goats are part of a larger restaurant group and while all employees were encouraged to file for unemployment, they have also been given written confirmation that they will still have jobs after the pandemic. "More than anything," says Ibiza, "I'm saddened that I won't be able to see my work family for the foreseeable future."
I, too, know that the restaurant I was at will reopen, and I will have a place there again. In the meantime, I'm looking forward to pursuing my side hustle as a writer. But not everyone is in this same position.
The folks that work holidays, and during inclimate weather and until 3 am so that there can be late-night eats need help right now. They need help financially and emotionally. These are people who have devoted their lives to serving others and have suddenly found themselves deemed not needed at the moment.
Sign up here for our daily Thrillist email, get Eatmail for more food coverage, and subscribe here for our YouTube channel to get your fix of the best in food/drink/fun.