The World's Best Breakfast: Which Country's Morning Meal Is Tops?
Sara Norris/Thrillist
Sara Norris/Thrillist
Americans are kinda obsessed with breakfast, to the point where we sometimes eat it for every meal of the day. Except actual breakfast, as we overslept. Anachronisms aside, breakfast in the US is a sacred feast that we're absolutely certain we do better than anywhere else in the world. But do we, really? We examined 18 traditional morning meals from across the globe and ranked 'em from "least nourishing" to "even better than French Toast Sticks".

18. Australia
What it is: Toast with Vegemite (sometimes with cheese)
Why it placed where it did: There's literally only one food group represented here. And a bacterial byproduct. C'mon Australia, you've got emus. Can we at least get some giant eggs?
17. Russia
What it is: Kasha (a type of porridge), blini (blintzes)
Why it placed where it did: Again, not too many food groups represented in a traditional Russian breakfast, and the color palette's a little limited as well. If you're a fan of beige and/or wearing khakis, this is the breakfast for you.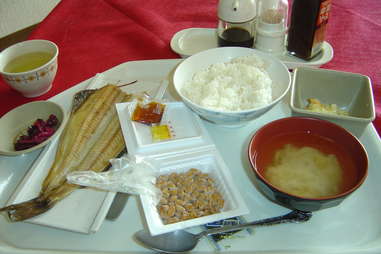 16. Japan
What it is: Rice, boiled fish, miso soup
Why it placed where it did: A traditional Japanese breakfast involves a lot of fish and tofu and fermented soybeans, which can be kinda... fragrant. Granted, it's probably hella healthy, but we want substance! And fried stuff! Keep reading.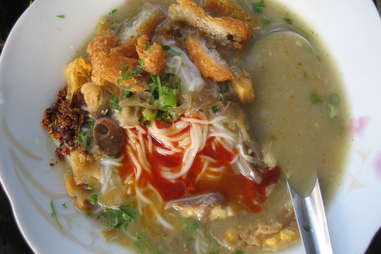 15. Myanmar
What it is: Mohinga (fish broth, rice noodles, lemongrass, garlic, ginger, onions, and, sometimes, fried fish cakes)
Why it placed where it did: Mohinga is both the most popular breakfast in Myanmar and its national dish, so it's gotta be pretty good. It's also eaten for almost every other meal. An exceptional breakfast should offer foods you can't get the rest of the day! Except when you have breakfast for dinner. But that's different!
14. France
What it is: Toasted baguette with jam/honey/butter/Nutella
Why it placed where it did: The French are minimalists when it comes to breakfast, but at least they offer customization options where the topping of the bread is concerned. Where they lose major points is its lack of heartiness. It's the most important meal of the day, and we definitely eat it every morning, Mom.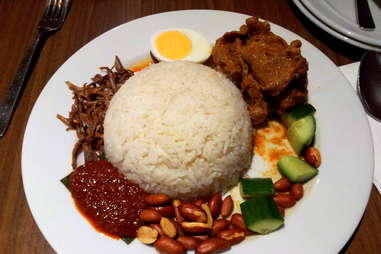 13. Malaysia
What it is: Nasi lemak (coconut rice, anchovies, hot sauce, peanuts, and boiled egg)
Why it placed where it did: Lots of food groups represented here and a flavor profile that borders on the aggressive. It's a polarizing dish even in Malaysia, where it's eaten at all times of the day. Gonna pass on the anchovies.
12. Philippines
What it is: Silog (meats and rice)
Why it placed where it did: The Philippines doesn't care what you eat with your breakfast rice, as long as it's something. They've got a variety of different silogs, like tapsilog (dried beef & rice), hotsilog (hot dog & rice), and spamsilog (spam & rice). It's (si)log!
11. Pakistan
What it is: Halwa poori (unleavened fried bread, chickpeas, and sweet tahini loaf)
Why it placed where it did: Now we're getting into interesting flavor combination territory! Pakistan's most popular breakfast is an intriguing sweet & savory combination that includes chickpea stew, fried bread, and even a sugary treat -- it's like dessert for breakfast! With a lot of stew!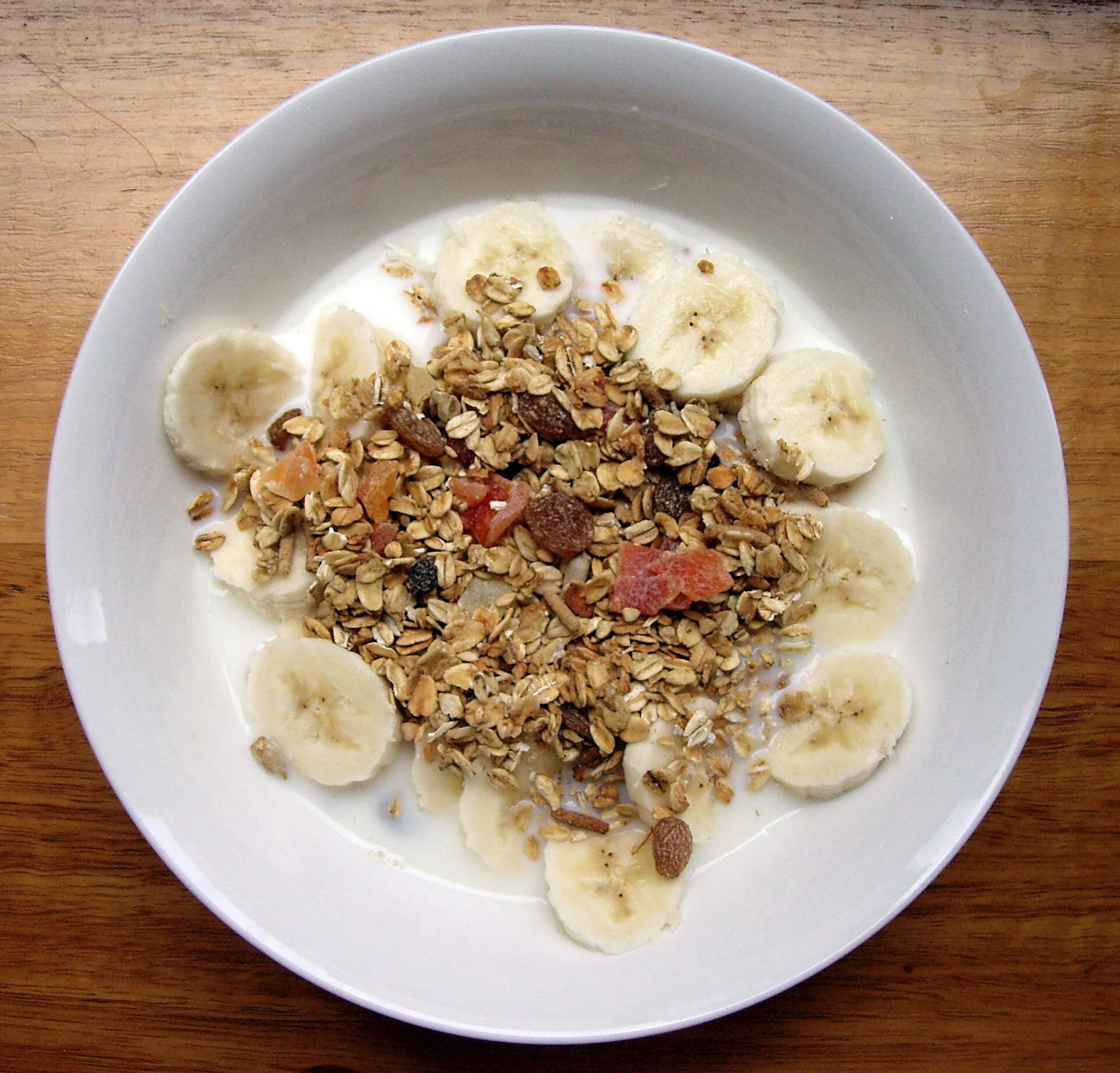 10. Switzerland
What it is: Bürli (rolls), Tilsiter cheese, cold cuts, butter & jam, soft boiled eggs, coffee, tea, fresh fruit, muesli
Why it placed where it did: Switzerland's spread places it square in the middle of the pack, in true Swiss fashion. Plenty of options, but in the end, you're probably just gonna get some muesli.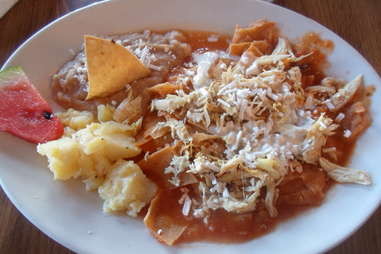 9. Mexico
What it is: Chilaquiles (tortilla chips simmered in mole) or tripe with eggs
Why it placed where it did: Chilaquiles are so delicious, they placed Mexico here on their merits alone. Otherwise, there aren't too many food groups or options represented. Still, we're entering must-try territory.
8. Israel
What it is: Israeli salad (cucumber, tomato), feta, shakshuka (eggs poached in tomato), hummus, tahini, pita, olives
Why it placed where it did: Displaying a wide variety of options is Israel, whose hotel buffets would be the envy of every other buffet in the world, if buffets were sentient. Shakshuka is especially good served with some bread to mop up the yolk. But the absence of meat docks them some points.
7. Thailand
What it is: Fried egg, fried rice, porridge, curries
Why it placed where it did: A typical Thai breakfast involves a lot of spicy stuff, which is just what you need to jump start your metabolism in the morning. Unfortunately, there ain't a ton of starch to be found, which is one of the key ingredients of any breakfast.
6. United States
What it is: Eggs, toast, bacon or sausage, pancakes, home fries
Why it placed where it did: Our breakfast is as diverse as our landscape and brings in elements from breakfasts all over the world. It skews towards the fatty and hearty, but could benefit from a few more textural differences and food groups.
4 (tie). England
What it is: Full English breakfast (fried egg, sausage, fried mushrooms, baked beans, hash browns, toast, and grilled tomato)
Why it placed where it did: Holy breakfast, Batman! The UK's traditional breakfasts are downright loony (and not in the Canadian way) and offer up a huge amount of food from pretty much every food group. Not to mention the fact that most of it is fried.
4 (tie). Ireland
What it is: Full Irish breakfast (bacon rashers, sausage, fried egg, white & black pudding, toast, fried tomato, Irish tea)
Why it placed where it did: Very similar to the full English, except for the inclusion of white & black pudding and Irish tea.
3. Scotland
What it is: Full Scottish breakfast (fried egg, back bacon, sausage links, black pudding, buttered toast, baked beans, tea, tattie scones)
Why it placed where it did: The full Scottish edges out its English and Irish counterparts due to the copious amounts of meat, and the fact that you can get "tattie scones", which are 1) a form of potato bread, and 2) ridiculously fun to say out loud.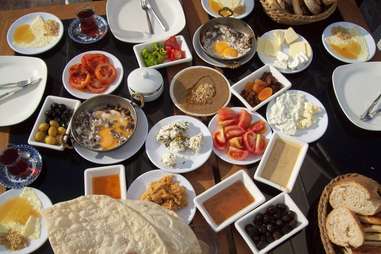 2. Turkey
What it is: Feta, tomato, cucumber, olives, toast, cherry jam, spicy Turkish sausage, Turkish tea
Why it placed where it did: Even the DMV doesn't give out as many plates as you'll see on a Turkish kitchen table, as they go fully HAM on breakfast (without the inclusion of actual ham). The only downside to this is that cleanup must take forever.
1. Venezuela
What it is: Arepas filled with butter and salty cheese, assortment of meats, chicken & avocado salad, eggs, beans
Why it placed where it did: Venezuela's breakfast is all about salt, starch, meat, fruit, and cheese -- and that's what makes it the best breakfast in the world. Grilled chorizo, arepas filled with super-savory white cheese, chicken, avocados, and eggs are all guaranteed to keep you full until dinner and help you grow up big and strong like Pablo Bunyan.
Sign up here for our daily Thrillist email, and get your fix of the best in food/drink/fun.
Adam Lapetina is the partnerships editor at Thrillist, and was totally the person who introduced pizza to bagels back in the day. Read his musings on Twitter at @adamlapetina.