The Worst Item at Every Fast-Food Chain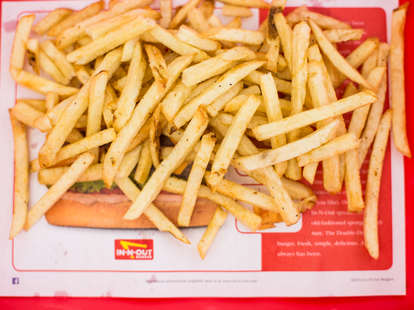 Thrillist has long been a proud champion and chronicler of fast-food deliciousness, from boldly calling out the best item on every menu to furiously debating which state enjoys the finest fast-food offerings. But as much fun as it is to dwell on the greatest hits, there's no denying that fast food also has its misses. It's time to dive into the dark side of the drive-thru. Here are the worst items at the biggest fast-food chains out there. Order at your own risk.
Burger King: Rodeo Burger
In Japan, they usually don't drink sake with sushi because they're both rice-based products. With Burger King, the equivalent would be adding char to char, or in specific terms, squirting smokey BBQ sauce onto a flame-licked patty.

Carl's Jr./Hardee's: Teriyaki Chicken Sandwich
Mastery of Asian spices is generally not the strong suit of people named Carl. Also, fast-food pineapple slices should not be trusted. Even Kate Upton couldn't make this taste good.

Chick-fil-A: Chicken Salad Sandwich
It's hard to go wrong at Chick-fil-A. This is how. Why anyone would want a block of cold chicken and eggs is beyond me. If the protein alone wasn't enough, they serve this on wheatberry bread, which might be the saddest carb in the fast-food canon.
Dairy Queen: Hawaiian Blizzard
Thorough testing revealed that the Dairy Queen's sugary rule does not extend outside the Continental US.

Dunkin' Donuts: Tuna Two Ways
The two ways in question are bagel and croissant. The soft flakiness of the croissant is great, but the soaking up of tuna juices is not great. The bagel is a sturdier vessel, but texturally, it's capable of downing the Titanic. And the entire donut shop is going to curse you for making their Boston Cremes taste like Boston Harbor.

A&W: Corn Dog Nuggets
This wisdom comes from our Michigan-bred editor, whose first job was as a cook at an A&W: "This is not a slight to corn dogs. Or nuggets. The fact of the matter is, when you've got a coney dog on the menu, all other hot dog-based snacks are irrelevant."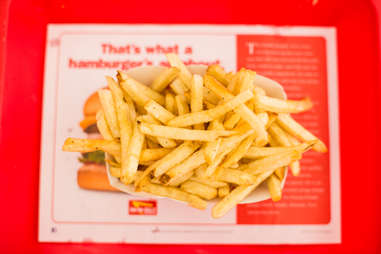 In-N-Out: French fries
Yeah, I said it. These suck. When I-N-O came to my town, I rejoiced like everyone else. Then my joy was replaced by confusion and anger. Texturally, these are just a starch log, they're either too limp or "well done" or whatever. You're just eating a white stick of cardboard. Another burger is a much better partner for a Double-Double any day.

Church's Chicken: Corn
Corn is what you feed chicken to make it delicious. Not what you eat with chicken. It's there for show, and holds little to no flavor. You might as well just rub a pat of butter on your arm and lick it, because that's basically what's going on here.

Arby's: Roast Turkey Farmhouse Salad
Their slogan is "We have the meats." Not "We have pre-made salads with hunks of meat in them." There's a good reason for that.
Jack in the Box: Egg rolls
Like its namesake toy, almost anything can pop out of Jack in the Box. In this case, it's a fried pastry of cabbage, celery, carrots, and diced pork. They might be the only egg rolls you can get out of a drive-thru, and there's a distinct reason for that. No one should be surprised that these are awful.

Culver's: Green beans
While we appreciate you thinking that getting a cup of veggies to counteract the effects of horking down a Butter Burger, you're not fooling anybody. And you're denying yourself the wonders of cheese curds.
KFC: Kentucky Grilled Chicken
KFC's grilled chicken is to its fried chicken much like The Cable Guy is to every other early-career Jim Carey movie. It's the same beating mutant heart underneath, but the exterior isn't as crispy and the whole thing just seems like a bad idea. Also, this brings to mind the scene in Medieval Times where Carey puts chicken skin on his face.

Sonic: Jr. Burger
One of the magical things about Sonic is how the cheese bonds with the patty when it's been steaming inside the wrapper. That doesn't happen here, because the Jr. is just meat, mustard, ketchup, and pickles. It is completely and utterly cheeseless. This is like a Sonic burger left the house but forgot to put on pants.

Taco Bell: Black Bean Burrito
When it comes to Taco Bell, you don't want to think about the component ingredients, but rather, savor the carefully engineered balance between bean, cheese, protein, and other stuff. This is the black sheep of the Taco Bell burrito family because the little pellets of beans are on full display. Even if you avert your eyes, expect to see them again several hours later.
McDonald's: Filet-O-Fish
This finished dead last in our ranking of every McDonald's sandwich for good reason. Neither the words "filet" nor "fish" belong anywhere near the Golden Arches.

Popeyes: Green beans

Love that chicken from Popeyes, don't love the green beans. Of all beans, green beans are least likely to belong at a fast-food restaurant and these don't break the mold. Mushy texture plus mystery mini chunks of meat equals one of the worst sides in the world of fast food. Just look at Culver's!

Wendy's: 3/4 Pound Triple
Although it is a great source of 69 grams of protein, this is the burger equivalent of waterboarding.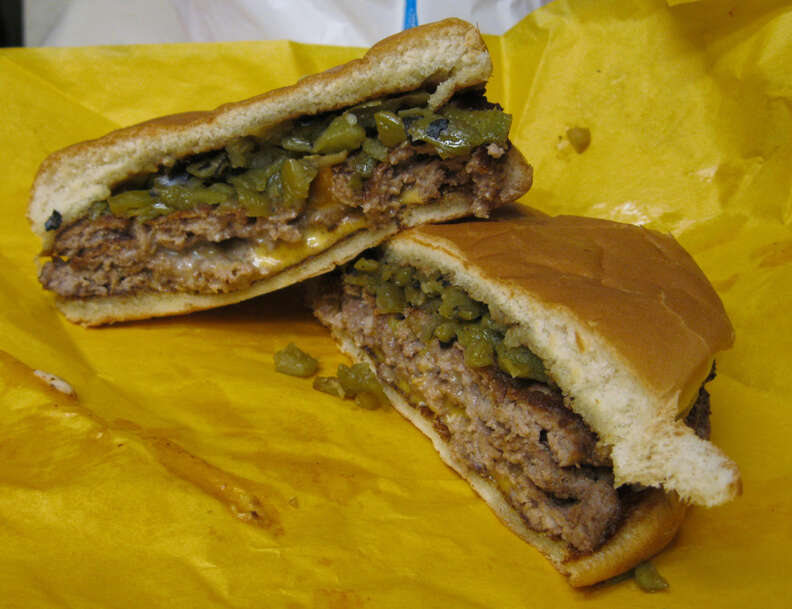 Whataburger: Green Chile Double
Two types of cheese is a nice touch, but few things spell heartburn quite like roasted green chiles from a drive-thru. Even if said drive-thru is Whataburger.

White Castle: Oatmeal
If you're standing in line at White Castle and thinking "You know, that suitcase full of steamed hamburgers sounds good and all, but what would really hit the spot is some oatmeal," well, maybe it's time to re-think your priorities. And your humanity.
Dan Gentile is a staff writer on Thrillist's national food and drink team. He tried his damnedest to keep his mustard prejudice from tainting this story. Follow him to more condiment restraint at @Dannosphere.