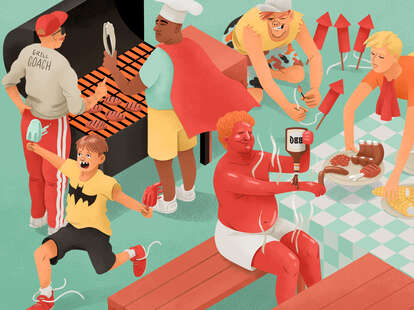 The 16 People You See at Every Cookout
Welcome to Grillist, our annual celebration of all things smoke and fire. Join us all summer long as we get up in your grill with expert BBQ advice, insightful interviews, great recipes, and bad grilling puns -- but mostly those first three.
It takes a village, they say, to do a lot of things. But that doesn't mean that said village isn't populated with a bunch of numbskulls hellbent on cramming their gullets and potentially burning the neighborhood to the ground. These are the people you see at almost every cookout you'll ever attend. Some are saints. Some give sinners a bad name. But they're all essential in the BBQ experience. Well, most of them, anyway.
The Grillmaster General
He's been hovering over the grill for a solid 5 hours and he's hardly broken a sweat. He cycles between meats and vegetables with finesse, even going as far as to clean the grates so no meat juice touches the veggies. He's happy to accommodate any and all dishes that need to be cooked… as soon as the buns for those burgers are done crisping. He is a goddamned hero.
The Grill Coach
He didn't bring anything to grill, but there he is, hovering over the coals like a deranged prison warden. "Did you wash your hands?" he asks the grillmaster between each course. He has opinions on seasoning, technique, timing, heat, and, of course, politics. Until the coals go dead, he will remain here like an angry, carnivorous plant.
Joe 2-Pack
He shows up with two 22oz beers because he "doesn't drink that crap" that everybody else drinks… until his two beers are gone, after which time he'll drink everything in the cooler, in descending order of price. He will complain with each sip, but refuse to chip in when somebody volunteers to go on a beer run. He'll definitely help empty the cooler when that volunteer returns.
The Corner Master
He hasn't found a single person who wants to talk about politics, his cat, D&D, or any of his other interests, so now he's got you completely cornered when you're most vulnerable: while you're manning the grill. Do you risk burning those pork chops just so you don't have to endure another 5 minutes of hearing his theory about how Mila Kunis movies have helped open the door for cyber attacks from the Arctic? Yeah, you probably do, but for some reason, you need to see this one through.
Captain Single Serving
"Bring a dish to pass," the invite says. This woman showed up with a single pre-made lamb kebab from Whole Foods and keeps asking when it's going to be ready in between filling her plate with enough burgers, sides, and sausages to sustain a small platoon. Once the kebab is done, she slyly removes the meat and veggies from the skewer, takes half, and puts the remainder on the table. Pass it on!
The Militant Vegetarian
Toting a four-pack of tofu dogs, she rolls in and immediately asks you to start cooking, then hovers over the grill asking what you use to clean the grates. Meanwhile, she peruses the sides and asks about the origins of every mayo, mustard, and seed. She will eat nothing, largely because her tofu dogs touched something on what she refers to as "your murder oven." She ends up being alarmingly good at badminton, though, so it's kind of a wash.
The Reluctant Vegetarian
Entering this smoke-filled realm for him is the BBQ equivalent of a Sunday passion play rife with temptation. He hovers over the grill so the scent of sweet charred meat sticks to his shirt as a reminder of the life he left behind. He intentionally puts his portabellas on the same plate as the burgers, just in the hopes of getting a small taste of juice on the edges. He is definitely going to eat some bacon before he leaves… probably in the bathroom whilst flogging himself.
The Family Man
Day after day, he's corralling his four toddlers like a pro. The moment he arrives, he turns them loose on the back yard, referring even to the most tangential friend as "Uncle" or "Aunt." To him, this is a vacation in Cancun, and Uncle Davey – that's his real name, right?! – is the de-facto in-resort babysitter. He can frequently be heard asking how to order a Lyft with a car seat.
The Overstimulated Child
He's six Capri Suns deep and snuck away from his parents just long enough to dump half the M&M dish down his gullet. And a third popsicle. He has roughly 30 more minutes of running around the party like a victorious The Price Is Right contestant before some kind of stumble results in a crying fit and his parents decide to pack it in early.
The Leftover Lurker
Didn't throw the party, but knows full well you bought to much and is fully prepared to help you clean up, anticipating the inevitable "please take some of this food, we can't eat it all" invitation. Oh you're running low in Ziploc bags? They brought their own!
The Grenade Thrower
Step 1: Walks into group of people chatting on an unrelated topic and delivers hot political take
Step 2: Observes ensuring firestorm
Step 3: Walks away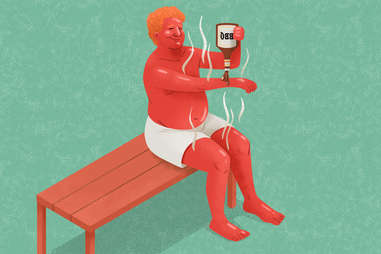 Redman
Not the rapper, though he's very likely somewhere around here. This is the poor Irish bastard who shuns sunscreen like it's the plague and refuses to wear a shirt all day. At some point, he will molt, but only after he endures a day of people calling him Ed Sheeran. His ability to tempt every vegetarian with the scent of his baking skin is as hilarious as it is horrifying.
The All Star
Where most people bring a five-pack of brats and call it good, this cat looks like he robbed a restaurant en route to the cookout. He's got a three full trays of bacon-wrapped whatnots ready to grill as apps. He pre-smoked half a pig so it just needs to be finished on the grill, but not until his famous Jucy Lucys go on. He even has a cooler full of smoked ice for mezcal cocktails he plans to mix up later. This is what happens when a chef lives in a one-bedroom apartment. He is the hero we all deserve.
The Yard Game Olympian
Some people are really good at flip cup. Or cornhole. Or badminton. She can flip a cup while tossing a bag and spiking a shuttlecock. To her, a tallboy is a performance-enhancing drug. Pray she's on your team.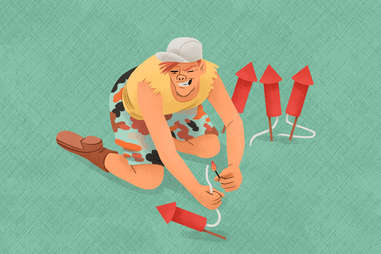 The Pyrotechnician
He's been waiting until twilight to unleash a fireworks display the likes of which this neighborhood has never seen. He's spent months going to various states to procure illegal mortars and rockets and other things that will result in the neighbors calling the cops within 5 minutes of the first blast. He still hasn't found an opponent who will accept his proposal for a "Roman candle dual," and for some reason insists on claiming the spot right next to the propane for his launch pad. He still refuses to explain why the nub of his left pinkie is missing.
Ms. Rose All Day
Wait, they don't sell those cans of rose in sixers, do they? Because she brought 18 of them and has been double fisting since she got here.
Sign up here for our daily Thrillist email and subscribe here for our YouTube channel to get your fix of the best in food/drink/fun.

Senior editor Andy Kryza usually rolls into a cookout with one overstimulated kid, at least three beers, and a pocketful of firecrackers. Follow him to unfriended status @apkryza.