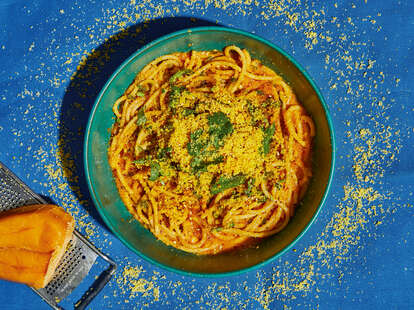 The story of Win Son—the acclaimed Taiwanese American restaurant and bakery located on opposite corners of the intersection between Montrose Ave and Ave of Puerto Rico in Williamsburg, Brooklyn—really begins in the adjacent neighborhood, Bed-Stuy. That's where cofounders Trigg Brown, the chef behind Win Son's experimental Taiwanese flavors, and Josh Ku, a former property manager turned restaurateur, first met at a backyard barbecue.
Ku and Brown's friendship blossomed over stir fried garlic chives (otherwise known as flies' heads) and other Taiwanese delicacies that Ku grew up with and introduced to Brown. Their trips to Taiwan solidified this partnership, where they enjoyed gooey oyster pancakes and steamed turnip cakes in Tainan, where Ku's mom resides.
All of their experiences have culminated into not only a prosperous restaurant and beloved bakery cafe, but a new cookbook. Win Son Presents a Taiwanese American Cookbook, written in partnership with expert Cathy Erway, details Win Son's meteoric rise, Ku and Brown's storied backgrounds prior to becoming restaurant owners, and the state of Taiwanese food in America today with Taiwanese food experts' commentary woven throughout.
"We're held in the same creativity and reiteration that Taiwanese food culture already has within itself—it's just our version of that, a blended culture based on our experiences and upbringing," Ku says. That upbringing includes Ku's Taiwanese church group he was raised in in Long Island and Brown's childhood spent in Virginia.
One of the goals both Ku and Brown have when it comes to their restaurant—and now their cookbook—is educating customers about Taiwanese food, and subsequently Taiwanese American food. That also means controlling their own narrative and refusing to be boxed in.
"Our food is the impression that Taiwan has made on us and our friendship," Brown explains. "It's not soul food, it's not street food—we consider ourselves Taiwanese American."
The book certainly includes classic Taiwanese dishes, with recipes for beloved lu rou fan and beef noodle soup, but leaves room for reinventions.
A dish that feels particularly experimental is Brown and Ku's take on wuyuzi mian, a tangle of noodles that features its namesake wuyuzi, or cured mullet roe, grated on top that is sometimes enjoyed during Lunar New Year. On a trip to Tainan, the pair, along with Ku's mom, stumbled across a store that specialized in wuyuzi. Upon further inspection, Brown recognized wuyuzi as a familiar ingredient he'd cooked with dozens of times: bottarga, or cured fish roe.
"I was like, 'What the fuck? Is that bottarga?'" Brown laughs. "It's a sun dried mullet roe and that was such a cool silk road, cultural exchange moment for me."
At Win Son and in their cookbook, instead of using the standard Taiwanese noodles to prepare wuyuzi mian, Brown's version—partially inspired by Sicilian spaghetti con la bottarga—calls for thin spaghetti. Brown describes the dish as an "umami bomb" and pairs the briny grated mullet roe with garlic, sesame oil, white dashi, and a crown of cilantro, chiffonade shiso leaves, and Thai basil.
Ku's first taste of the dish blew his mind. "In my mind growing up and seeing [wuyuzi] in Taiwan, I was absolutely disgusted by it," Ku explains sheepishly. "All I wanted was cheeseburgers. But seeing it used in a delicious pasta, it's just full circle. It's a perfect dish."
Ultimately, Ku and Brown want readers to appreciate the ingredients and storied history of Taiwanese cuisine while also recognizing the cultural melting pot that makes up the island nation. "I'm already white, I'm not going to bastardize this food anymore," Brown jokes, before getting serious. "Do the homework, learn about the ingredients. Food tells a really fun story if you just take the time."
Wuyuzi Mian Recipe from Win Son Presents a Taiwanese American Cookbook
Yield: Serves 4
Ingredients
Salt
1 pound (455 g) spaghettini or thin spaghetti
¼ cup (60 ml) plus 1 tablespoon toasted sesame oil
4 cloves garlic, grated
¼ cup (60 ml) plus 1 tablespoon shiro dashi
¼ cup (60 ml) House Chili Oil (page 258), or your favorite chili oil, such as Lao Gan Ma Spicy Chili Crisp
2 tablespoons chopped fresh cilantro, both stems and leaves
4 tablespoons (½ stick) unsalted butter, cut into small cubes
1 roe sack or 12 ounces (340 g) wuyuzi or bottarga, grated
½ bunch Thai basil leaves, sliced to wide ribbons
12 leaves shiso, sliced to wide ribbons
Red chile flakes, such as gochugaru or Sichuan chile flakes (optional)
Toasted white sesame seeds (optional)
Directions
1. Bring a pot of generously salted water to a boil. Cook the spaghettini until just under al dente, as the noodles will finish cooking in the sauce, and drain, reserving 2 cups (480 ml) cooking water.
2. In a large sauté pan, combine the 2 cups (480 ml) reserved water with the sesame oil, garlic, shiro dashi, chili oil, and cilantro. Heat to medium-low and swirl the pan occasionally for 1 minute, or until very fragrant. This is to "bloom" the ingredients and infuse the liquid with them. Do not let it come to a boil or start to smoke. Remove from the heat.
3. Add the slightly undercooked pasta, the butter cubes, and half the grated wuyuzi. Turn the heat back on to medium and toss with tongs to mix thoroughly. Cook for 1 to 2 minutes, stirring occasionally, until the noodles are cooked to al dente and the sauce has thickened and turned milky rather than translucent. Taste for seasoning and add salt, if desired. Transfer the pasta to four serving dishes. Garnish each serving with handfuls of the basil and shiso, then top with the remaining grated wuyuzi. Finish with the chile flakes and/or sesame seeds, if using, and serve immediately.
"Recipe excerpt from the new book Win Son Presents A Taiwanese American Cookbook by Josh Ku and Trigg Brown with Cathy Erway. Text copyright © 2023 by Josh Ku, Trigg Brown, and Cathy Erway. Photographs copyright © 2023 by Laura Murray. Published by Abrams."
Kat Thompson is a senior staff writer of food & drink at Thrillist. Follow her on Twitter @katthompsonn.