Travis Pastrana is one of the world's greatest extreme athletes. He's also one of the world's worst vindaloo eaters. Travis not-really-fondly recounted for us the tale of his trip to England for a beach-based motocross race that got a little, um, soiled by a dinner, a dare, and more five-alarm vindaloo sauce than an entire restaurant should consume in a week. Here is his tale.
"So it's me, Kenny Bartram, Andy Bell, guys from the Nitro Circus crew, and we're doing this event called the Weston Beach Race, a three-hour race right on the beach in England. Water comes up, bikes get sunk, and it goes from the easiest track ever to everyone being stuck and miserable. There's a four-wheeler race one day and the big motorcycle race the next.
"We got there three days ahead of time, and the first night we were there, we went to an authentic English curry place. They had some stuff that was all 'warning: can't sell to foreigners' -- the exact thing that makes every foreigner want to be like, 'I got this, no problem.' So the guys bribe the waiter to give me basically a half gallon of this 'five alarm' duck vindaloo, and they're gonna pay me 100 pounds to drink it. I'm like, 'shit, that's like $200, how bad can it be?' Maybe my mouth will be burning for a while, but whatever. It's fine. And taste doesn't really matter to me -- I've had enough concussions that I've lost a lot of that. Literally I can't taste anything. Swallowing eggs as jokes, whatever -- I never had a problem with any of that. And I always take a bet.
"So we all touched it to our fingers and put it on our tongue, it was like 'holy crap, this is hot, I gotta get this down quick.' So I drank the entire half gallon of sauce in one serving. Took me about five minutes to get it all down.
"So at this point in my life, I didn't drink or anything. I didn't even know what drunk was, but I was it. It was like taking 50 shots of tequila, only with a much worse reaction. Before I know it, the room is spinning, I start sweating, my nose starts running, I go to stand up, and I can't even get to the bathroom to puke. I staggered, I stumbled, I fell on my face. So Bell walked me back to the hotel, and I should've thrown everything up right there, but I was too out of it to figure it out. About an hour later, I started shitting and puking and the whole bathtub is full of vomit, and the toilet just keeps flushing and flushing. I was pretty much dry-shitting and dry-puking. I had nothing left in the morning.
Recommended Video
6-Pound Giant Cookie Ice Cream Sandwich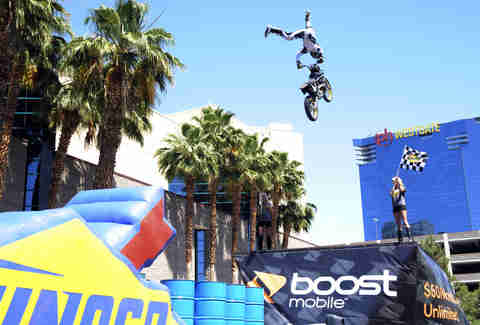 "We were gonna play golf the next day, and Bell comes in, and he got outside the door, didn't even open the door, and he's like like, 'Ohhhh my god, what in the world??' I probably evacuated the entire floor of this hotel. And I was like, 'I can't golf.'
"So the day after that it's time to race. It's my first ever quad race. Just as a joke, we're wearing costumes and stuff. I couldn't even keep Pepto Bismol down at this point. Literally the only thing I'm shitting is blood, and I'm dry heaving but nothing's coming out. Right before the race started, I drank enough of something to puke it back up, and tried to eat something but that didn't work. And I'm like, this is just miserable.
"About an hour into this race, I had diarrhea pants, I had vomit in my helmet, and I somehow got second, despite thinking I'm going to die.
"The next day is the Weston Beach race, the motorcycle race. On the first lap, I didn't have the energy, and I just fell over and got run over. Dislocated wrist, completely fucked: it did an S where it normally goes straight. And all I thought was 'thank GOD, they're gonna put me under for sure.'
"So I went straight to the hospital, and they're like, yeah, we've gotta do surgery right now, you lost blood supply to your hand.' And it was literally the only time I was able to sleep for the next two weeks. I ended up losing about 25lbs, and I thought my stomach would never be able to handle any food ever again.
"Would I do it again? Even a little bit? Absolutely not. There would have to be something threatening the life of my child. If you said we're going to take a baseball bat to your back, and it's going to break, I'd say go for it, before I would touch that stuff again.
"Ignorance is not bliss when it comes to food. I've been sick on oysters, I've had food poisoning, and it's all miserable, don't get me wrong -- none of it's good. But this was far and away the worst experience of my entire life. And it wasn't a day, or two days -- it was a two-and-a-half-week experience. It made my broken wrist a blessing. They gave me a painkiller IV because I couldn't keep anything down, and if I didn't break my wrist and get that I might not have survived. For about five years I couldn't even smell curry: I'd just have a gag reflex.
"And that was my trip to Europe!"
Sign up here for our daily Thrillist email, and get your fix of the best in food/drink/fun.